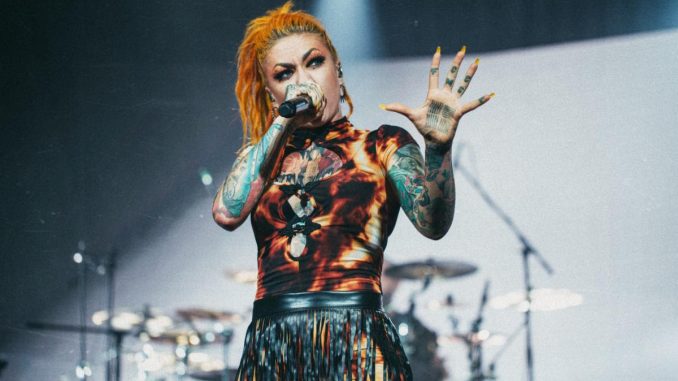 DVD/BluRay Live Album, 'The Devil's Dozen',
Out this Friday, April 14, 2023 on Napalm Records
Pre-Order HERE!
Since their formation in 2008, Moldovan progressive modern metal unit INFECTED RAIN have become one of the most exciting new acts in the heavy music world. In November 2021, in support of their much acclaimed fifth studio album, 'Ecdysis' (2022), the band fronted by multi-talented vocalist Lena Scissorhands – one of the fastest-rising leading ladies of the genre – offered an exclusive concert stream, entitled 'The Devil's Dozen'. It was available online for only eight days. This Friday, on April 14, 2023, INFECTED RAIN will release their memorable live momentum that is 'The Devil's Dozen', in DVD/BluRay + 2CD Digipak formats via Napalm Records!

To celebrate their first live record in style, and following previously-released live versions of "The Earth Mantra" and "Storm", today, INFECTED RAIN have unleashed a new live performance video for "Freaky Carnival", taken off their 2017 album '86'!

Vocalist Lena Scissorhands says:

"We're excited to announce the release of our live version of 'Freaky Carnival' from our upcoming Blu-Ray show, 'The Devil's Dozen'.

"This song has always been a fan favorite and we wanted to give it a new life by recording a live version to capture the energy and rawness of our live performances. We had an amazing time performing this song for the live audience and we're thrilled to share that experience with our fans through this single release. We hope this live version of 'Freaky Carnival' will give fans a taste of what's to come with 'The Devil's Dozen' and get everyone pumped up for the release of our full show on Blu-Ray."

The New Live Clip for "Freaky Carnival" is Now Premiering HERE
Dive deep into the history of INFECTED RAIN like never before with their breathtaking full show spanning the past 15 years of the band's history, with incredible production and special effects, and including rare song material! Featuring songs such as "Freaky Carnival", taken off their 2017 album '86', and stage warrantors such as "The Earth Mantra" and "Storm" (released on their critically-acclaimed album 'Endorphin'), the release showcases the band's metamorphosis throughout the years and celebrates INFECTED RAIN's impressive career, songwriting and live skills to date.

'The Devil's Dozen' electrifies with otherworldly live momentum by one of the most impressive modern bands within the extreme metal scene; unleashing resonating riffs, cosmic electronics, progressive grooves and Lena's treasure trove of vocal abilities. The band's upcoming DVD/BluRay is a must-have for every modern metal fan, as it demonstrates ultramodern brutality without sacrificing emotion and melody, performed live by a top-notch, high-voltage and enthralling live act!

'The Devil's Dozen' will be released as Digipak, 2xAudio CD, 1x BluRay, 1x DVD on April 14, 2023 via Napalm Records.
Get infected by the band's high-voltage live performance and catch them on their upcoming HEYDAY Tour in 2023 at the following dates below!

Scissorhands comments:

"We're thrilled to be kicking off our HEYDAY Tour and bringing our music to fans across Europe. It's an honor to have the opportunity to connect with people through our music and share in the energy and excitement of live performance. We're looking forward to delivering a high-energy, unforgettable experience for everyone who comes out to see us. We're grateful for the support of our fans and can't wait to rock out together on this tour."
INFECTED RAIN – HEYDAY TOUR 2023
27.05.23 DE – Kronach / Die Festung Rockt
28.05.23 DE – Oettingen i. Bayern / Camping Battleground Festival
30.05.23 DK – Aalborg / Studenterhuset
31.05.23 SE – Gothenburg / Musiken Hus
01.06.23 SE – Stockholm / Nalen Klubb
03.06.23 FI – Tampere / Hönö Baari
04.06.23 FI – Helsinki / On The Rocks
06.06.23 EE – Tallinn / Sveta
07.06.23 LV – Riga / Melna Piektdiena
09.06.23 PL – Warsaw / VooDoo
10.06.23 DE – Mühlteich/Hauptmannsgrün / Chronical Moshers Open Air
19.07.23 RO – Bucharest / Quantic Club
2.07.23 SK – Skalica / Orlovna Club
24.07.23 AT – Vienna / Viper Room
26.07.23 DE – Munich / Backstage Halle (Free & Easy)
27.07.23 DE – Cham / L.A.
28.07.23 DE – Erfurt / From Hell
29.07.23 DE – Ottobeuren / Schlichtenfest Open Air
11.08.23 PL – Krakow / Klub Zaścianek
12.08.23 CZ – Jaromer / Brutal Assault
13.08.23 PL – Wroclaw / Łącznik
14.08.23 PL – Poznan / Klub Pod Minogą
18.08.23 DE – Sulingen / Reload Festival
19.08.23 DE – Lüdenscheid / Bautz Festival
20.08.23 NL – Amsterdam / Q-Factory
23.08.23 BE – Kortrijk / DVG Club
24.08.23 DE – Trier / Mergener Hof
25.08.23 DE – Wörrstadt / Neuborn Open Air Festival
26.08.23 DE – Roth / Wallesau ist Blau Open Air
01.09.23 ES – Vitoria / Urban Rock Concept
02.09.23 ES – Vigo / Sala Master
05.09.23 ES – Madrid / Revi Live
06.09.23 ES – Barcelona / Sala Bóveda
07.09.23 FR – Toulouse / Connexion Live
08.09.23 FR – Crest / Bridge to Hell
09.09.23 FR – Lyon / Rock n Eat
10.09.23 IT – Milan / Legend Club
12.09.23 IT – Rome / Traffic Live
14.09.23 CH – Lyss / Kufa
15.09.23 AT – Salzburg / Lake Rock
16.09.23 DE – Lindau / Club Vaudeville