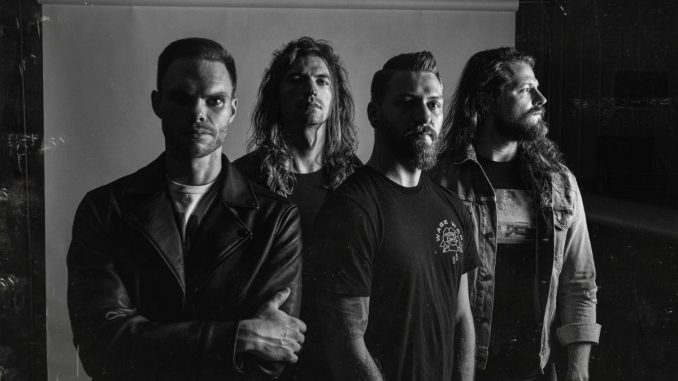 Watch "Show Up at the Showdown" Now via
BraveWords
Death Stare EP Slated for Release August 27 via Rockfest Records
The new single from Indiana rockers THE PROTEST's forthcoming Death Stare EP, "Show Up to the Showdown," is available today.
"To win a battle you have to show up," says vocalist Josh Bramlett. "When we are faced with daunting obstacles, we have two options: Run in fear or stand our ground and 'Show Up' to take them head on. Life can be terrifying, especially lately, but when we realize we have been given the strength inside to face them, it's so empowering. Our courage can inspire others and be a light."
"Show Up at the Showdown" fully embraces the group's adoration for the arena rock they grew up listening to. "When writing new music, we wanted to do something different," Bramlett says. "Everything about 'Show Up to the Showdown' is arena rock. If it wasn't for artists like Def Leppard and Kiss, we wouldn't have been inspired to play rock music."
The six-track Death Stare is slated for release on August 27 via Rockfest Records.
Even though they hail from rural Indiana, known more for its cornfields than its status as a hot bed for hard rock and metal band, the members of THE PROTEST have embraced the work ethic of America's heartland and used their talent, drive and determination to take their music to a global audience. Made up of four life-long best friends, THE PROTEST's melodic rock n' roll infused metal is the antithesis of the typical gloom-laden attitude of most hard rock, bringing a fun and energetic flair to the genre.
The members of THE PROTEST have become veteran road warriors, playing more than 150 dates a year throughout North America and Europe, including direct support slots for secular and Christian bands alike, including Tesla, Great White, 12 Stones, Demon Hunter, Ashes Remain, Fight the Fury, Righteous Vendetta, Disciple and Wolves at the Gate. Catch THE PROTEST on tour now.
THE PROTEST tour dates:
7/23 – Grapeland, TX @ Camp Rockfest
7/24 – Springfield, MO @ Chains Unchained Festival 2021
8/6 – Martinsburg, WV @ River Edge Ministries
8/7 – Middletown, PA @ Lifefest
8/14 – Logan, OH @ Move the Hills
8/21 – Needmore, PA @ Needmore Bible Church
8/27 – Indianapolis, IN @ Hi-Fi Annex w/Saliva
9/3 – Fort Wayne, IN @ The Music on Main w/Mud Creek, Northhaven and Aforethought
9/11 – Gas City, IN @ Voices of Recovery 2021
9/17 – Shippensburg, PA @ Uprise Festival 2021
THE PROTEST online: