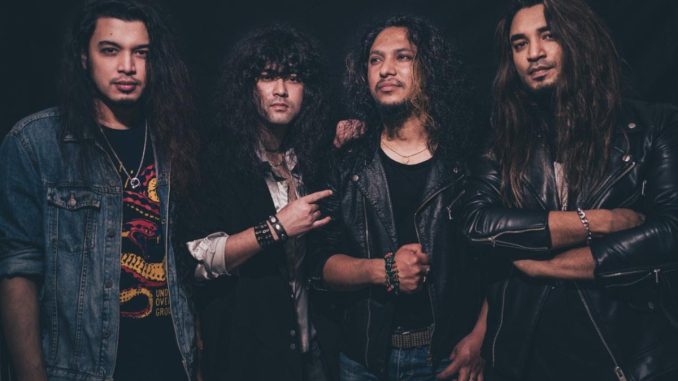 'Back on Earth' to be Released January 27
Are you ready to rock?

Girish & The Chronicles want to take you on a "Ride to Hell"!

Taken from the band's upcoming re-recorded version of their debut album 'Back on Earth', available January 27th.

Watch the Video for "Ride to Hell" HERE
Originally released in 2014, 'Back On Earth' was the first album to introduce GATC to a larger global hard rock audience and kicked off their still ongoing rock n' roll journey.

When asked why the band decided to re-record the album as opposed to simply remastering and reissuing it, front man Girish Pradhan says, "We wanted the whole thing to have a fresh new start. Although we wanted to keep most of the vocal takes, we have been introducing a lot of musical changes to these songs in live performances. So we thought, 'Why not do the same in the new recordings?' We always felt that we had technical challenges back in the day and couldn't deliver the hard-hitting sound that we had originally intended, so we introduced some new breakdowns, chord sequences, solos, and bass and drum parts to these songs that make them feel closer to where we are now. We didn't want to mess around too much with the vocals though, which is why I only re-recorded the vocals for 'Angel' and 'Loaded'. As a whole, the whole thing sounds quite different from the 2014 version, but all in all, it stays true to the spirit of the songs, however, we feel that it is closer to the vision we had back in the day."

Thinking back on the making of their debut album, Girish says, "each song has its own story. Most of them were singles, released during the 2009-2013 era of the band. We had a lot of struggles, but we were living our lives to the fullest. More than anything, we were a group of four guys, without a care in the world, who just wanted to get on stage and rock. 'Angel' was the first song ever released. I wrote that tune around 2008. It was actually supposed to be a solo song at that time, but by the time we all assembled, we officially called it the band's first ever single. 'Golden Crown' might sound funny to a lot of our new listeners, but it was actually a song by two teenagers (me and my brother, Yogesh), meant as a jingle for a local football championship named the Gold Cup, organised by the Sikkim Football Association. I wrote 'Loaded''s riff and some of its lyrics in 2010, when we were in the process of applying for our first passports. Two of our band members lacked some documents and were told to go back to Sikkim and reapply all over again. We were quite frustrated, thinking of the long journey and the amount of running around we had been doing, for something so simple, plus we were broke as hell. Anyway, the circumstances did help me write the song, and the lines:

'There's no point in complaining / And shedding tears while it's raining / There is nothing to lose, / 'Cause I was the one to choose'

I guess this will be very long to read if I start writing about each and every song, so we'll leave some of it to our fans to interpret!"
Originally from Sikkim, but now based in the city of Bangalore/Bengaluru in Karnataka, India, GATC are known for their soaring, powerful vocals, biting guitars, thunderous bass, and pounding drums, staying true to the authentic '80s heavy metal/hard rock sound which they grew up with.

In their 12-year existence, GATC have been credited by many fans for bringing the classic hard rock culture back to India and are an inspiration to many new and upcoming bands in the scene. The group has gained a cult following globally with '80's and '90s hair metal and hard rock aficionados in addition to being well known in the Indian rock scene for electrifying live shows and have toured across the nation and beyond.

GATC has supported bands ranging in variety from American alt rockers Hoobastank to Finnish rockers Poets of the Fall to German thrashers Destruction. The band has also performed at the Zurbaran Rock Burgos Fest in Spain, sharing the stage with German hard rock legends Bonfire. GATC has also performed at the UrRock Fest in Switzerland in 2021, sharing the stage with Nazareth, Orden Ogan, Firewind, and again in 2022 with headliners Skid Row, amongst others. Additionally, the band consistently has been part of various leading music festivals in India.

Vocalist Girish Pradhan is also part of the international metal group, Firstborne, which is led by Chris Adler, James Lomenzo, and Hugh B. Myrone. He has also toured the UK, France, Spain, Portugal and other territories with his other side projects in the past.

GATC has released three acclaimed albums, their debut 'Back on Earth' (2014), 'Rock The Highway' (2020), and their most recent release, and Frontiers Music Srl debut, 'Hail To The Heroes' (2022).
'Back On Earth' Track List:
1. Ride To Hell
2. Loaded
3. Born With A Big Attitude
4. Shot By The Cupid, Touched By The Devil
5. Angel
6. I Wanna Get That Lovin' Again
7. Hey You
8. Yesteryears
9. Smile Little Child
10. The Revolving Barrel
11. Golden Crown
12. End Of Civilization
GIRISH AND THE CHRONICLES are:

Girish Pradhan – Vocals, Rhythm Guitars

Yogesh Pradhan – Bass, Keyboards, Production

Suraz Sun – Lead Guitars

Nagen Nags – Drums