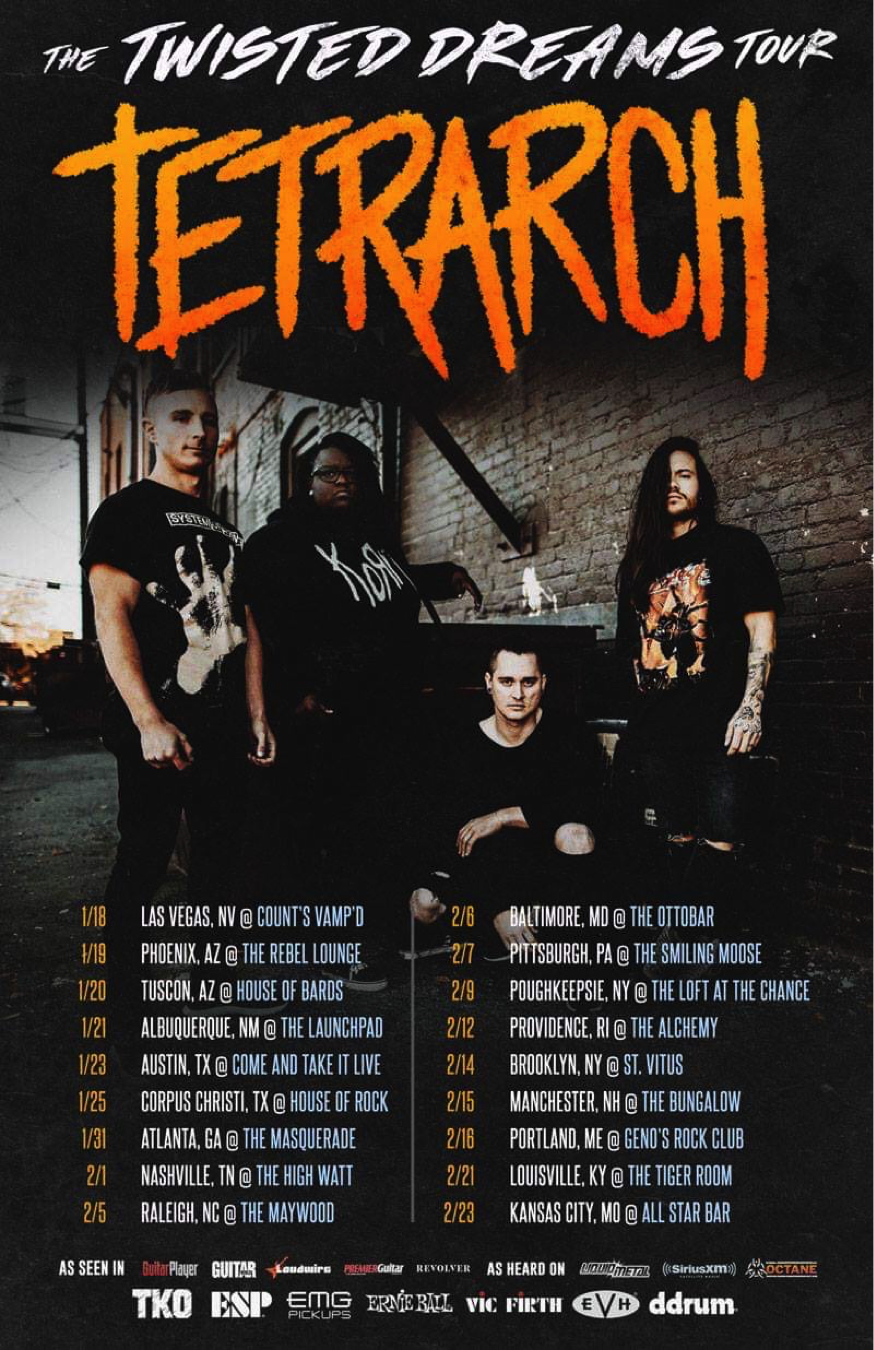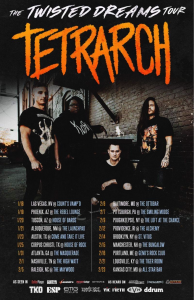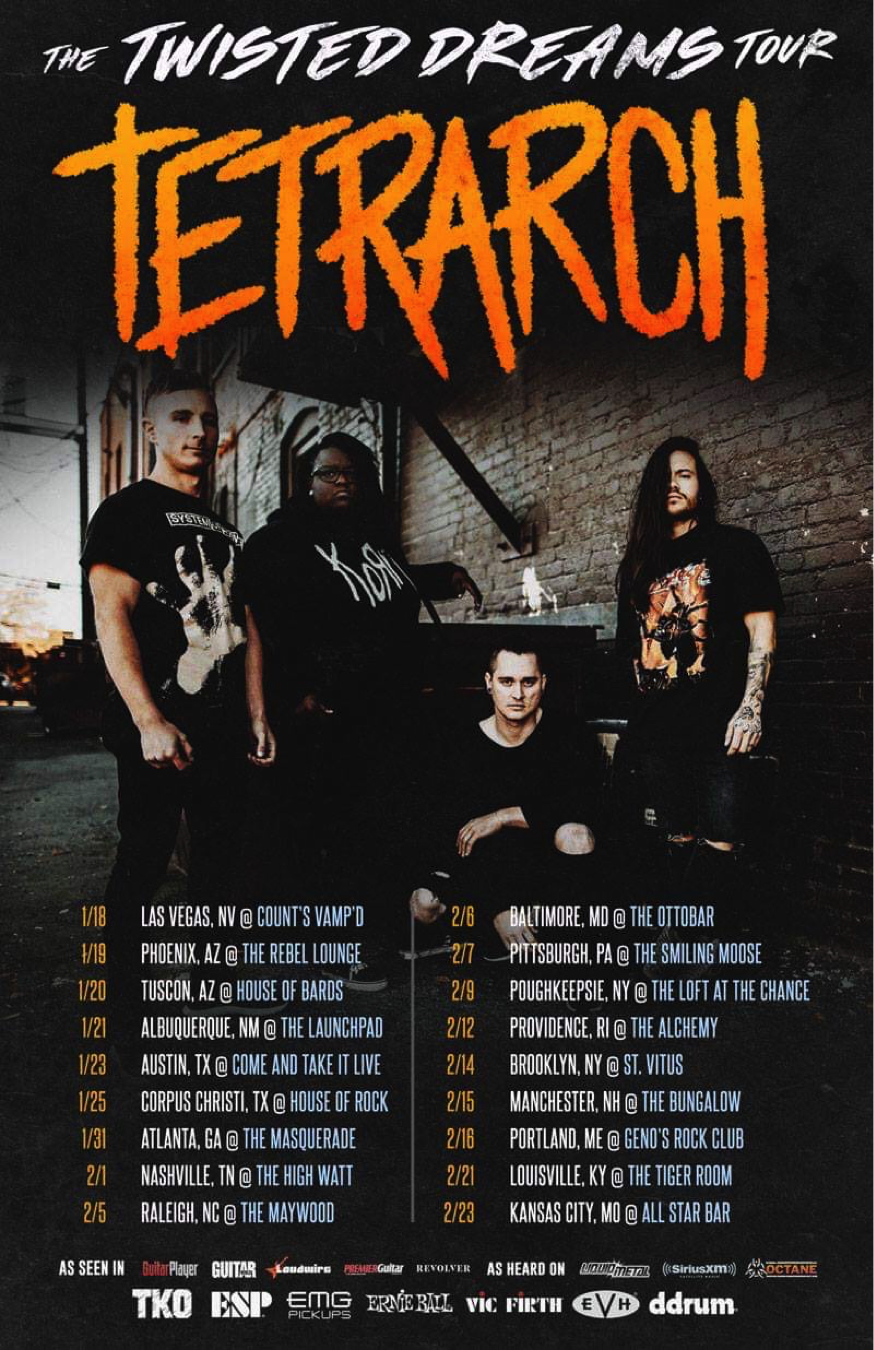 Independent Metal Favorites TETRARCH Announce Twisted Dreams Tour Dates for January & February
Tour Begins January 18 in Las Vegas, NV
Order Latest Album, Freak, via iTunes,Amazonor Google Play
Independent metal phenomsTETRARCHhave had an eventful fall preparing for their busiest year yet – 2019! To kick off the year, the band will take part in a month-long headline tour – the Twisted Dreams Tour – beginning January 18 in Las Vegas, NV. The tour will visit several cities across the country, coming to an end in Kansas City, MO on February 23. More dates are scheduled to be confirmed soon. See below for all currently confirmed dates.
Vocalist/guitarist Josh Fore says, "2018 was such a crazy year for TETRARCH. The response to our single "Freak" was more than we could have ever imagined from our fans as well as Sirius XM and radio stations all across the country. We have a lot in the works for 2019 and wanted to kick it off right and bring our high energy show to some of our favorite cities as well as some new places we are visiting for the first time. We can't wait to see all the TETRARCH FREAKS out on the road."
TETRARCH Twisted Dreams January/February Tour Dates:
January 18 – Las Vegas, NV @ Count's Vamp'd
January 19 – Phoenix, AZ @ The Rebel Lounge
January 20 – Tucson, AZ @ House of Bards
January 21 – Albuquerque, NM @ The Launchpad
January 23 – Austin, TX @ Come and Take it Live
January 25 – Corpus Christi, TX @ House of Rock
January 31 – Atlanta, GA @ The Masquerade
February 1 – Nashville, TN @ The High Watt
February 5 – Raleigh, NC @ The Maywood
February 6 – Baltimore, MD @ The Ottobar
February 7 – Pittsburgh, PA @ The Smiling Moose
February 9 – Poughkeepsie, NY @ The Loft at the Chance
February 12 – Providence, RI @ Alchemy
February 14 – Brooklyn, NY @ St. Vitus
February 15 – Manchester, NH @ The Bungalow
February 16 – Portland, ME @ Geno's Rock Club
February 21 – Louisville, KY @ The Tiger Room
February 23 – Kansas City, MO @ All Star Bar
+More TBA!
TETRARCH burst onto the scene in 2017 with the release of their full-length album, Freak. The albumimmediately reached strong positions on several iTunes charts – debuting within the Top 200 chart, at #3 on the metal charts and #17 on the rock charts. Their lead single, "Freak", has garnered huge response from Sirius XM Octane, and hit Top 50 on the Active Rock charts.
Freakis available to order now via iTunes, Amazonor Google Play. Merch bundles are also available via www.tetrarchmusic.comand the band's Facebook page.
Watch music videos from TETRARCH here:
"Freak": https://youtu.be/GagWIMAJraw
"Oddity": https://youtu.be/8JSHrza2gbs
"Pull the Trigger": https://youtu.be/or_FNC9hzFQ
TETRARCH is:
Josh Fore – vocals/guitar
Diamond Rowe – lead guitar
Ryan Lerner – bass
Ruben Limas – drums
TETRARCH online:
www.facebook.com/tetrarchmusic
www.instagram.com/tetrarchmusic
For radio promotions, please contact SetUp Promotions:
Sudi Gaasche-Gill, Sudi@setuppromotions.com, 973-378-3262
Ken Pittman, kenwpittman@gmail.com, 310-990-2003
For metal radio specialty promotions, please contact Skateboard Marketing Ltd.:
Munsey Ricci, skatebmkt@aol.com, 516-328-1103
Scott Sommer, Skateboardscott666@gmail.com