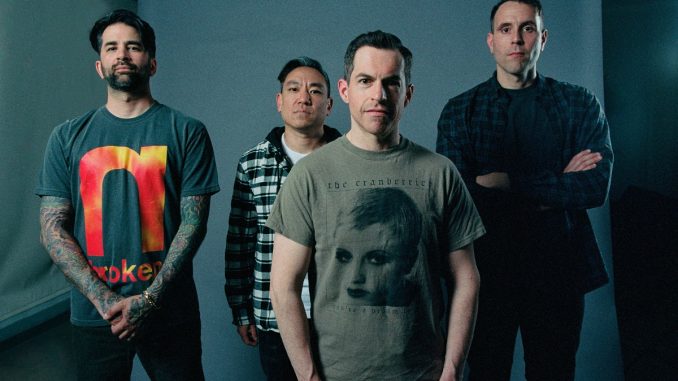 NEW ALBUM CHANGE THE WAY YOU THINK ABOUT PAIN OUT MAY 26 VIA CLOSED CASKET ACTIVITIES
INCENDIARY — Brendan Garrone, vocals; Brian Audley, guitar; Rob Nobile, guitar; and Dan Lomeli, drums — recently announced their new album Change The Way You Think About Pain. It arrives on May 26 via Closed Casket Activities. Pre-order it here.
Today, the band has the single "Lie of Liberty." Listen here.
"The word 'liberty' has been hijacked by a certain cohort of people to excuse selfish and apathetic behavior as part of a vague, pseudo-Libertarian worldview," the band states. "This song is a reflection of this trend that most of us have seen in our post-COVID daily life."
CHANGE THE WAY YOU THINK ABOUT PAIN TRACK LISTING:
"Jesus Bones"
"Host/Parasite"
"Lie of Liberty"
"C.T.E."
"Collision"
"Rats in the Cellar"
"Santosha (Illusion of the Self)"
"Change the Way You Think About Pain"
The band just announced an in-store performance at Rough Trade in NYC set for May 30. All details are posted in the graphic.
Armed with crushing metallic riffs, instantly both fresh and familiar, Incendiary populate each of their four full-length albums with irresistibly energized rhythms and adrenalized urgency.
Change The Way You Think About Pain
is their leanest and unapologetically meanest yet. The quartet weaned on the Long Island, New York, hardcore scene have more to say than ever. Sharply biting and insightful lyrics sit atop blunt metalcore in a perfect soundtrack to throw a brick through a window.
Incendiary deliver a sound of its own, mixing classic passion and modern power. Frontman Brendan Garrone, guitarists Brian Audley and Rob Nobile, and drummer Dan Lomeli cite East Coast hardcore heroes like Vision Of Disorder, 108, Indecision, and Glassjaw as part of Incendiary's formative DNA. Less familiar listeners might liken them to a very heavy Rage Against The Machine.
The band returned to Will Putney of Graphic Nature Audio (Knocked Loose, Every Time I Die, Vein.fm) to engineer, mix and master the new release. Many essential genre bands never made a second album, let alone a fourth. "We are kind of in rare territory being a hardcore band on their fourth LP," Garrone concedes. "It feels like a milestone. By now, you're either 'supposed' to drastically change your sound or have it be the exact same thing as the record before," he adds. "We didn't want to do either of those things. Our focus was on refining the sound that we've optimally been working towards rather than any desire to make a huge pivot." Audley says that in addition to the more focused songwriting on Change The Way You Think About Pain, "we also wanted it to be more aggressive and more abrasive, in terms of songs and production."
Thematically, Incendiary's fourth album confronts the hyper-polarization of American society, those who confuse selfishness with freedom, and the lengths we'll go to in order to avoid pain and maintain comfort. The socio-political pulse found throughout Cost of Living remains, with a deeper exploration of the introspective personal lyrics Garrone started to introduce on Thousand Mile Stare. "The album is a mix of both the socio-politically driven content and darker, more personalized subjects. The album title is meant to conjure the concept of pain avoidance," Garrone explains. "Most of the songs have some kind of tie back to the things everyone does to avoid feeling any semblance of pain. 'Pain avoidance' is a phrase me and Brian came across and kept in the back of our minds."