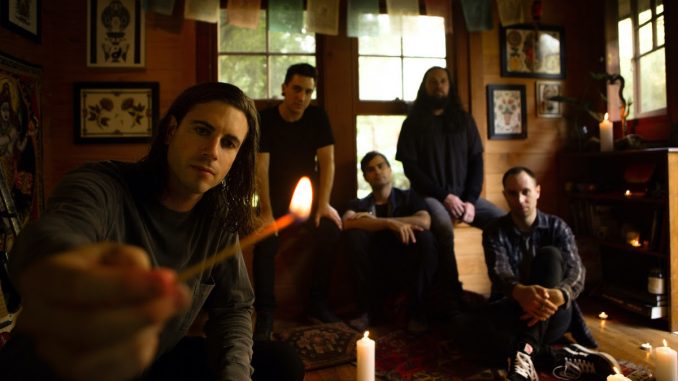 OFFICIAL SOUNDTRACK/OST/COLLECTION OUT AUGUST 5 VIA UNFD

BAND SHARES VISUALIZER FOR NEW SINGLE "W2HA" — WATCH
Following a triumphant and powerful screening of their documentary Green Is The New Black across the globe for Earth Week 2022 and a recent nomination for an Environmental Music Prize, Australian heavy hitters In Hearts Wake have announced the official soundtrack/OST/collection for their impactful film, with the soundtrack officially due out on August 5 via UNFD. Pre-order it here.
A collection of songs featured in the powerful documentary, which dives deep into the music industry's relationship to the environment and the making of In Hearts Wake's 2020-released and 100% carbon-offset album Kaliyuga, the accompanying soundtrack for Green Is The New Black is equally as hard-hitting as its visual counterpart, featuring new songs written and produced specially for the film.
In conjunction with the announcement of Green Is The New Black, In Hearts Wake have also unveiled a new single from the impending release. "W2HA," short for "Welcome to Hell-A," roars into the world.
Watch the visualizer here.
Featuring vibrant riffs, graveled vocals, and towering soundscapes, "W2HA" is vibrant, polished, and full of sonic menace, while perfectly capturing vocalist Jake Taylor's eye-opening experiences while living and writing in Los Angeles.
"'W2HA (Welcome to Hell-A)' was written during my time living in Los Angeles," says Taylor. "I'd never experienced such a disturbing divide between wealth and poverty. I would often ride my bike through Venice Beach. There were the most insane Hollywood mansions. And then one block away, there would be tent villages full of desperation, crime, and suffering. The separation was confusing, and the dog-eat-dog hustle mentality didn't feel right. L.A. was a fragile, man-made oasis built on a volatile desert. I experienced a 7.1 magnitude earthquake, and then weeks later, Malibu went up in flames, raining ash all over the city. For me, it was like living in some sort of concrete hell."
With Green Is The New Black dropping in early August, fans can also catch the new tunes and plenty of fan-favorites live in action when In Hearts Wake hit the road from August until October for their Green Is The New Black Australian Tour. Also strengthening their environmental message, In Hearts Wake will offset 150% of the carbon emissions on their upcoming tour.
IN HEARTS WAKE ARE:
Jake Taylor — Vocals
Kyle Erich — Vocals + Bass
Ben Nairne — Guitar
Eaven Dall — Guitar
Conor Ward — Drums