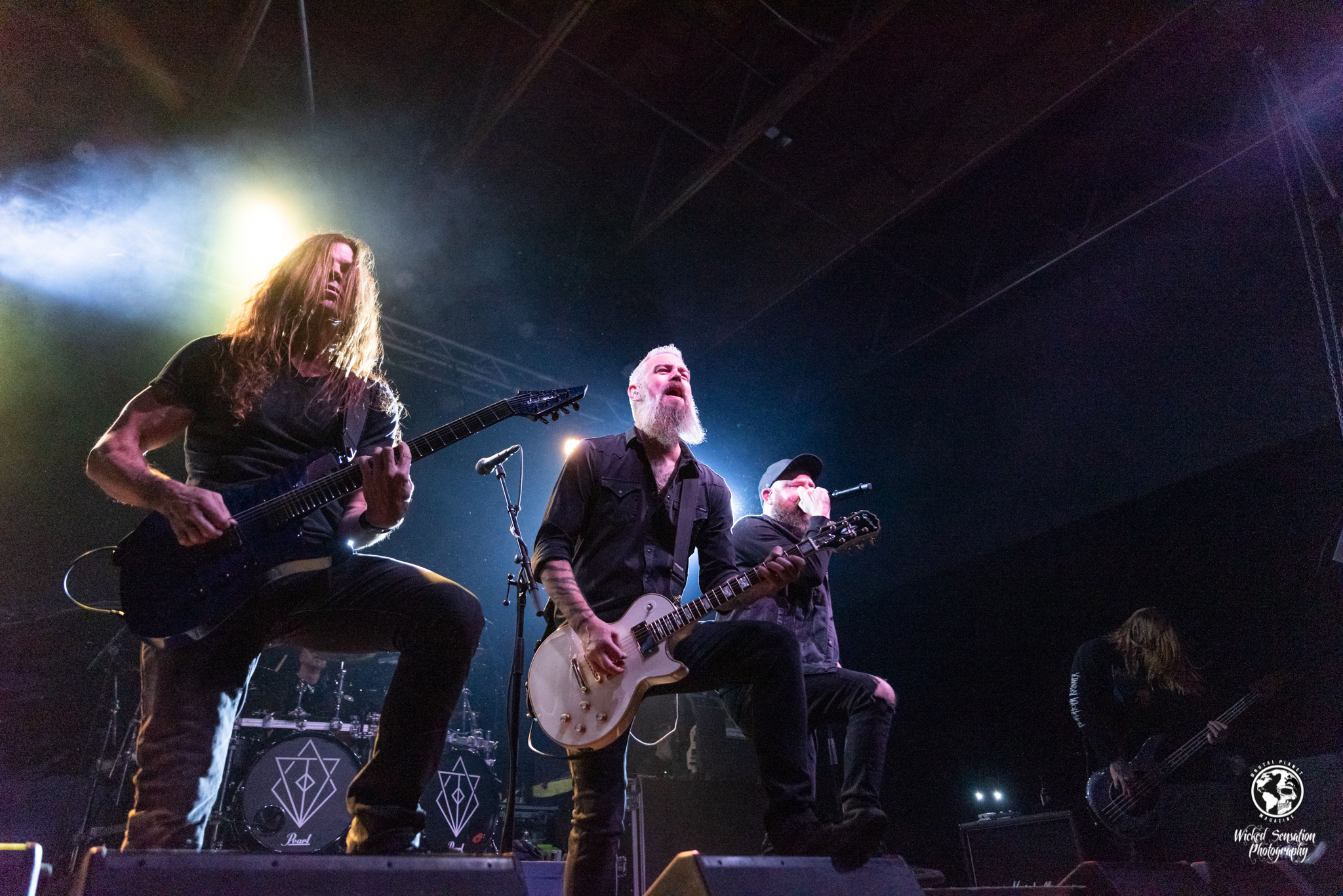 Of all the concerts I've been to in 2019, I place this lineup amongst the top. Newcomers Arrival of Autumn threw down from the moment they hit the stage. They had a circle pit going on for the duration of their set. Vocalist Jamison Friesen paced the stage like a predator after prey. The entire band fed off of and fed energy to the crowd. Sometimes what a band portrays in a music video doesn't match up to their live performance. That is not the case with AoA and precisely why they are part of the Nuclear Blast family. Playing through their first album release Harbinger they played such crushing songs like "Witness, Better Off Without, End of Existence" and many others. Arrival of Autumn was the perfect opening act for this bill.

Up next was the band Red with founding members Randy (bass), Michael (vocals), Anthony (guitar), and joining them on drums, Dan. Not ones to rest on their many accolades, Red came and crushed their set. The life of a traveling musician can be brutal. Red shows no signs of it and are still killing it 13 years since their first release.
Opening with "Fight Inside" the energy that came from the band set the tone for the entire set. The entire crowd was fully vested with heads banging and screaming lyrics. With six albums out, they have a great catalog to pull from. We were left wanting more after their set was over.

Red's setlist was: "Fight Inside, Death of Me, Confession, Let Go, From the Ashes, Already Over, Feed the Machine, Out from Under, The Evening Hate, Breathe into Me."

For the second time in 2019, Sweden's own In Flames paid Salt Lake City a visit. Touring in support of their I, The Mask release. I had the pleasure of meeting the band on their last go around. I also had the pleasure of interviewing lead guitarist Bjorn. I was just as excited this time as I was for the show earlier in 2019. I saw a lot of familiar faces at the show. They, in turn, brought new faces to the show as did I. This is a testament to what a crushing set In Flames put on. Tonight did not disappoint.

I bumped into Chris Broderick during AoA's set. We chatted for a moment and I grabbed a picture with him. What a gentleman. Vocalist Anders had the flu last time through, though you would never have known it. Tonight, he was 100% and he took the time to have some witty conversations with the crowd. This time around In Flames threw in some deep cuts back to the band's beginnings.

Watching lead guitarist Bjorn during the set is like watching James Hetfield with his particular stance and head movement while playing. He was having a blast and so were we. At times messing with his guitar tech when his beer was empty and needing another. He certainly was sweating it off as he was partaking. Bjorn is a true professional. The entire time the crowd was moving with fists pumping, clapping to the rhythm, circle pit and jumping up and down. Such a killer set!
As this lineup continues to tour through the U.S., be sure to support them when they come to your town. You will be happy you did!
In Flames setlist: "Cloud Connected, Only For The Weak, Take This Life, Dead Ships, Call My Name, Behind Space, Follow Me, Monsters in a Ballroom, All For Me, House, The Hice, Wallflower, Here Until Forever, Burn, Voices, Everything's Gone, Colony, The Truth, I Am Above, The End"