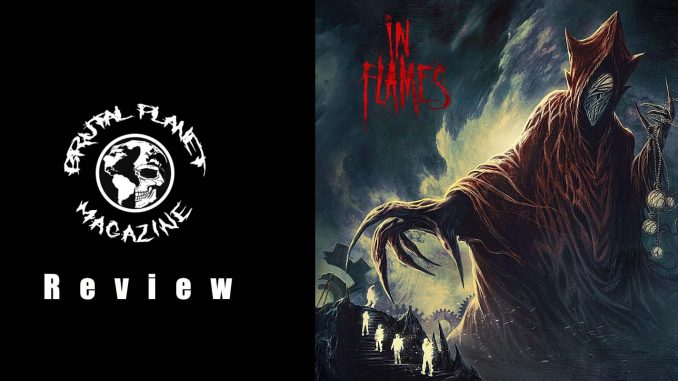 The legendary Swedish metal band In Flames is set to release their 14th studio album, Forgone, on February 10 through Nuclear Blast Records.
The band seems to be fueled with new energy and a new direction with the addition of former Megadeth guitarist Chris Broderick. It is rounded out by Bjorn Gelotte on guitar, Anders Friden on vocals, Andrew Tanner Wayne on drums and Bryce Paul on bass.
This album is full of heavy riffs, technical drumming, and mesmerizing vocals. It is a spectacular collection of metal from beginning to end that does not disappoint. Friden's vocals are on point with the grit and heaviness that fans are accustomed to. The addition of Broderick's masterful guitar skills also makes for some thrilling solos alongside Gelotte.
The first track "The Beginning of All Things That Will End" leads you into a slow and beautiful journey with classical acoustic and a soft cello. The subtlety doesn't last for long though. It sets up the hard hitting next track "State of Slow Decay".
"Meet Your Maker" starts with powerful vocals, heavy bass and groovy drums. The song takes you deep into a story which speaks about the afterlife and accounting for the things you have done while living. This song, in my opinion, is one of the most powerful on the album.
"Forgone Part 1" and "Forgone Part 2" both take surprising and unexpected turns with haunting and diverse vocals as well as dramatic guitar work. Both tracks are beautifully done.
"The Great Deceiver" and "In the Dark" are both dark tales of the loss we all experience when we are forced by our leaders to go to war. The desperation and rage that come from being voiceless comes through in the lyrics and tells a sad story.
"A Dialogue in B Flat Minor "and "End the Transmission" are both strong tracks and finish the record off with some face shredding vocals, hammering drums, and galloping bass and guitars.
The entire album is magical and aggressive in how it weaves in and out of all the solos and vocals. This group of musicians plays so well together, with a sound that is truly is organic from the first note to the very last. Their technical abilities and methodical nature throughout this entire body of music is a pleasant surprise and will surely leave the listener wanting more.
In Flames' new album Forgone will be available on all platforms February 10, 2023