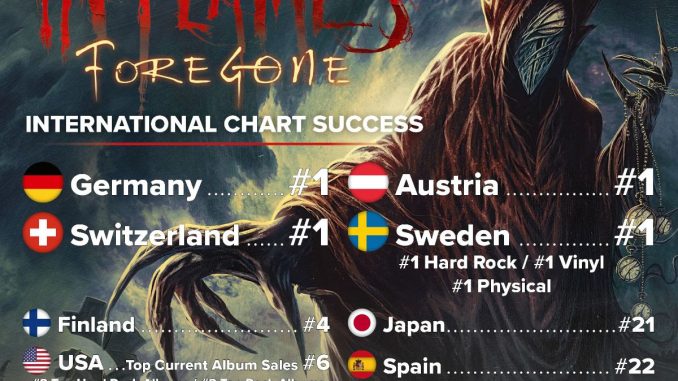 NEW ALBUM IS NO. 1 IN SWEDEN, GERMANY, AUSTRIA, + SWITZERLAND — LISTEN
The Jesterhead is rising again.
IN FLAMES, the modern metal visionaries, can celebrate another major career milestone. The band's latest studio album, Foregone, has achieved phenomenal success on the international charts. The band scored a stunning No. 1 result in their home country Sweden, easily surpassing their competitors. The record also conquered the No. 1 spot in several other European countries, landing them the top position in Germany, Austria, and Switzerland, proving their ongoing international success and the sheer devotion of their fans.
"We want to thank all the Jesterheads worldwide for the continued support especially on our new album Foregone!," states IN FLAMES. "Can't wait to bring these songs live around the world! See you all very soon…"
Foregone is the band's 14th studio album. It's an unequivocal masterpiece from a band whose artistry and influence on modern metal is undeniable. It also saw the band featured on the cover of Revolver.
Foregone combines the greatest aggressive, metallic, and melodic strengths of IN FLAMES' landmark catalog records with the seasoned song writing of their contemporary era.
A sense of pride, accomplishment, and continued vitality are evident every time the band takes to the stage and is evident all over Foregone. The album itself represents IN FLAMES past, present, and future.
Get the album here.
INTERNATIONAL CHART PLACEMENTS:
Germany #1
Switzerland #1
Austria #1
Sweden #1 (Hard Rock #1, Vinyl #1, Physical #1)
USA Record Label Independent Current Album Charts #2
Finland #4
Norway #10
Scotland #15
Greece #20
Spain #20 (Vinyl #1)
Belgium (Vlaanderen) #20
Japan #21
Poland #24
Belgium (Wallonia) #29
Netherlands #60
Australia #63 (Digital #3, Physical #7)
France #63 (Physical #22, Vinyl #63)
United Kingdom #79 (Indie #6, Rock #3, Vinyl #23)
Italy #93
FOREGONE TRACK LISTING:
"The Beginning of All Things That Will End"
"
State of Slow Decay
"
"
Meet Your Maker
"
"Bleeding Out"
"
Foregone Pt. 1
"
"
Foregone Pt. 2
"
"Pure Light Of Mind"
"The Great Deceiver"
"In The Dark"
"A Dialogue in b Flat Minor"
"Cynosure"
"
End The Transmission
"
ABOUT IN FLAMES:
IN FLAMES are one of the biggest metal bands in the world — never shying away from pushing their artistic boundaries, crafting music that's as catchy as it is crushing. Formed in 1990, the band is considered one of the forefathers of melodic death metal and the purveyors of the "Gothenburg sound." With 13 studio albums under their belt, countless successful tours around the globe playing with the likes of Black Sabbath, Metallica, Iron Maiden, Megadeth, Judas Priest and Slayer — with millions of records sold and a massive fanbase worldwide — IN FLAMES have proven to be an unstoppable force. From their 1994 debut Lunar Strain onwards, the band's intricate twin guitar attack, melodic vocals, and superb arrangements have given them a signature sound that has evolved throughout the years.
IN FLAMES ARE:
Anders Fridén | Vocals
Björn Gelotte | Guitar/Vocals
Chris Broderick | Guitar
Tanner Wayne | Drums
Bryce Paul | Bass