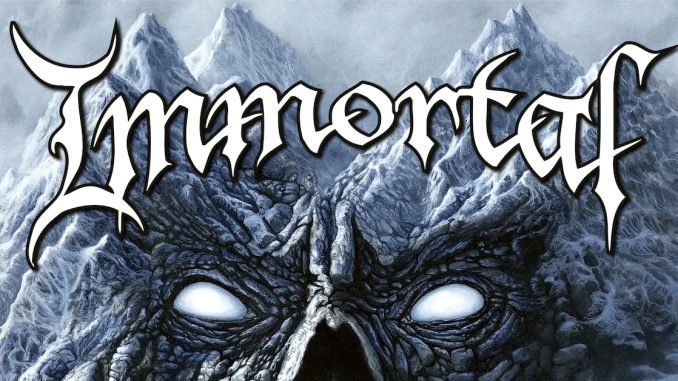 It's been nearly five years between the release of Immortal's latest effort War Against All and their 2018 release. Both albums are on Nuclear Blast Records.
Northern Chaos Gods, the 2018 effort, was the first release after Abbath's departure leaving sole founding member Demonaz and Horgh.
In those five years, Horgh has since departed leaving Demonaz to steer the mighty Immortal. He's the only remaining original or classic – era member of Immortal.
With the release of War Against All, Demonaz has done a fine job leading Immortal back to their early sound. It's the band's tenth album overall. The musical style of War Against All is what Immortal established on their first records.
The best descriptive words for War Against All could include fast, furious and epic. The music is geared towards Blashyrkh metal, the harsh, dark and cold side of nature. The album contains eight tracks that all define the music coursing through the Immortals veins.
The title track, "War Against All" was the first single released giving listeners a hint of what to expect. It's a frosty and raw marching into battle type of anthem. It's the first song Demonaz wrote as commander of Immortal.
Ideally, its placement as the lead track for the album sets the tone for what's to come. That classic Immortal sound.
"Return to Cold," was made available on the day of release. It was the second song Demonaz wrote for "War Against All."
It's a powerful song with that early Immortal feel straight from the opening riff.
Keeping with that classic Immortal sound, the third track "War God." The track has the same feel as "Tyrants" from 2002's Sons of Northern Darkness.
Even though all tracks on War Against All can stand alone, "Nordlandihr," a person of the north is one of the top tracks. The epic and purely instrumental track contains plenty of instrumental dynamics clocks in at 7:13.
Track seven sees the band writing the band name as a title, "Immortal." This precedes the final track, "Blashyrkh My Throne," one of the lengthier tracks. With the song title, it keeps with the theme and ideologies of the album.
Throughout War Against All, unfortunately the bass is a tad on the lacking side. That's not enough though to discredit the release though.
War Against All will go both ways, appealing to some and not others. The Blashyrkh theme can be repetitive to the casual or new Immortal fan not accustomed to blizzards and arctic blasts. Anything different would feel strange and odd. Blashyrkh is what Immortal is.
War Against All is available in several vinyl variants, CD, tape and a box set through Nuclear Blast Records.