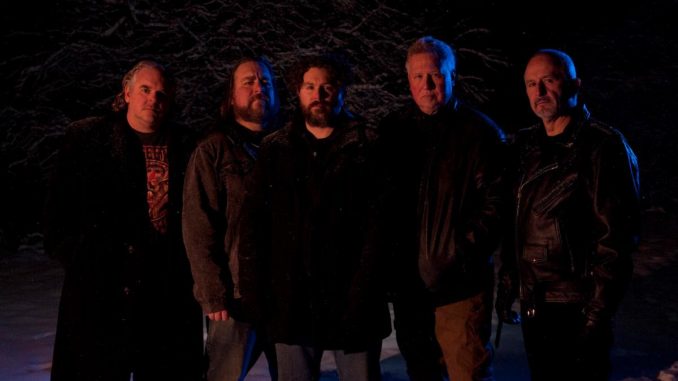 First Single "Fledgling" Out Now –
LISTEN
Detroit-based 'Progressive Super Metal' quintet IMMINENT SONIC DESTRUCTION will release their third studio album, titled 'The Sun Will Always Set', on April 15th, 2022. The follow-up to their 2016 sophomore effort 'Triumphia', the new record was produced by Nick Hagen and features guest appearances from Battlecross guitarist Tony Asta and touring cellist for Leprous Raphael Weinroth-Browne, to name a few.
In support of the upcoming full-length, the band has dropped the first single from 'The Sun Will Always Set' – fans can check out "Fledgling" via the
ISD Bandcamp
. Speaking about the new single, Pete Hopersberger (vocals/keys) comments:
"'Fledgling' represents everything we are as a band, while simultaneously forging into some new territory. It's a great intro to the new album, in my opinion. Tony and I trading vocals between the verse and chorus really adds an interesting twist to our sound. And of course, keeping our Progressive Super Metal™ street cred fully armed and operational means that we found a way to incorporate drum breaks, keyboard and guitar solos, instrumental passages, and big harmonies. It's like a mini-album all by itself."
About IMMINENT SONIC DESTRUCTION:
Originally formed in 2007 as "mellotrön_", Imminent Sonic Destruction features the same lineup today that they started with: Pat DeLeon on Drums, Pete Hopersberger on Keyboards & Vocals, Bryan Paxton on Bass & Vocals, Tony Piccoli on Guitar & Vocals, and Scott Thompson on Guitar & Vocals. Imminent Sonic Destruction's influences range from Genesis, Devin Townsend, Rush, and King's X, to Pantera, Dream Theater, and Meshuggah.
In 2012 I.S.D. paired up with producer/guitarist ROY Z (Bruce Dickinson, Rob Halford, Tribe of Gypsies) and recorded their first full-length album 'Recurring Themes'. The album led the band to their first national tour, pairing up with Sweden's PAIN OF SALVATION
and Italy's KINGCROW. In 2015 they were offered the opportunity to tour with progressive metal legends FATES WARNING, which they acted on, gaining lifelong hardcore fans along the way. In 2016 Imminent Sonic Destruction released their second album 'Triumphia', a concept record featuring songs like "The Fog", and the 23-minute epic "Arborous Calm." The album of course turned the prog metal world on its head, which led to a tour with Norway's CIRCUS MAXIMUS, and a co-headlining run with NYC's EDENSONG.
A number of years and one pandemic later, I.S.D. are poised to release their third full-length album, 'The Sun Will Always Set'. The new album was produced by Nick Hagen, guitarist of Michigan-based progressive metal band ENTRANSIENT. With Nick at the helm, I.S.D. was able to fully actualize the album the new LP in the way they intended. TSWAS features the heavy riffs, non-standard arrangements, and vocals you've come to expect from I.S.D., but in fresh new contexts. The new record features guest appearances from guitarist Tony Asta of BATTLECROSS, cellist Raphael Weinroth-Browne of LEPROUS, vocalist Lady Luna from LADY LUNA AND THE DEVIL, and vocalist Kevin Wroebel of DRAGGED BENEATH.
IMMINENT SONIC DESTRUCTION are:
Peter Hopersberger – Vocals, Keyboard
Tony Piccoli – Vocals, Guitar
Scott Thompson – Guitar
Pat DeLeon – Drum
Bryan Paxton – Bass, Vocals
IMMINENT SONIC DESTRUCTION Online: