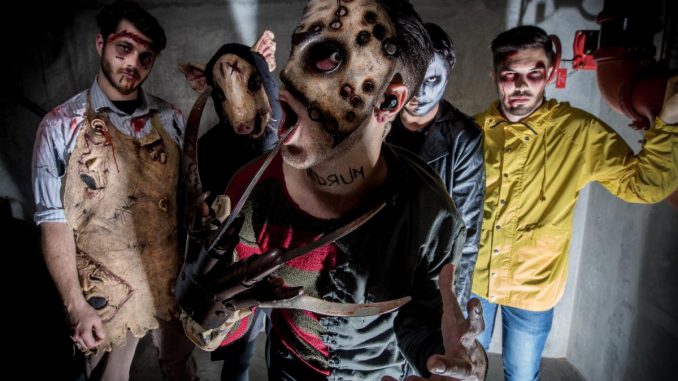 Friday, December 11th, 2020 – Horror themed, metalcore pioneers Ice Nine Kills, have shared a killer live clip for their Jaws inspired track "Rocking The Boat" shot at the band's 2019 sold-out hometown show at the Worcester Palladium complete with an inflatable shark attack. The performance is also featured on the bands recent "I Heard They KILL Live!!" album featuring the full set of the show, which is out now on Fearless Records, listen/order
here
. Watch the video for "Rocking The Boat" Live From The Worcester Palladium here or by clicking the image below.
Speaking on the new clip, Ice Nine Kills frontman and creative mastermind, Spencer Charnas shares
"This particular song was a highlight every night to me. I mean, How often do you get to antagonize one of your crew members while they're wearing a large inflatable shark costume in front of a couple thousand people?"
WATCH: Ice Nine Kills "Rocking The Boat" Live At The Worcester Palladium
"I Heard They KILL Live!!" features the 19 song live set recorded live at the band's sold-out, home town show at The Worcester Palladium on November 30, 2019, whilst on the Octane Accelerator tour. It features massive Ice Nine Kills tracks from their 2018 hit album "The Silver Scream", as well as fan favorites such as "Hell In The Hallways" and "The Fastest Way To A Girl's Heart Is Through Her Ribcage". The album is available to pre-order digitally, on CD or as a double vinyl LP with a variety of pre-order merch bundles available
here
. Watch the previously released video of "Stabbing In The Dark" Live below.
WATCH: Official Live Video for "Stabbing In The Dark" Taken From "I Heard They Kill Live".
ICE NINE KILLS

I HEARD THEY KILL LIVE!!

TRACK LISTING

1. Thank God It's Friday

2. The Jig Is Up

3. SAVAGES

4. The Nature Of The Beast

5. The World In My Hands

6. Communion Of The Cursed

7. A Grave Mistake

8. Your Number's Up

9. Rocking The Boat

10. Merry Axe-Mas

11. Thriller

12. Hell In The Hallways

13. Stabbing In The Dark

14. The Fastest Way To A Girl's Heart Is Through Her Ribcage

15. Love Bites

16. Tess-Timony

17. Me, Myself and Hyde

18. The American Nightmare

19. IT Is The End
About Ice Nine Kills
In a landscape littered with celebrity fakes and would-be influencers, Ice Nine Kills stand apart. Visionary trailblazers and multimedia raconteurs, Ice Nine Kills has steadily built a thrilling new underworld for a growing legion of devoted true believers, with theatrical shows, high-concept videos, and inventive band-to-fan communion.
Ice Nine Kills summon the most captivating elements of metal, punk and hard rock and combine it with melody, cinematic obsession, and a literary fascination.
Loudwire hails them as "one of the most unique acts in metal right now," a declaration supported by the band's Billboard Hard Rock Albums chart topping slab, The Silver Scream.
The Silver Scream and the subsequent extended edition, The Silver Scream: Final Cut generated anthems for the disenfranchised and subculture obsessives, like The American Nightmare, A Grave Mistake and Savages and broke them into Active Rock radio, with hit track A Grave Mistake peaking at #9.
After a decade of studio wizardry and live theatricality, Ice Nine Kills draws favorable comparisons to rock icons like Slipknot, Rob Zombie, and Marilyn Manson, via a like-minded synergy of music, lifestyle, and cult following reverence. With 1 million monthly listeners on Spotify, a combined social media reach of over 762k and over 70 million views on Youtube, the band are firmly cemented as one of modern metal's most ferocious forces.