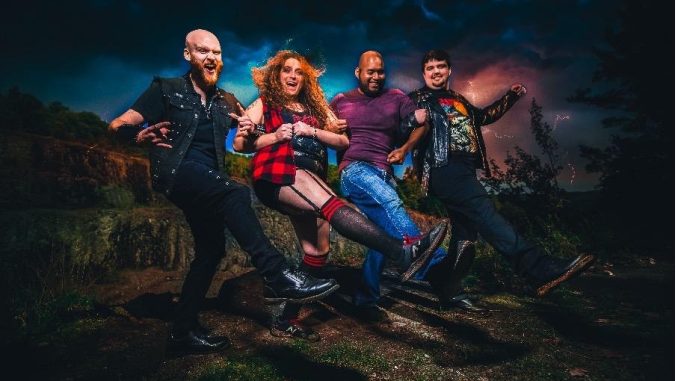 Listen HERE
New Album 'Ghost of Humanity' Out September 8th!
Pre-Order HERE
Boston progressive thrash metal outfit ICE GIANT have released a new single from their upcoming studio album. The new track, "Grandeval's Machine", is the third and final lead-up track before the release of the band's long-awaited sophomore studio full-length, 'Ghost of Humanity'.

In addition to the album, ICE GIANT will join forces with Atlanta prog-metal explorers Scorched Moon for nine shows in the month of September – beginning in their own hometown of Boston with a record release show at The Middle East on September 8th. A complete list of dates can be found below.

Speaking on "Grandeval's Machine", the band shares:

"'Grandeval's Machine' unveils a futuristic Earth overwhelmed by war and global climate crisis. Amidst fire and destruction, a bio-mechanical plague rises and binds itself to the flesh of Earth's population. This song sets the stage for the full concept of the 'Ghost of Humanity' album by showcasing the ending of human society if we continue down the wrong path."

Listen to "Grandeval's Machine" HERE
ICE GIANT's new album 'Ghost of Humanity' was recorded and mixed by Brian Westbrook at Sonic Titan Studios and mastered by Jack Kosto over the course of the COVID-19 pandemic. It features an electric bass performance by Peter de Reyna, as well as keyboards and orchestrations by Vikram Shankar. The album will be released on September 8th, 2023.

'Ghost of Humanity' is a thematic space odyssey about the final survivors of the human race as they escape from post-apocalyptic earth and try to find a new home elsewhere in the galaxy. Along the way, the listener is presented with ethical questions surrounding the nature of humanity, its impact on the planet's climate, the morality of warfare, and more.
ICE GIANT – "A Tour of Ice & Fire"
US Tour Dates w/ Scorched Moon
9/8 @ The Middle East Upstairs – Cambridge, MA
9/9 @ Cherry Street Station – Wallingford, CT
9/10 @ The Brooklyn Monarch, Mona Lisa Room – Brooklyn, NY
9/11 @ The Depot – Baltimore, MD
9/12 @ Century Bar – Philadelphia, PA
9/13 @ Another Round Bar & Grill – Richmond, VA
9/14 @ BrickYard Bar & Grill – Knoxville, TN
9/15 @ Star Bar – Atlanta, GA
9/16 @ TBA – Birmingham, AL
Artwork: Adam Burke / Nightjar Illustrations
'Ghost of Humanity' Track List:
1. Heritage
2. Grandeval's Machine
3. Emergence
5. Home for Eternity
6. Venthos Prime
8. In the Maw of Reality
9. Unification Epoch
10. Visages of Our Past Despair
11. Legacy
About ICE GIANT:

ICE GIANT has one focus: to create engaging and satisfying music by combining the best elements of death metal, thrash metal, and progressive metal. Since the release of their self-titled album in 2017, ICE GIANT have performed at numerous venues across New England, and plan to bring their killer live show down the entire East Coast by the end of 2023. Patrons of the live performances can sport their favorite ICE GIANT t-shirt and enjoy epic belting vocals, blistering guitar harmonies, ground shaking orchestral sound design and a thunderous rhythm section.
Watch the Video for

"Ghost of Humanity" HERE

Watch the Video for

"Serenity of Darkness" HERE
ICE GIANT are:

Olive Gallop – Guitar, Vocals

Eddie Shifflet – Guitar, Vocals

Daniel Saillant – Bass, Vocals

Alexander Paiva – Drums

'Ghost of Humanity' performed by:

Olive Gallop – Guitars, Vocals

Eddie Shifflet – Guitars, Vocals

Zachary King – Drums, Backing Vocals

Peter de Reyna – Bass

Vikram Shankar – Keyboards, Orchestrations