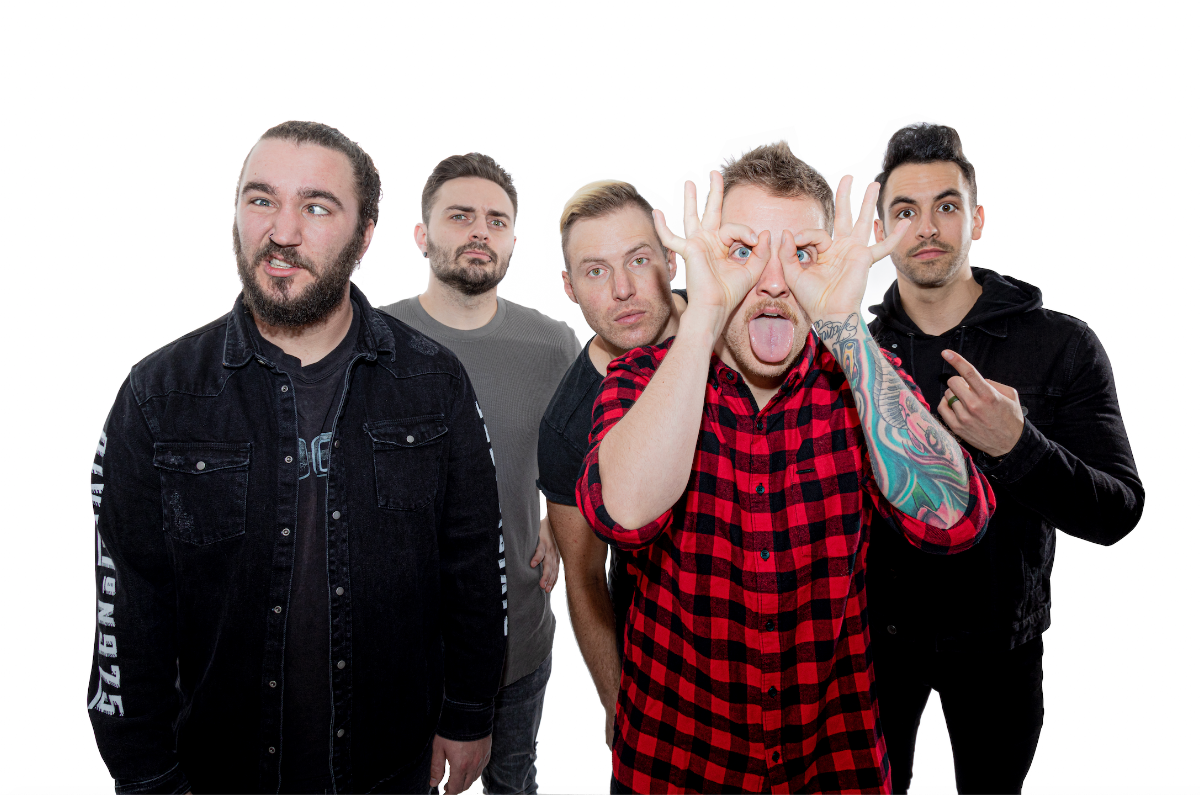 BAND NOMINATED FOR TWO 2020 GRAMMY AWARDS FOR BEST ROCK ALBUM FOR TRAUMA + BEST METAL PERFORMANCE FOR "BOW DOWN"

BAND TO EMBARK ON ARENA TOUR IN SUPPORT OF FIVE FINGER DEATH PUNCH THIS SPRING
Capping off a banner year highlighted by over 100 million streams, sold-out headline shows, a Top 15 debut on the Top 200, acclaim from Billboard, and two GRAMMY nominations, rock juggernaut I Prevail have released a new music video for "Hurricane." The clip is a live, 2019 tour recap that highlights I Prevail's inimitable and impactful live presence by intercutting kinetic clips from recent sold out shows. The energetic ebb and flow mirrors the waves of irresistible intensity of the song from the melodic moments to the metallic.
Watch "Hurricane" here.
Last month, I Prevail garnered their first-ever GRAMMY nominations in the categories of Best Rock Album for Trauma and for Best Metal Performance for "Bow Down." The 62nd Annual GRAMMY® Awards broadcast on CBS Sunday January 26, 2020.
"Bow Down" stands out as the lead single from the group's critically acclaimed second full-length, Trauma—out now via Fearless Records. Additionally, the single "Breaking Down" was named the 2019 Song of the Year by listeners of SiriusXM's Octane.
These milestones further affirm the platinum-certified Detroit quartet as 2019's biggest breakthrough rock band, inching its way towards mainstream domination. The group sold out its largest headline tour to date in the Spring and Summer, and just wrapped a tour serving as direct support to A Day To Remember in arenas across the country on the Degenerates Tour.
I Prevail will return to the road in Spring 2020 on an arena tour —their second in a row— supporting Five Finger Death Punch. All dates are below.
The story of I Prevail hits even harder than the music. They took a mental health breakdown, turned it into a powerful body of work, and made an audience connection online and I.R.L. on par with that of a pop or hip-hop act. These numbers—100 million streams and 100 million views and a Top 15 debut on the Billboard Top 200—remain unprecedented for rock. Trauma shocked the system quietly and continues to do so.
I PREVAIL ON TOUR:
4/8—Sunrise, FL — BB&T Center
4/10—Duluth, GA — Infinite Energy Center
4/11—Pelham, AL — Oak Mountain Amphitheater
4/13—San Antonio, TX — AT&T Center
4/14—Ft. Worth, TX — Dickies Arena
4/16—Houston, TX — Toyota Center
4/18—Phoenix, AZ — Talking Stick Resort Arena
4/19—San Diego, CA — Viejas Arena
4/21—Los Angeles, CA — The Forum
4/23—Tacoma, WA — Tacoma Dome
4/25—Portland, OR — Veteran Memorial Coliseum
4/27—Morrison, CO — Red Rocks Amphitheatre
4/29—Kansas City, MO — Sprint Center
5/3—Baltimore, MD — Royal Farms Arena
5/5—Worcester, MA — DCU Center
5/6—Newark, NJ — Prudential Center
5/8—Cincinnati, OH — Heritage Bank Center
5/12—Detroit, MI — Little Caesars Arena
5/14—Pittsburgh, PA — PPG Paints Center
5/15—Camden, NJ — BB&T Pavilion
5/17—Nashville, TN — Bridgestone Arena
5/19—Rosemont, IL — Allstate Arena
5/20—St. Paul, MN — Xcel Energy Center
I PREVAIL ARE:
Brian Burkheiser [clean vocals]
Eric Vanlerberghe [harsh vocals]
Steve Menoian [lead guitar]
Dylan Bowman [rhythm guitar]
ABOUT I PREVAIL:
Gold-certified Michigan quartet I Prevail refashion, re-up, and recharge rock music on their anxiously awaited 2019 sophomore offering, Trauma [Fearless Records]. If anybody can elevate the genre to mainstream ubiquity once more, it's this band. Since their 2014 arrival, they set a precedent to catalyze rock's evolution. The band put up astounding numbers rarely synonymous with the genre or their peers, for that matter. Nearing half-a-billion streams and 115 million YouTube views, they moved over 500,000 albums worldwide, notched three #1 singles on SiriusXM Octane, and played 500-plus shows in just three years. Not to mention, they achieved a gold single in the form of their take on Taylor Swift's "Blank Space" from the Heart Vs. Mind EP. On the mega-anticipated 2019 offering Trauma, they uplift rock to a plateau where soundscapes can unpredictably toss and turn between heavy metal, alternative, hip-hop, and electronic moods without warning, boundaries, or rules. Meanwhile, the lyrics team with confessional emotionality as if ripped from the pages of a secret diary. Vulnerable, vital, and visceral, the 15-track opus illuminates the future, and it's as bright and bold as the singles "Breaking Down" and "Bow Down." Rock may never be the same after this Trauma.