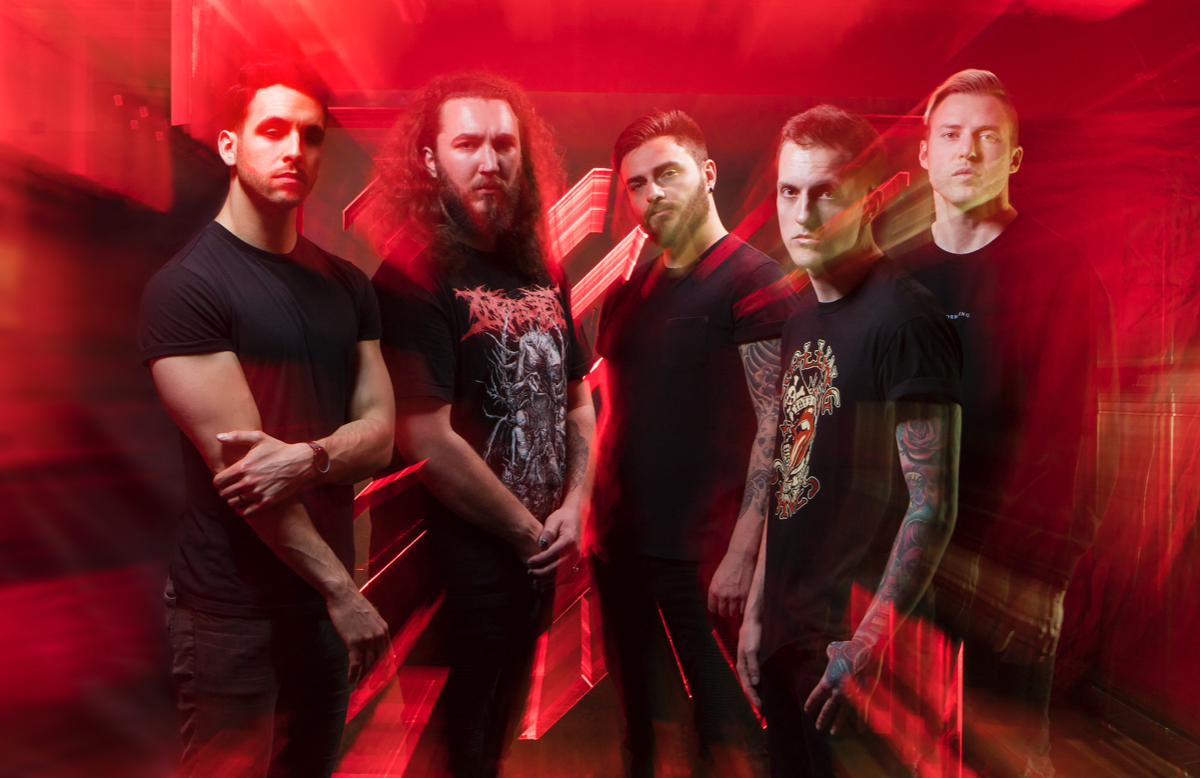 After generating nearly half-a-billion streams, going gold in a climate where that achievement is becoming increasingly rare, and completing a two-year whirlwind of sold-out shows, Detroit's I Prevail announced their second full-length Trauma earlier this week. The album will be released via Fearless Records on March 29. Pre-order it in physical and digital formats here.
The band also announced its Spring and Summer 2019 North American tour plans. The first leg of the band's headline tour kicks off on April 24 and runs through May 24. The second leg launches on July 11 and runs through August 9, and includes several major festival appearances. Joining the band for these dates will be special guests Issues and Justin Stone.
Tickets for the tour are available here.
All dates are below.
Trauma represents a moment of triumph in the wake of a series of trials and tribulations endured by the Michigan quartet—Brian Burkheiser [clean vocals], Eric Vanlerberghe [harsh vocals], Steve Menoian [lead guitar], and Dylan Bowman [rhythm guitar]. Even as they catapulted towards mainstream notoriety with 2016's breakout Lifelines, they faced unforeseen hardship that might've broken any other band. Burkheiser dealt with a debilitating vocal injury that jeopardized his future as a singer. He made it through, but dealt with the aftershocks of stress and anxiety. Conflicted with thoughts of potentially leaving the band, he made a decision. He got together with his band brothers in 2018 and they decided to craft the record they wanted to hear without outside input. Joined by producer Tyler Smith [Falling In Reverse], they emerged from 10 months in the studio with Trauma.
Now, the album represents a realization of their full potential. I Prevail elevate rock by making it unpredictable again, leaping from moments of metal, alternative, electronic, and heavy rock. This air of danger powers the hard-hitting new single "Bow Down." Watch + listen here. 
Additionally, they unveiled a companion single "Breaking Down," which pairs glitchy flourishes with a hypnotic and heartfelt vocal performance and impactful refrain. Watch + listen here.
With an equally melodic and momentous offering, I Prevail soar on Trauma. Smarter and more confident, rock music gets the band it needs to carry it to the frontlines of heavy music: I Prevail.
I PREVAIL ON TOUR:
WITH ISSUES + JUSTIN STONE:
4/24 — Kansas City, MO — Arvest Bank Theatre at the Midland
4/25 — Oklahoma City, OK — Diamond Ballroom
4/27 — Las Vegas, NV — House of Blues
4/28 — Phoenix, AZ — The Van Buren
4/29 — Anaheim, CA — House of Blues
5/1 — Portland, OR — Crystal Ballroom
5/2 — Seattle, WA — Showbox SoDo
5/4 — Boise, ID — Revolution Concert House
5/5 — Spokane, WA — Knitting Factory
5/7 — Salt Lake City, UT — The Complex
5/8 — Billings, MT — Shrine Auditorium
5/10 — Council Bluffs, IA — Westfair Amphitheater
5/11 — Wichita, KS — Wave
5/13 — Morrison, CO — Red Rocks Amphitheatre
5/15 — Dallas, TX — House of Blues
5/17 — Houston, TX — House of Blues
5/18 — San Antonio, TX — The Aztec Theater
5/20 — St. Louis, MO — The Pageant
5/21 — Chicago, IL — House of Blues
5/23 — Ft. Wayne, IN — Clyde Theatre
5/24 — Detroit, MI — The Fillmore
7/11 — London, ON — Harris Park*
7/12 — Niagara Falls, NY — Rapids Theatre
7/14 — Mansfield, OH — Mansfield Reformatory*
7/15 — Pittsburgh, PA — Stage AE
7/16 — Peoria, IL — Peoria Riverfront
7/18 — Oshkosh, WI — Ford Festival Park*
7/20 — Cadott, WI — Rock Fest*
7/22 — Clifton Park, NY — Upstate Concert Hall
7/23 — Huntington, NY — The Paramount
7/24 — Boston, MA — House of Blues
7/26 — Bethlehem, PA — Sands Bethlehem Event Center
7/27 — Montclair, NJ — The Wellmont Theater
7/28 — Philadelphia, PA — The Fillmore
7/30 — Silver Spring, MD — The Fillmore
7/31 — Charlotte, NC — The Fillmore
8/1 — North Myrtle Beach, SC — House of Blues
8/3 — Lake Buena Vista, FL — House of Blues
8/4 — Atlanta, GA — Buckhead Theatre
8/5 — Nashville, TN — Marathon Music Works
8/7 — Belvidere, IL — The Apollo Theatre
8/8 — Indianapolis, IN — Egyptian Room at Old National Centre
8/9 — Grand Rapids, MI — 20 Monroe Live
*Festival Date; I Prevail Only
ABOUT I PREVAIL:
Gold-certified Michigan quartet I Prevail refashion, reup, and recharge rock music on their anxiously awaited 2019 sophomore offering, Trauma [Fearless Records]. If anybody can elevate the genre to mainstream ubiquity once more, it's this band. Since their 2014 arrival, they set a precedent to catalyze rock's evolution. The band put up astounding numbers rarely synonymous with the genre or their peers, for that matter. Nearing half-a-billion streams and 115 million YouTube views, they moved over 500,000 albums worldwide, notched three #1 singles on SiriusXM Octane, and played 500-plus shows in just three years. Not to mention, they achieved a gold single in the form of their take on Taylor Swift's "Blank Space" from the Heart Vs. Mind EP. On the mega-anticipated 2019 offering Trauma, they uplift rock to a plateau where soundscapes can unpredictably toss and turn between heavy metal, alternative, hip-hop, and electronic moods without warning, boundaries, or rules. Meanwhile, the lyrics team with confessional emotionality as if ripped from the pages of a secret diary. Vulnerable, vital, and visceral, the 15-track opus illuminates the future, and it's as bright and bold as the singles "Breaking Down" and "Bow Down." Rock may never be the same after this Trauma.