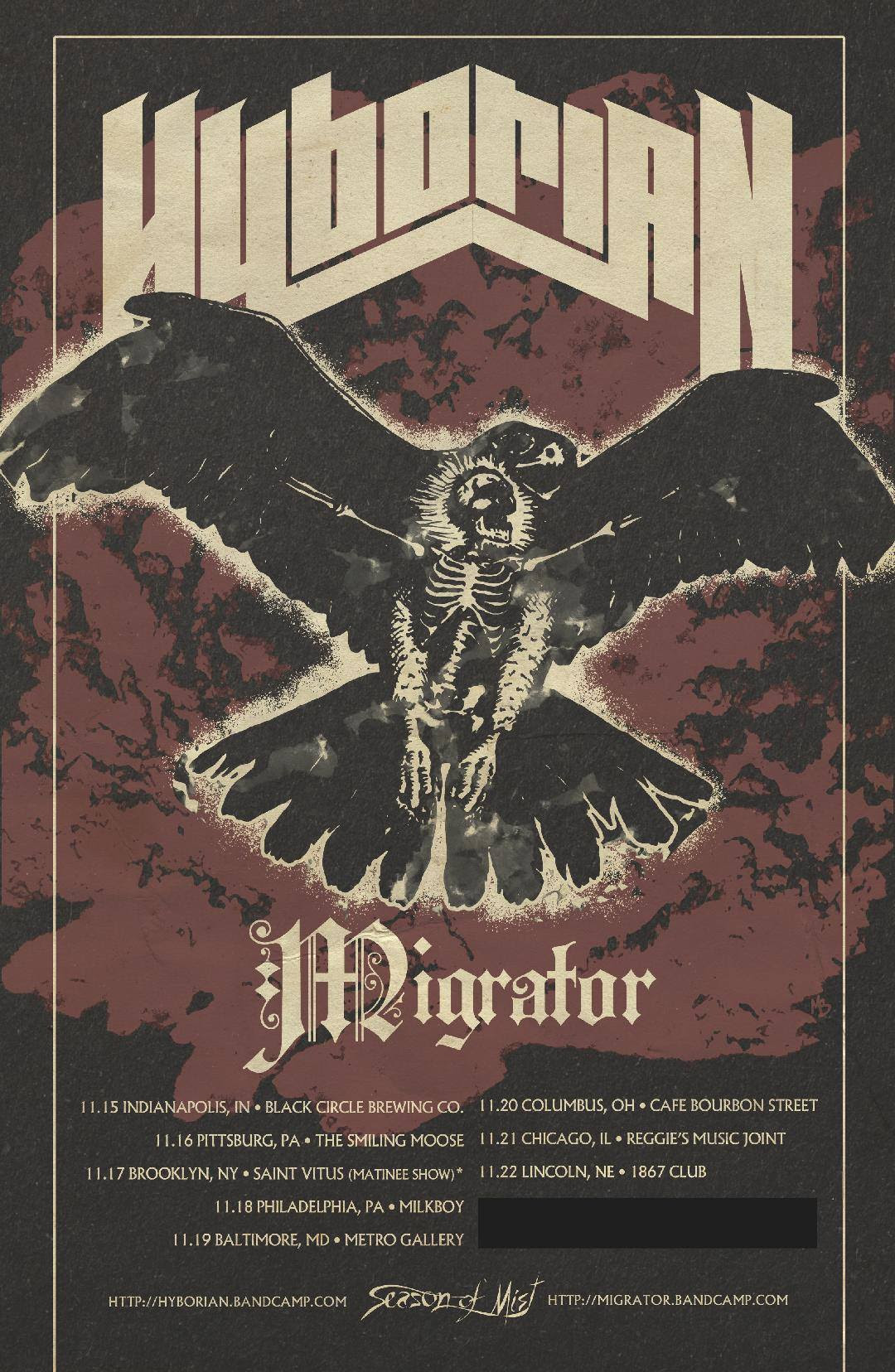 Heavy metal riff machine HYBORIAN have announced a run of headlining U.S. tour dates for this November, in which they will be supported by Migrator. Preceded by a set at Harvest of Doom Fest on October 19 in Lawrence, KS, the tour will officially kick off on November 14 in St. Louis, MO and will conclude on November 22 in Lincoln, NE. More dates TBA! The full itinerary is as follows:

HYBORIAN (w/ Migrator):
10/19: Lawrence, KS @ Harvest of Doom Fest [TICKETS // EVENT LINK]
11/14: St Louis, MO @ Fubar*
11/15: Indianapolis, IN @ Black Circle Brewing [EVENT LINK]
11/16: Pittsburgh, PA @ Smiling Moose [EVENT LINK]
11/17: Brooklyn, NY @ Saint Vitus Bar (Matinee Show)
11/18: Philadelphia, PA @ MilkBoy [TICKETS // EVENT LINK]
11/19: Baltimore, MD @ Metro Gallery [TICKETS // EVENT LINK]
11/20: Columbus, OH @ Cafe Bourbon Street [EVENT LINK]
11/21: Chicago, IL @ Reggie's [TICKETS // EVENT LINK]
11/22: Lincoln, NE @ 1867 Bar [EVENT LINK]
11/24: TBA
*No Migrator
ICYMI: HYBORIAN have previously released the first edition of their original new book, 'The Traveller – A Hyborian Tale,' which was written and illustrated by vocalist/guitarist Martin Bush. The 224 page sci-fi tale has been written as a companion piece for the band's upcoming conceptual full-length, 'Volume II,' which is due in early 2020. The book is available now and can be purchased HERE.

A summary of the book is as follows:

"The universe is filled with beginnings. Life springs anew in a constant cycle of birth and rebirth, billions upon billions of beginnings, intrinsically linked, each influencing the beginnings that will come after. Every ending is in and of itself a new beginning; what once was, by the very act of ending, becomes the beginning of what is to follow. This particular beginning begins at the end; the end of everything. The universe is dying. It is in the final stages of passing out of existence, which is a beginning as well, the beginning of what comes after. The cycle continues, cascading in an unending series of births and deaths, all linked, each one shaped by the beginnings that preceded it.

"The universe is dying, but it will begin again."

Author Martin Bush further explains, "For our next record, we decided that we wanted to expound upon the concepts we introduced with 'Volume I.' The Traveller (the cloaked figure on the cover of 'Volume I') was a central figure in the mythos we were building, so for this album we wanted to focus more on who/what The Traveller is. The more we talked about it as a band, the more involved the ideas became, until there was just way too much to be able to cram it into an album's worth of song lyrics. Over most of 2018, we were touring pretty nonstop, but I was finding time here and there to start putting all those ideas down on paper. Eventually, we had a book, which tells the same story as our upcoming full-length 'Volume II,' just in much, much more detail. It's basically an origin story for The Traveller, set in the very last days of existence. The story focuses on a father and son, who, as far as we know, are the last humans alive, and their struggles to survive as the universe crumbles around them."
HYBORIAN's 'Volume II' follows up their debut, 'Vol. 1,' which has been described as "Riff driven, catchy, heavy music, vocal diversity, unusual rhythms and clear – cut vocal melodies with a retrograde sensibility and a cohesiveness that holds all of the songs together" via The Gauntlet. The record can be heard HERE.
HYBORIAN deliver a hard-hitting assault of imposing American metal with their debut, 'Vol. 1'. The Kansas City quartet drop immense, neck-snapping riffs as heavy as hammers at every turn. Each track is forceful and relentless, burying listeners under a barrage of metal as memorable as it is raging. 'Vol. 1' is a high-powered and auspicious statement of intent that is only the start for this must-listen band.
HYBORIAN are available for interviews upon request. To speak with the band, please contact Katy Irizarry at Katy@season-of-mist.com. Additional assets, such as hi-rez photos of the band, can be found HERE.
HYBORIAN Line-up:
Martin Bush – Guitar, Vocals
Ryan Bates – Guitar, Vocals
Justin Rippeto – Drums
Anthony Diale – Bass
What the press is saying about HYBORIAN:
"To be blunt, Hyborian is a band you're going to want to start following." – Metal Injection
"Hyborian not only manages to live up to their grand namesake, but they also conjure metal gods… To put it simple, Hyborian is awesome and you better start paying attention to their furious riffage and crushing rhythms." – Nerdist
"A superb debut album . . . an impressive debut album indeed" – The Sludgelord
"There's much that many stoner/sludge bands could learn from this fresh act… …they've taken the strongest elements and merged it successfully into something that works for them, and ultimately, the listener as well. It's fun, it's heavy – much potential lies here as the band continues to hone their sound." – Dead Rhetoric
"First, the sonic comparisons are simple and obvious, but does the band do what they do well enough to warrant investigation? Second, if the bands from which that influence are being drawn have progressed beyond their early sounds and aren't looking in the rear view any time soon, as it appears to be the case here, is it ok to embrace that which reminds us of said era? The answer to both questions is 'yes' and 'yes.' Put another way, it doesn't matter that Hyborian sound like someone else, they just sound good." – Decibel Magazine
"Vol. I is a superb debut album and hopefully we will see more from Hyborian in the future. An impressive debut album indeed." – Outlaws of the Sun
For more on HYBORIAN, visit their official FACEBOOK and INSTAGRAM.
For more on SEASON OF MIST artists, visit our official WEBSITE, FACEBOOK, INSTAGRAM, YOUTUBE, and TWITTER.