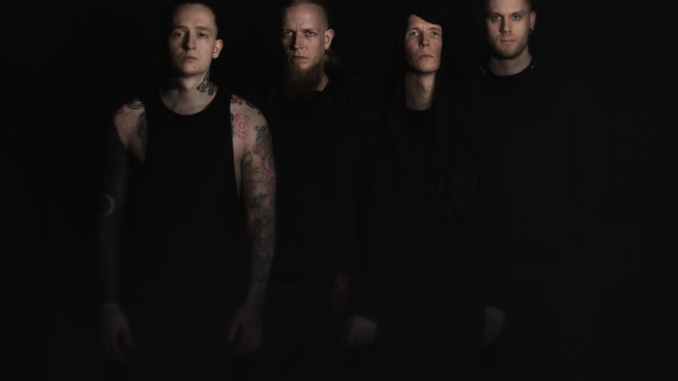 Humanity's Last Breath
Announce Forthcoming New Album
'Ashen'
Out on Friday, August 4
via Unique Leader Records
Pre-Save HERE
Unleash New Track + Music Video
"Labyrinthian"
Thursday, May 11, 2023 – Thall-bringing Swedish metallers Humanity's Last Breath has today announced their forthcoming album 'Ashen' out on Friday, August 4 via Unique Leader Records. In celebration of the announcement, the band has unleashed their new track "Labyrinthian" and the accompanying music video which was made by Riivata Visuals and co-directed by HLB guitarist Tuomas Kurikka. Pre-save 'Ashen' here, watch the music video for "Labyrinthian" in the thumbnail below, and stay tuned for more Humanity's Last Breath news coming soon.
WATCH: Humanity's Last Breath's New Music Video For "Labyrinthian"
ASHEN

HUMANITY'S LAST BREATH

Track Listing:

1. Blood Spilled

2. Linger

3. Lifeless, Deathless

4. Withering

5. Instill

6. Labyrinthian

7. Catastrophize

8. Death Spiral

9. Shell

10. Passage

11. Burden

12. Bearer
European fans will also have their chance to see Humanity's Last Breath on the road starting in August. For ticket information, please click here.
Ashen European Tour 2023

8/13 – Copenhagen, Denmark at Prime Fest

8/14 – Hamburg, Germany at Indra

8/15 – Amsterdam, Netherlands at Q-Factory

8/16 – Erfurt, Germany at VEB Kultur

8/18 – Carhaix, France at Motocultor Festival

8/19 – Lüdenscheid, Germany at Bautz Festival

8/20 – Frankfurt, Germany at Das Bett

8/21 – Aarau, Switzerland at Kiff

8/22. – Milan, Italy at Slaughter Club

8/23 – Munich, Germany at Backstage

8/24 – Prague, Czech Republic at Modra Vopice

8/25 – Dresden, Germany at Puschkin

8/26 – Szczecinek, Poland at Materia Fest

8/28 – Riga, Latvia at Melna Piektdiena

8/29 – Tallinn, Estonia at Sveta

8/30 – Helsinki, Finland at On The Rocks

8/31 – Tampere, Finland at Olympia

9/2 – Stockholm, Sweden at Sateliten
For over a decade, Humanity's Last Breath has been delivering their foreboding message through their music as if warning of a looming apocalypse. With an endless urge to make music from a place that needs expression, they constantly push the boundaries of what's possible in modern metal. With the release of their fourth album, 'ASHEN', an invitation is extended to experience their sound.
Let the world sing in despair.
Humanity's Last Breath is:
Buster Odeholm (Guitar, Vocals)
Filip Danielsson (Vocals)
Klas Blomgren (Drums)
Tuomas Kurikka (Guitar, Live Vocals)