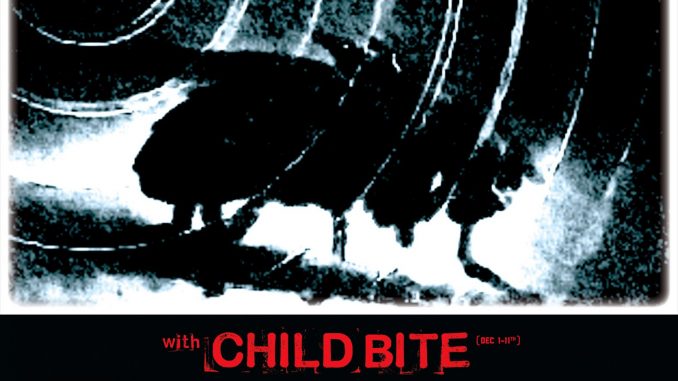 "Human Impact, a new band that collects members from three of New York noise's most important groups—the hardcore-influenced, ultraviolent Unsane, industrial anger mongers Cop Shoot Cop, and erstwhile Lower East Side pummelers Swans—actually sounds like all these groups making a racket at the same time." – Rolling Stone

"The supergroup's lineup represents the fulfillment of a noise rock fan's most fervent wish." – New York Times

"…a dark industrial vibe, with singer-guitarist Chris Spencer delivering a haunting baritone reminiscent of Ian Curtis…" – Consequence (of Sound)

"If you miss Unsane… should do a good job of scratching the itch. It's cut from the same '90s post-hardcore/noise rock itch…" – Brooklyn Vegan
NEW YORK, July 13, 2021 – Human Impact, the noise rock MVPs featuring Jim Coleman (Cop Shoot Cop), Chris Spencer (Unsane), Chris Pravdica (Swans, Xiu Xiu), and Phil Puleo (Cop Shoot Cop, Swans), has announced a U.S. tour kicking off on Nov. 26 at Brooklyn's Market Hotel.

"After our debut album being released on the eve of pandemic lockdown, we are extremely happy to finally get out and start doing some live shows," says Coleman of the band's debut U.S. trek. "We love our recorded material, but Human Impact is meant to be experienced live and in person. This fall US tour will kick off an ongoing effort to tour through the US and Europe through 2021 and 2022."

Human Impact issued their self-titled debut album via Ipecac Recordings in March of 2020. A tour was due to follow a week later. The foursome eked out one live performance before the international lockdowns began: March 14 at Brooklyn's Saint Vitus, in what would be the venerable venue's final pre-COVID performance as well. The 10-track Human Impact was hailed by Rolling Stone ("it sounds as heavy as a sledgehammer"), Metal Hammer ("one of the best albums of 2020"), and the Chicago Reader ("noise rock luminaries converge to explore despair and hope").

In March of this year, Human Impact released the eight-song EP01. The EP features a mix of singles and unreleased B-sides that were recorded simultaneously to the debut album. A video for the track "Recognition" (https://youtu.be/lwYh9W1RYxA) arrived simultaneously. The vinyl version of EP01 arrives on Aug. 13.

Human Impact tour dates:
November 26 Brooklyn, NY Market Hotel
November 27 Baltimore, MD Metro Gallery
November 28 Philadelphia, PA Kung Fu Necktie
November 30 Pittsburgh, PA Club Café
December 1 Indianapolis, IN HiFi
December 2 Detroit, MI PJ's Lager House
December 3 Grand Rapids, MI The Pyramid Scheme
December 4 St. Louis, MO Off Broadway Night Club
December 5 Kansas City, MO Record Bar
December 6 Minneapolis, MN 7th Street Entry
December 8 Chicago, IL Empty Bottle
December 9 Louisville, KY Headliner's Music Hall
December 10 Newport, KY Southgate House Revival Room
December 11 Cleveland, OH Grog Shop

Child Bite open on the Dec. 1 to 11 dates.