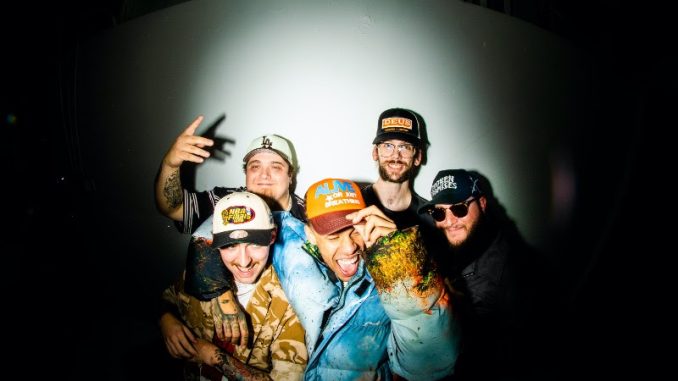 NEW BANGER FEATURING A CAMEO FROM SHAOLIN G OF UNITYTX
Storming straight outta the Bayou, New Orleans-based quintet
HourHouse
are
proudly
rap metal. HourHouse, who announce their signing to
UNFD
earlier this summer, have concocted a fully loaded, riff 'n' rhyme proposition, splitting at the seams with dirty grooves, heavy riffage, and thumping beats.
Their music oozes confidence and swagger — with influences varied and diverse, ranging from $uicideboi$ to Meshuggah, Kendrick to Korn.
Want proof?
Oh, we've got proof.
Watch the video for the frenetic, teeth-rattling new single "BODYBAG MUSIK," featuring a raucous guest verse from UnityTX's Shaolin G, here.
Set your speakers to stun and find yourself breathless amid all this glorious musical chaos, where guitars, grooves, beats, and flow collide in feral kinesis.
"'BODYBAG MUSIK' is exactly what the title says it is," says vocalist Milly, referring to the song and its relationship the band's hometown. "This is the soundtrack to the boot. It's way more than just Mardi Gras and voodoo. It's a real warzone out here no matter what walk of life you come from, and we wanted to let the listener into what our corner of the south is like on a daily basis. Shaolin is someone I feel needed to be on the song, because his band UnityTX is another group bringing REAL rap to metal — not just using it for clickbait."

Shaolin G weighs in, saying, "'BODYBAG MUSIK' is a sick song…when I first heard it, I got that instant head nod from how groovy the intro riff was.
Milly and the HH gang really did some shit with this track, and I'm stoked to see more of this kinda music touching places it couldn't before. The music video shoot was real casual I didn't feel out of place or anything like that. Just rockin' out, burnin' trees, and making history with the guys."
ICMYI, the band previously dropped "DO IT LIKE." Watch the video here.
HOURHOUSE ARE:
Robb — Drums
Neeco — Guitarist + Clean Vocalist
Milly — Vocalist
Travv — Bass + Backup Vocals
Mattie — Guitar + Vocals