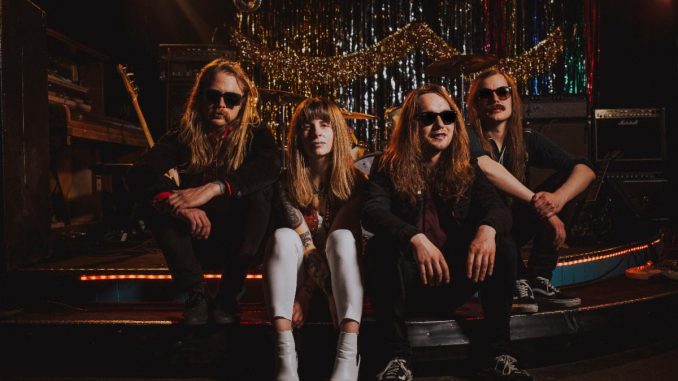 European Dates with Spiders Starting Next Month!
Sweden's HOT BREATH have unveiled the music video for their stand-alone single "Feeling 'Bout This". The newest offering from the band is an explosion of lustful garage rock with powerful vocals and thrilling riffs.

The band comments on the single:

"'Feeling 'Bout This' is about when you find a person who has the same rhythm and desire as you in life, both in the mind and in bed."

The single and music video "Feeling 'Bout This" is out now on all streaming platforms and YouTube on The Sign Records.
Hot Breath – "Feeling 'Bout This" (Official Audio)
Recently returning from a 16-date European tour supporting Hällas, Hot Breath is now ready to once again hit the road – this time together with Spiders in Germany, Belgium, and the Netherlands, starting in Rostock on July 7th.
HOT BREATH LIVE w/ Spiders
07.07 DE – Rostock / M.A.U Club
08.07 DE – Dortmund / Junkyard
09.07 DE – Chemnitz / AJZ
10.07 DE – Burghausen / JUZ
11.07 DE – Munich / Backstage
12.07 DE – Kassel / Goldgrube
13.07 BE – Antwerpen / KAVKA
14.07 NL – Amstelveen / P60
15.07 DE – Stemwede / Life House
16.07 DE – Berlin / Urban Spree
23.07 SE – Höganäs / Garage Bar
HOT BREATH Bio:

Fresh mouth. Dirty talk. With a pounding heart for that raw 60's Detroit energy and the dirty streets of late 70's London, Hot Breath is rushing with adrenaline and pure lust. This hard-beating rock four-piece from Gothenburg (Sweden) brings a new twist and runs face-

first through your bedroom door. "Wake up punk, it's time to shine!"

Hot Breath's debut album "Rubbery Lips" was released in April 2021 via The Sign Records. For this album, the band teamed up with producer Mattias Nyberg (The Soundtrack Of Our Lives, The Datsuns), who recorded and mixed the album. "Rubbery Lips" marked the beginning of the band's sweaty joyride, with tours and support shows all over Europe. This record is a 10-track debut with powerful vocals and thrilling garage rock riffs – like an intense and dirty kiss at the afterparty that never ends.

The band was formed in 2018 by ex-members from Honeymoon Disease, Hypnos and Grand. With a common ground of heavy rock, Hot Breath mixed their various pasts into one vibrating sound. This resulted in the self-titled mini-album "Hot Breath", which was released in October 2019 via The Sign Records. A well-acclaimed 6-track K.O, filled with pure lust and high-energy garage rock.
HOT BREATH Members:
Jennifer Israelsson – Vocals and Guitar
Anton Frick Kallmin – Bass
Jimmy Karlsson – Drums
Karl Edfeldt – Guitar