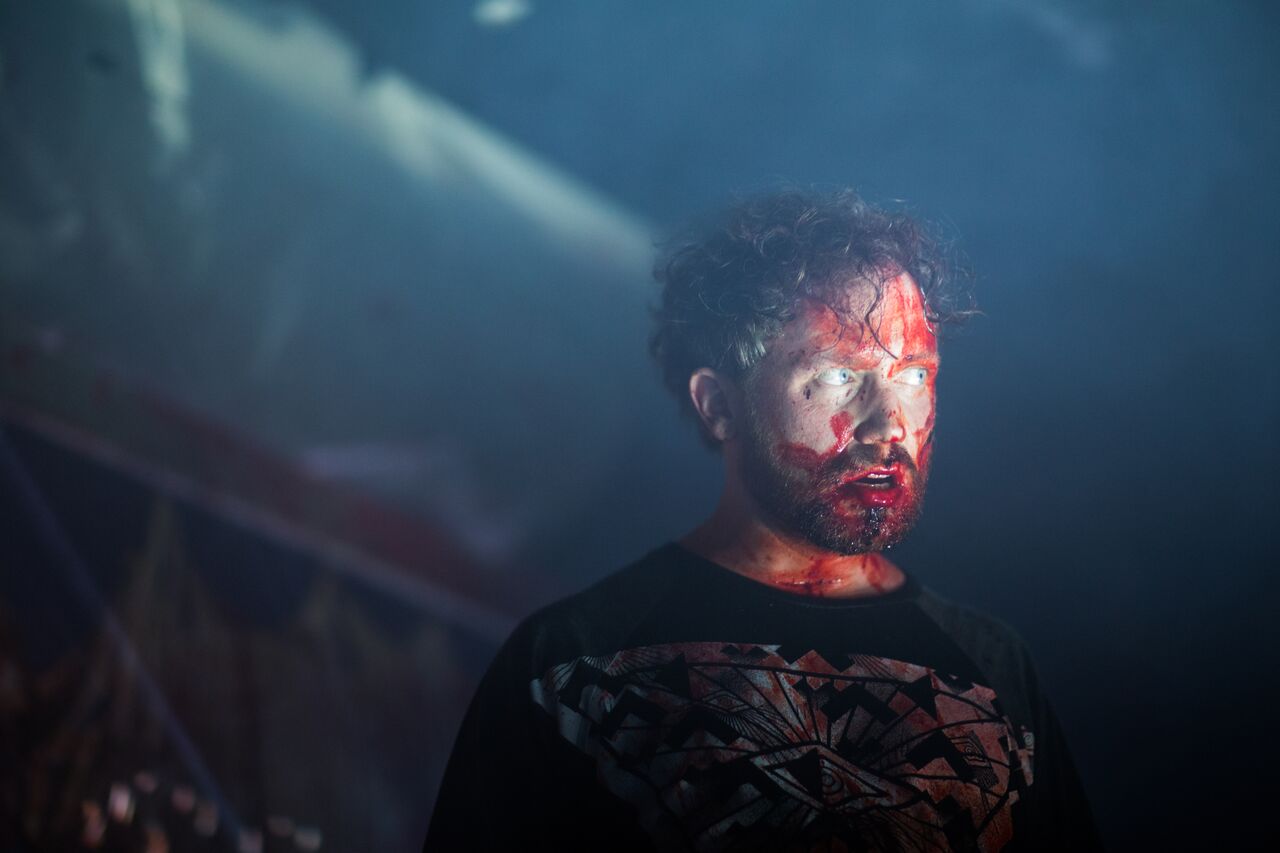 Mister Sam Shearon (Creator for Clive Barker, Rob Zombie) "SHOVEL offers a disturbing tone that echoes the cultural phenomenon of the horrors that inspired such films as 'The Texas Chainsaw Massacre', 'Wrong Turn' and 'The Hills have Eyes'. This short film holds nothing back as the surreal soundtrack akin to an industrial nightmare drives the vibe quickly into a merciless plot twist.'SHOVEL' has the potential to be a full feature cult classic!"
January 11th 2019:
For Immediate Release: Barnum, Colorado – The deranged film makers at Bloodshed Deathbath Productions have released their latest horror opus entitled Shovel. While only 7 minutes long it was a year in the making with over a dozen very intense and physically demanding shoot days which involved capturing some gripping cinematography, stellar drone work and highly detailed creature makeup and practical effects. The stunning finale of Shovel has left viewers shocked and craving for more.
The unsettling soundtrack of Shovel was performed by the horror industrial group Genessier who ratchet the terror up like a taught garrote around your neck. Using their own deepest fears the band conjured up a soundtrack for Shovel that will leave you freaked out long after the credits roll.
Shovel director Ryan Policky, "This was one of our few times of recent that we have skipped the comedy and gone for the fear, and I personally feel we hit that visual mark. Shovel is kinda like a music video mixed with traditional narrative and I love the way it came to be. For sure one of my favorite shorts I've had the pleasure of working on. "
Shovel stars Aeona Cruz of Terror Tales, Amateur and Unmarked fame. The young actress excelled on set and remained unfazed and professional no matter how surreal or bloody the scenes became. Doug Newville (Dinner with Leatherface, Auto Shop of Horrors) played the beast himself and thrived within the role and became the demonic brute that is Shovel. Shovel also stars Benton Mckibben (vocalist for MIRE), Isaac Archuleta (bassist for Dead for Denver), Rodney Tidwell, Amanda Eldritch and Sara Eldritch
Jeffrey Reddick (Final Destination/Dead Awake) "A fun and twisted little gem, Shovel will haunt you long after the final credits roll."
John Dugan (Grandpa from Texas Chainsaw Massacre and Texas Chainsaw Massacre 3D) "Chainsaw fans will eat 'Shovel' up. Stay tuned.."
Jonathan Tiersten (Sleepaway Camp/The House That Wept Blood) "The visual imagery and esoteric nuances in 'Shovel' staggered me in a way I did not expect. This film begs to be continued."
Ari Lehman (Friday the 13th/Terror Tales) "This is a terrifying short film – absolutely mesmerizing photography and soundtrack – abstract and darkly impressionistic in a contemporary vein. Characters that just steal a Jason's heart! Thank You SHOVEL!" Ari Lehman the First Jason Voorhees
Brian Bonsall (Star Trek: The Next Generation/Mikey) "Genuinely well done, sick and twisted, not for the faint hearted and keeps you wanting more!"
Shovel has been released for free on Amazon Prime: https://www.amazon.com/dp/B07KWDFWD7/
Shovel is dedicated to the memories of Sara and Amanda Eldritch who tragically took their own lives in a suicide pact.
Connect to Shovel:
https://www.facebook.com/ShovelTheMovie/
https://www.imdb.com/title/tt8112868/?ref_=nm_knf_t1
https://www.facebook.com/bloodsheddeathbath
Connect with Genessier:
https://www.facebook.com/Genessier/
https://open.spotify.com/album/2NMqCQHgGcohxjU5JeOFQ5#=