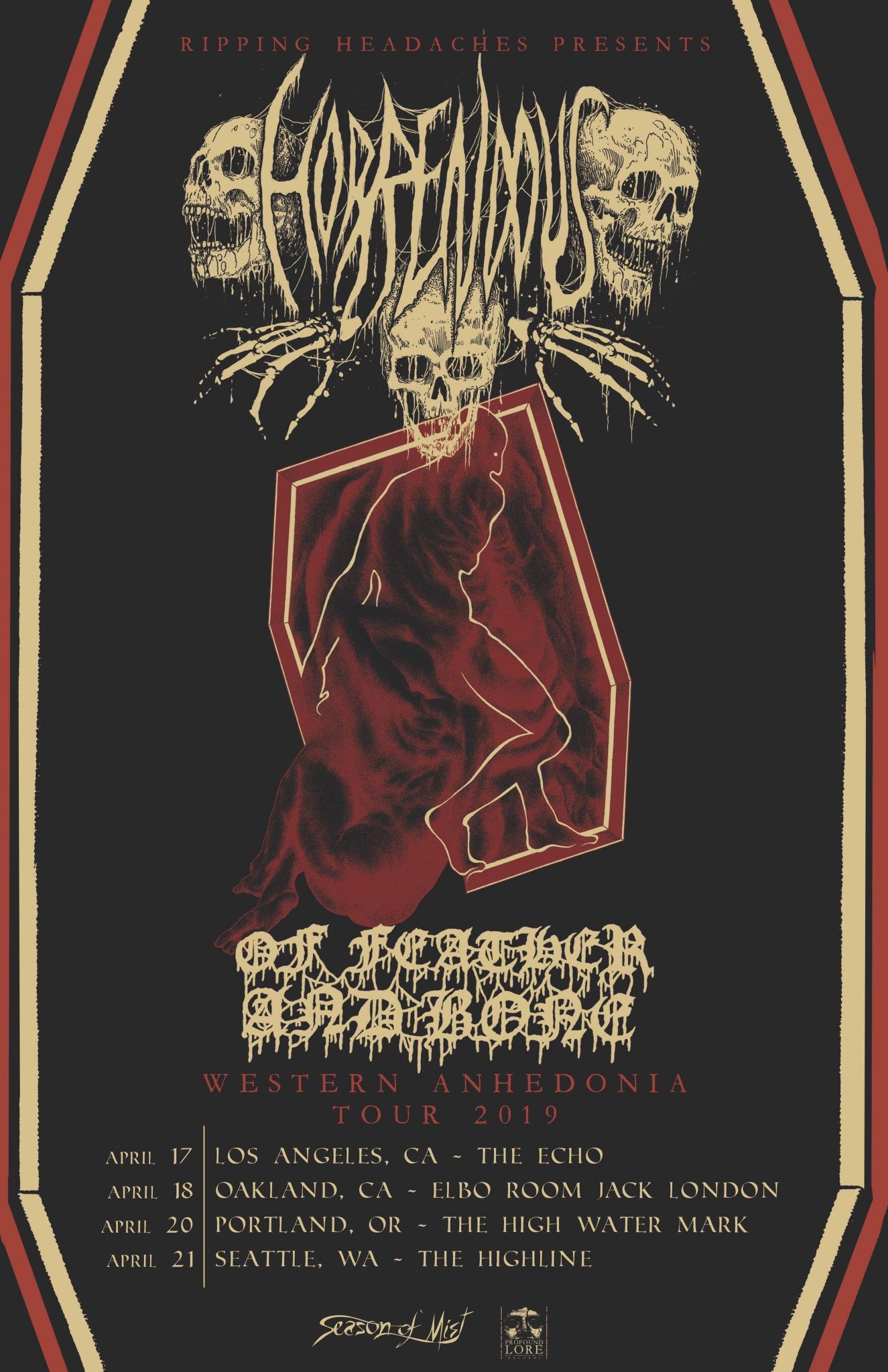 Philadelphia's/Washington, DC's forward-thinking death metal entity
HORRENDOUS
have announced a run of West Coast U.S. dates. The trek will kick off in Los Angeles, CA on April 17 and will conclude in Seattle, WA on April 21. Support on this tour comes from OF FEATHER AND BONE. A full list of confirmed dates can be found below.
"We've been itching to return to the West Coast since the 2017 Decibel Tour," says drummer Jamie Knox. "The creation of 'Idol' engulfed much of 2017 and 2018 for Horrendous, so we can't wait to get out and perform these songs for the first time out West."
Additionally, HORRENDOUS will be performing their first show of the year this Saturday, January 26 at  Adroit Theory Brewing Company's METAL FEST in Purcellville, VA. More information for this event can be found HERE.
HORRENDOUS Tour Dates
w/ special guests OF FEATHER AND BONE:
1/26: Purcillville, VA @ Adroit Theory Brewing Company* (TICKETS // EVENT LINK)
4/17: Los Angeles, CA @ The Echo (TICKETS)
4/18: Oakland, CA @ The Elbo Room Jack London (TICKETS // EVENT LINK)
4/20: Portland, OR @ The High Water Mark (TICKETS // EVENT LINK)
4/21: Seattle, WA @ The Highline (TICKETS // EVENT LINK)
*Festival, no OF FEATHER AND BONE
For guest list and interview opportunities with HORRENDOUS, contact Katy Irizarryat Katy@Season-of-mist.com. Additional assets, such as a detailed bio and hi-rez photos, can be found HERE.
HORRENDOUS are touring in support of their new album, 'Idol' The critically acclaimed album, hailed as "engaging and hard-hitting throughout, the performances are fantastic, and the production is close to perfect for this brand of death metal. It's the album that fans of Anareta were most certainly hoping for, and on that measurement meets all expectations. Idol will do little to quell the critical fervor surrounding this band, and thankfully, the adulation is here justified. An excellent release." (Heavy Blog is Heavy) is available now at the Season of Mist E-Shop.
In addition to critically acclaimed reviews, 'Idol' was named one of the best albums of 2018 by Pop Matters (#4), Invisible Oranges (#5), Metal Injection (#9), Revolver Magazine (#24), Decibel Magazine (#28), and Pitchfork.
'Idol' also found itself scoring several placings across the U.S Billboard charts, peaking at #16 Current Hard Music Albums, #25 on the Heatseekers chart, #55 on the Record Label/Independent Current Albums chart, and more.
Listen to one of 2018's most compelling and forward-thinking underground releases! 'Idol' is streaming here.
Drawing inspiration from both personal and national crises, 'Idol's' music is a methodical and unapologetic take on dynamic, progressive death metal. The album sees HORRENDOUS at the highest echelon of  their musical creativity to date. Thematically, the ambitious new album is an exploration of defeat, of the gods we build in our minds to escape the responsibility of action and change as we relinquish our agency. The music in 'Idol' mimics this act of deity building, with sprawling compositions that are imposing in scope and mirror the great turmoil of our times. Tracks such as "Soothsayer," "Golgothan Tongues," and the monumental "Obolus" position the band in a league of their own, as one of the death metal's leading new entities.
HORRENDOUS formed in 2009. The band's three founding members (Damian Herring – guitar, vocals, Matt Knox – guitar, vocals, Jamie Knox – drums), driven by a desire to capture and rekindle the mystique of a bygone era in the history of metal, fused elements from progressive metal, old school death metal, and more, into a cohesive sonic landscape. These initial compositions resulted in the of release their debut full-length 'The Chills' in 2012. The album received critically acclaim upon release, and was cited as "a preposterously flawless debut album. The old school just got schooled." (Metal Injection).
Following the release of 'The Chills', HORRENDOUS began to expand upon their traditional death metal leanings, conjuring a bolder, more sophisticated musical approach from a wide-cast net of elements beyond the limitations of any genre. This lead to the back-to-back releases of 'Ecdysis' (2014) and (after relocating to Philadelphia,) 'Anareta' (2015). Both albums were incredibly well-received by both the heavy metal underground and critics alike. Each successive record marked a new step in the sonic evolution of the band and carried them further on their adventurous journey of musical awakenings.
Upon the release of 'Anareta', HORRENDOUS saw significant acclaim from mainstream music journalism, as the record was championed as "stunning" by Pitchfork, "A momentous and unconventionally poignant achievement… Anareta is death metal painted not with just reds and grays, but with the palette of human experience." (SPIN), and saw the band "fearlessly reaching skyward, peeling off guitar leads that climb like clock towers or church steeples: intricate constructions resulting in monuments that are breathtaking to behold from afar, and almost impossible to believe when examined up close." (Stereogum)
'Anareta' went on to top many best-of lists in 2015, making appearances in Stereogum, Consequence of Sound, SPIN, Decibel Magazine, Apple Music, Yahoo Music, and countless other publications, blogs, and websites.