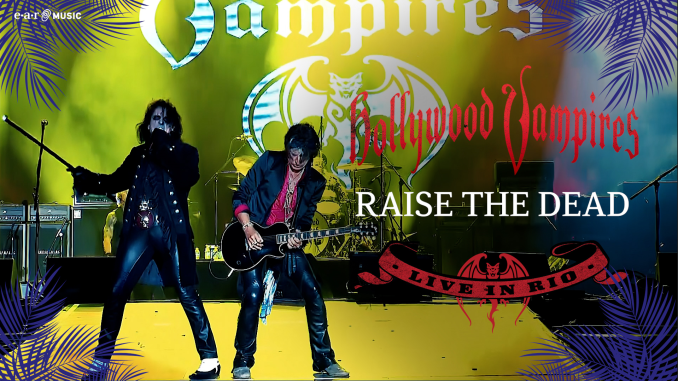 BAND SHARES VIDEO FOR "RAISE THE DEAD (LIVE IN RIO)" — WATCH
The Hollywood Vampires — the rock supergroup consisting of Johnny Depp, Alice Cooper, Joe Perry, and Tommy Henriksen — have released Live in Rio, along with a music video for "Raise The Dead."
Watch the video here.
"Live In Rio is an excellent live document with a sterling sound. The star-studded bands performance is solid and an exuberant joy of performing is ever present" — Sweden Rock Magazine
In 2015, the Hollywood Vampires not only released their first album, but also played one of their biggest concerts, which has been released as their first live album.
After this success and the media interest in the ultimate rock group, sold-out concerts, and tours all over the world followed, and finally, in 2019, the second album Rise. Over 50,000 physical units sold, millions of streams, and worldwide cover stories in major magazines later, fans, press, and the band were ready to bring these songs to the stage. Unfortunately, part of the tour had to be postponed due to the COVID-19 pandemic and will finally be made up for this summer. .
The new album Live in Rio is out now as CD+DVD Digipak, CD+Blu-ray Digipak, limited + numbered 2LP Gatefold Black, and can be ordered and streamed here.
After three singles released so far + music videos for "I Got A Line On You," "My Generation," and "Manic Depression," there will be another music video for "Raise The Dead." The track was written by Alice Cooper, Johnny Depp, Tommy Henriksen, Bob Ezrin, Joseph Witkin, and Robert Klonel, making it the only original Hollywood Vampires song on the album. A statement by the band that rock 'n' roll is immortal and lives on even if the original creators are no longer in this world. It is a hymn to those who have pushed the boundaries of the rock genre and inspired generations of musicians.
LIVE IN RIO TRACK LISTING:
"Raise The Dead"
"My Generation"
"I Got a Line on You"
"Cold Turkey"
"Five to One/Break On"
"Through (To The Other Side)"
"Manic Depression"
"7 And 7 Is"
"Whole Lotta Love"
"Jeepster"
"I'm A Boy"
"School's Out"
"Billion Dollar Babies"
"Train Kept A-Rollin'"
"Brown Sugar"
HOLLYWOOD VAMPIRES ON TOUR:
7/28 — Boston, MA — Wang Theatre
7/29 — Manchester, NH — SNHU Arena
7/30 — Bethel, NY — Bethel Woods Center For The Arts
HOLLYWOOD VAMPIRES ONLINE: