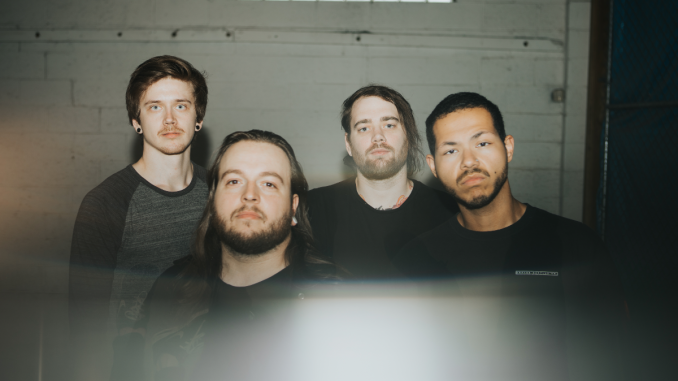 LISTEN TO ALBUM HERE!
Grand Rapids-based, metalcore up 'n' comers Hollow Front have released their third album The Price of Dreaming today, May 27, via UNFD. Get it here.
The Price of Dreaming truly is a labor of love for Hollow Front and they are keen to release it to the world. Listen to the album here.
"The Price of Dreaming represents the journey a person is willing to make in order achieve their dreams," says Alvarez. "From the confusion you feel while you figure yourself out, to the love and loss you feel along the way as priorities shift, this album is our heart on our sleeves, and our journey we took as we created it."
In other Hollow Front news, the. band had launched a vocal competition for "Thick as Blood" before the song was released. They invited their fans come up with their own version of how the song might sound based on sharing the instrumental version of the track and the lyrics. It truly inspired fans to get creative.
The song's origin story is powerful. "Thick as Blood" was inspired by the band's bassist Brandon Rummler, whose father figure's life ended tragically. The idea that someone isn't truly family because they are not blood-related is the battery that powers the track. The song also allowed Hollow Front to take a different approach to songwriting. Instead of vocalist Tyler Tate and guitarist Dakota Alvarez writing separately and collaborating when they've finished, they spent a lot of time listening to Rummler share his feelings about the situation.
"The song feels a little more authentic with his touches and little flavors that he added to some of the lyricism," Alvarez says. "It was one of those songs that we got to collaborate on as a full group to finish, as opposed to just Tate and I doing our own thing."
Hollow Front will hit the road this summer, touring with August Burns Red, We Came as Romans, and labelmates Void of Vision. All dates are below.
THE PRICE OF DREAMING TRACK LISTING:
"In The Spotlight"
"Comatose"
"Self Sabotage"
"Thick as Blood"
"The Price of Dreaming"
"Better Off"
"Dear Sons"
"Treading Water"
"Two Worlds Away"
"Changeling"
"Heritage"
"Running Away"
HOLLOW FRONT ARE:
Tyler Tate — Vocals
Dakota Alvarez — Guitar/Vocals
Lee Albrecht —Guitar
Brandon Rummler — Bass

DISCOGRAPHY:
Loose Threads (2020)
Still Life EP (2018)
Homewrecker EP (2017)
HOLLOW FRONT ON TOUR:
WITH AUGUST BURNS RED, WE CAME AS ROMANS, + VOID OF VISION:
7/15 — Harrisburg, PA — HMAC
7/16 — Sayreville, NJ — Starland Ballroom
7/17 — Providence, RI — The Strand Ballroom
7/19 — Rochester, NY — Anthology
7/20 — Hartford, CT — The Webster
7/22 — Baltimore, MD — Ram's Head Live
7/23 — Norfolk, VA — Norva
7/24 — Asheville, NC — Orange Peel
7/25 — Knoxville, TN — The Mill & Mine
7/26 — Columbia, SC — The Senate
7/28 — Birmingham, AL — Iron City
7/29 — New Orleans, LA — Republic
7/30 — Austin, TX — Emos
7/31 — Corpus Christi, TX — Brewster Street Icehouse
8/2 — Tucson, AZ — Encore
8/3 — San Diego, CA — Soma
8/4 — Santa Cruz, CA — Catalyst
8/5 — Sacramento, CA — Ace of Spades
8/6 — Portland, OR — Roseland
8/8 — Seattle, WA — Showbox Market
8/9 — Spokane, WA — Knitting Factory
8/10 — Boise, ID — Knitting Factory
8/12 — Great Falls, MT — The Newberry
8/13 — Billings, MT — Zoo Montana
8/14 — Fargo, ND — Fargo Brewing Outdoors
8/16 — Minneapolis, MN — Fillmore
8/18 — Lincoln, NE — Bourbon St
8/19 — Des Moines, IA — Val Air
8/20 — Milwaukee, WI — The Rave
8/21 — Bloomington, IL — Castle Theater
8/23 — Ft. Wayne, IN — Piere's
8/24 — Cincinnati, OH — Bogarts
8/25 — Louisville, KY — Mercury Ballroom
8/27 — Long Island, NY — Paramount
ABOUT HOLLOW FRONT:
Summoning the heaviness of names such as Wage War and The Ghost Inside together with dynamic, Polaris-esque melodics, Hollow Front untangle personal losses, relationship breakdowns, and struggling mentally amid life's waves across their catalog. Stationed out of Grand Rapids, Michigan, the band exploded onto the international heavy conscious with their 2020 album Loose Threads. The release picked up over 1 million streams in its first week, ignited deals with UNFD and Sound Talent, and the likes of Ryan Kirby (Fit For a King) declaring Hollow Front an immediate must-watch. In 2021, Hollow Front continued the frenzied momentum felt on their debut, not only returning to the post-COVID touring circuit in full force (supporting the likes of Fit For a King, We Came as Romans, and Dayseeker) but also sharing some of their most visionary work to date. 2022 will be the year of Hollow Front.