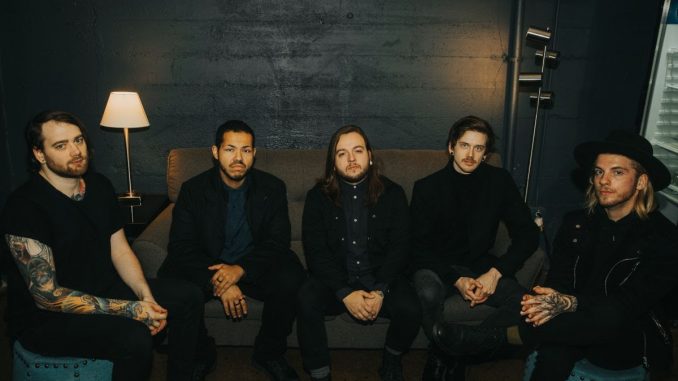 Grand Rapids metalcore up 'n' comers
Hollow Front
have ripped into 2022 with the release of the video for their searing new single "
Comatose
." Watch it
here
.
Hollow Front vocalist Tyler Tate shares that "Comatose" is ultimately about battling against depression while living in the hopeless, nightmarish world situation of the pandemic. Specifically, the song explores him being left with a comatose-like feeling after having live music, life purpose, and meaning ripped from underneath him due to restrictions.
"I came up with this concept while being caught in the depths of depression during the heaviest part of the pandemic, when the entire music industry was shut down, and there was no sign of a comeback in sight," shares Tate. "Everything we had worked for was taken away in the blink of an eye and we had no idea when we would get it back. It was terrifying."
He continues, "I felt like I was fighting an impending darkness all the time, what I refer to in the song as 'the sleep' — that feeling as if you're just floating through your life, without happiness or purpose. Almost like being in a coma, but still retaining your higher cognitive functions. You're aware of what's happening around you, but don't know how long you'll be stuck this way, or if you'll ever truly feel awake and alive again. But you have no choice but to press on, even though you feel trapped by the weight of carrying on. I think a lot of human beings feel this way, especially over the past few years. Some of us are on autopilot, just taking life day by day and hoping to feel happy and normal again."
"Comatose" follows some of Hollow Front's most successful and forward-thinking singles to date, which dropped at the tail end of 2021. "Wearing Thin" and "Treading Water" have collectively garnered over 3.6 million streams and 1 million+ music video views in the months since release, and enjoyed radio play support from the likes of idobi Howl (U.S.), Sirius XM Octane (U.S.), Full Metal Jackie (U.S.), Triple M Distortion (AU), triple j short.fast.loud (AU), The Faction (AU), and more.
Stay tuned as Hollow Front gear to release more new music soon.
HOLLOW FRONT ARE:
Tyler Tate — Vocals
Dakota Alvarez — Vocals + Guitar
Lee Albrecht —Guitar
Devin Attard — Drums
Brandon Rummler — Bass
ABOUT HOLLOW FRONT:
Summoning the heaviness of names such as Wage War and The Ghost Inside together with dynamic, Polaris-esque melodics, Hollow Front untangle personal losses, relationship breakdowns, and struggling mentally amid life's waves across their catalog. Stationed out of Grand Rapids, Michigan, the band exploded onto the international heavy conscious with their 2020 album Loose Threads. The release picked up over 1 million streams in its first week, ignited deals with UNFD and Sound Talent, and the likes of Ryan Kirby (Fit For a King) declaring Hollow Front an immediate must-watch. In 2021, Hollow Front continued the frenzied momentum felt on their debut, not only returning to the post-COVID touring circuit in full force (supporting the likes of Fit For a King, We Came as Romans, and Dayseeker) but also sharing some of their most visionary work to date in "Treading Water." With "Comatose"' now at hand and another full-length record in the pipeline, Hollow Front are set to take over 2022.