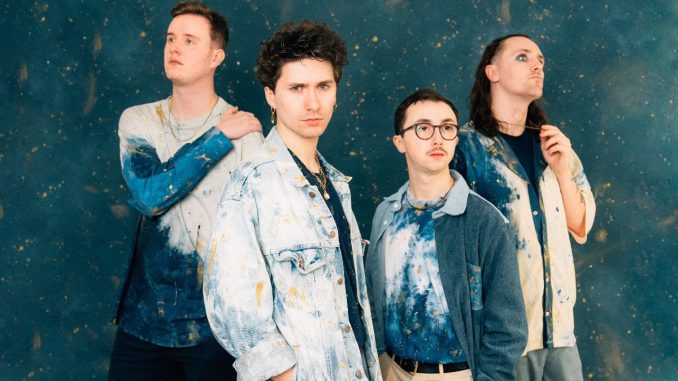 HOLDING ABSENCE has released its first new music of 2023 in the form of a captivating new single "A Crooked Melody." Accompanied by a beautifully stylized video that was directed by Lewis Cater, "A Crooked Melody" is an exceptional example of HOLDING ABSENCE's keen ability to craft insatiably catchy songs that serve as a vessel for poignantly relatable lyrics.
"'A Crooked Melody' is simply a song about denial," comments frontman Lucas Woodland. "It's the lie we tell ourselves every night to help us sleep, but deep down, we know the truth. The big difference between a crooked melody and a lie, however, is that it's sweet, enchanting, and easier to swallow."
Tomorrow, HOLDING ABSENCE starts an extensive North American tour as main support to THE PLOT IN YOU, alongside THORNHILL and BANKS ARCADE. The band is also booked for main-stage performances at both Slam Dunk Festival and the 2000 Trees Festival this year. All dates are below. Get tickets here. 
HOLDING ABSENCE ARE:
Lucas Woodland — Vocals
Scott Carey — Guitar
Benjamin Elliott — Bass
Ashley Green — Drums
HOLDING ABSENCE ON TOUR:
4/7 — New Haven, CT — Toad's Place
4/8 — Asbury Park, NJ — Asbury Lanes
4/9 — Harrisburg, PA — Harrisburg Midtown Arts Center
4/11 — Montreal, QC — Club Soda
4/12 — London, ON — London Music Hall
4/14 — Richmond, VA — Canal Club
4/15 — Charlotte, NC — The Underground – Fillmore
4/16 — Charleston, SC — Music Farm
4/18 — Nashville, TN — Eastside Bowl
4/20 — Fort Lauderdale, FL — Revolution Live
4/21 — Orlando, FL — The Beacham
4/22 — Pensacola, FL — Vinyl Music Hall
4/24 — New Orleans, LA — House of Blues
4/25 — Austin, TX — Empire Control Room & Garage
4/27 — Tucson, AZ — The Rock
4/28 — San Diego, CA — House of Blues
4/29 — Santa Ana, CA — Observatory
4/30 — Berkeley, CA — Cornerstone Craft Beer & Live Music
5/2 — Portland, OR — Bossanova Ballroom
5/3 — Vancouver, BC — Rickshaw Theatre
5/4 — Seattle, WA — The Crocodile
5/6 — Grand Junction, CO — Mesa Theater
5/7 — Colorado Springs, CO — Black Sheep
5/9 — Lawrence, KS — Bottleneck
5/10 — Des Moines, IA — Wooly's
5/11 — Grand Rapids, MI — The Intersection
5/12 — St. Louis, MO — The Old Rock House
5/13 — Cincinnati, OH — Bogart's
*Supporting THE PLOT IN YOU