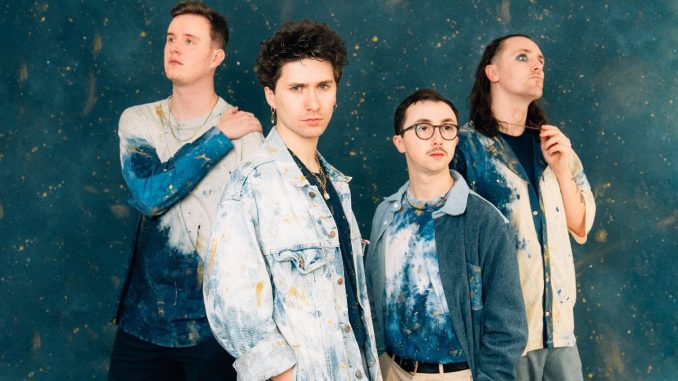 BAND SHARES VIDEO FOR NEW SINGLE "FALSE DAWN" — WATCH
HOLDING ABSENCE have announced the release of their third album The Noble Art Of Self Destruction. Serving as the third and final entry in a trilogy that began with 2019's Holding Absence, The Noble Art Of Self Destruction will be released on August 25 via SharpTone Records.
In the wake of the album announce, the band comments, "Today, we are pleased to announce the third Holding Absence album The Noble Art of Self Destruction will be released on August 25! After an insanely busy and fulfilling album cycle for our second record, last October we spent a month in Jukasa Studios Canada, to record more new music. This record — the third in a trilogy — is by far our most conceptually rich and expansive body of work to date. We feel like these songs are almost a love letter to everything Holding Absence, and can't wait to show everybody just how much space we have managed to cover, and how hard we were able to push ourselves with these songs."
Purchase and pre-save The Noble Art Of Self Destruction here.
To also coincide with the announcement, the band has released a beautifully stylized video for the album's second single "False Dawn."
Watch the video here.
"We are ecstatic to be dropping our brand new single 'False Dawn' today," the band says. "This is definitely a personal favorite for all of us on the record! A somewhat defeatist song about denouncing expectations, and coming to grips with failure, this song is a quintessential Holding Absence song, with its uptempo energy and downtrodden introspection. We hope you enjoy!"
Stream the single on all platforms here.
THE NOBLE ART OF SELF DESTRUCTION TRACK LISTING:
"Head Prison Blues"
"A Crooked Melody"
"False Dawn"
"Scissors"
"Honey Moon"
"Death, Nonetheless"
"Her Wings"
"These New Dreams"
"Liminal"
"The Angel In The Marble"
The Noble Art Of Self Destruction was recorded at Canada's Jukasa Studios with producer Dan Weller (Enter Shikari, Bury Tomorrow).
HOLDING ABSENCE ARE:
Lucas Woodland — Vocals
Scott Carey — Guitar
Benjamin Elliott — Bass
Ashley Green — Drums