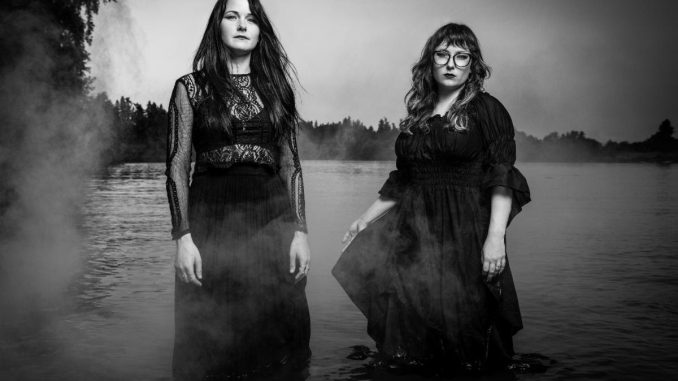 PRE-ORDER/WATCH HERE
DEBUT ALBUM 'TWO SHADOWS'
OUT OCTOBER 28 ON RELAPSE RECORDS
October 28th sees HOAXED unveil their captivating and catchy debut full-length,
'Two Shadows' on Relapse Records.
Today, HOAXED share their second single "Guilty Ones"!
Watch the full video HERE
HOAXED, about their new single: "Horrible injustices are executed everyday and "Guilty Ones" is a reflection of what role we all play in that execution."
'Two Shadows' is out October 28 on LP/CD/CS/Digital.
Physical pre-orders are available via Relapse.com HERE
Digital Downloads/Streaming/Pre-Save HERE
Comprised of vocalist/guitarist Kat Keo and drummer Kim Coffel, HOAXED's superlative blend of styles—heavy melodic rock with captivating hooks, gothic undertones, undeniable metal, and tinges of americana – pave the way for a singular expression that's entirely their own.
'Two Shadows' is as unique as it is memorable and catchy. The record thrusts, retreats, and beguiles across its melody-powered and hook-driven expanse, with earworms "The Call," "Guilty Ones", and "The Knowing" serving as the album's crucial lighthouses.
Watch "The Call" music video HERE
[Album Art by Kim Coffel]

Formed in Portland, Oregon, in 2020, HOAXED's initial songwriting plan casts a wide net. The breach opened up considerably as Coffel and Keo explored the outer edges of their musical influences and artistic aspirations.

After fruitful songwriting sessions, the twosome self-released their eponymous four- song EP in February 2021. Signaled by the whirring, diaphanous spell of video single "Candle Master", HOAXED caught the attention of Relapse Records, who signed the outfit in 2021.

As a live act, the pair has already hit the ground running, rocking the stage with Unto Others, Blackwater Holylight, and Amorphis, and being hailed as an "absolute riot on stage." (Metal Insider)

'TWO SHADOWS' TRACK LIST:

1. Two Shadows

2. The Call

3. The Knowing

4. For Love

5. Grand Illusions

6. High Seas

7. Guilty Ones

8. Where Good Won't Go

9. Forsaken

FOLLOW HOAXED: