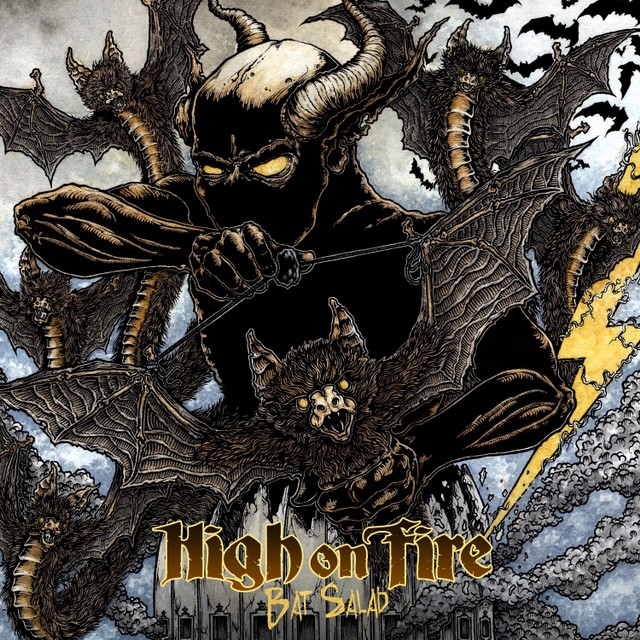 Following the Grammy nomination for Best Metal Performance for their 2018 release Electric Messiah, High on Fire, an Oakland based band has released a three-song EP through Entertainment One Music (eOne Music) titled Bat Salad.
The vinyl-only release features three unreleased High on Fire tracks, two of which are covers. Celtic Frost's "Into Cryptic Rays" from the 1984 Morbid Tales EP release and Bad Brains' "Don't Bother Me" off the 1996 Black Dots release with the lead track "Bat Salad" being an instrumental original.
The title track "Bat Salad" not to be confused with Black Sabbath's "Rat Salad," is the band's way of paying homage to Sabbath in that High on Fire vibe via heavy, doomy, moderately paced tempo and riffs. No fillers here! It's straight forward and the lone track on Side A.
Bands covering songs, especially tracks that hail from acts that have reached legendary status over the decades, such as Switzerland's extreme metal band Celtic Frost can be risky if not properly executed. For High on Fire's cover version of "Into Cryptic Rays," that's not the case. The band stays true to the feel of the original version with Matt Pike's vocals from start to finish cementing the excellence of the cover.
Secondly on Side B, High on Fire tackles D.C.'s Bad Brains' "Don't Bother Me" which was originally recorded in 1979 but the track wasn't released until 1996. Again, High on Fire stepped out on a ledge laying down a cover version of a band that has a tremendous following. Matt Pike and the band not only succeeded but may have exceeded the expectations of High on Fire fans.
The 180-gram vinyl is limited to 4000 units globally in a clear, black and green splattered pressing that includes a download card for the three songs. The EP was released in conjunction with Record Store Day on April 13, 2019, and a worthwhile pick up if located while shuffling through record stores.
All three songs delivered by this High on Fire release could easily be incorporated into the band's set list on the upcoming North American tour scheduled to run from November 7 through December 7, 2019.