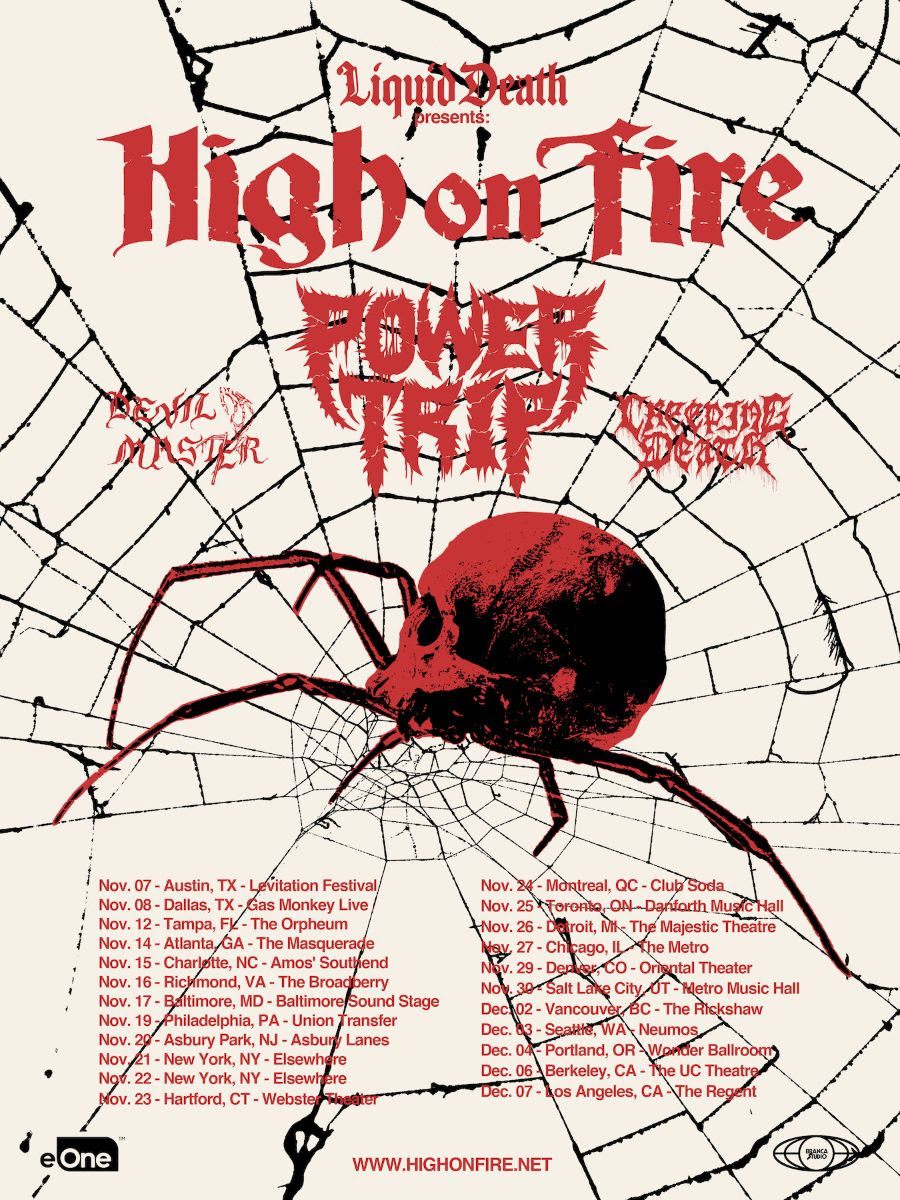 HIGH ON FIRE ANNOUNCE FALL
NORTH AMERICAN TOUR

POWER TRIP, DEVIL MASTER, AND CREEPING DEATH TO JOIN GRAMMY-WINNING METAL BAND ON MASSIVE FALL TOUR

BAT SALAD EP TO BE RELEASED DIGITALLY JULY 26

AWARD-WINNING LP, ELECTRIC MESSIAH OUT NOW
July 22, 2019 — GRAMMY Award-winning metal band, High on Fire has announced a juggernaut North American fall tour with Power Trip. Dates kick off on November 7, 2019, at
Levitation Festival,
the 3-day music festival held in Austin, TX, now in its sixth year, and continue through the end of the year.
The tour will stretch from coast to coast, hitting major markets in North America and Canada before wrapping up in southern California in early December. Tickets are on sale Friday, July 26, 2019, at 10:00 AM LOCAL. Support on the High on Fire / Power Trip tour will come from rising stars and new label mates CREEPING DEATH.
High on Fire tour dates:
*All shows also include Power Trip and Creeping Death
November 7 – Austin, TX Mohawk (as part of 2019 Levitation Festival)
November 10 – Houston, TX @ Foamhenge
November 12 – Tampa, FL @ The Orpheum
November 13 – Atlanta, GA @ Masquerade
November 15 – Charlotte, NC @ Amos' Southend
November 16 – Richmond, VA @ The Broadberry
November 17 – Baltimore, MD @ Baltimore Soundstage
November 19 – Philadelphia, PA @ Union Transfer
November 20 – Asbury Park, NJ @ Asbury Lanes
November 21 – New York, NY @ Elsewhere
November 22 – New York, NY @ Elsewhere
November 23 – Hartford, CT @ Webster
November 24 – Montreal, QC @ Club Soda
November 25 – Toronto, ON @ Danforth Music Hall
November 26 – Detroit, MI @ The Majestic
November 27 – Chicago, IL @ The Metro
November 29 – Denver, CO @ Oriental Theater
November 30 – Salt Lake City, UT @ Metro Music Hall
December 2 – Seattle, WA @ Neumos
December 3 – Vancouver, BC @ The Rickshaw
December 4 – Portland, OR @ Wonder Ballroom
December 6 – Berkeley, CA @ The UC Theatre
December 7 – Los Angeles, CA @ The Regent
High on Fire took home the GRAMMY for Best Metal Performance earlier this year for "Electric Messiah," the title track from the group's 2018 album of the same name. High on Fire joins the ranks of groups such as Black Sabbath, Motorhead, Metallica and Slayer as winners of the prestigious award, presented by The Recording Academy to recognize achievements in the music industry.
"We never really needed an award for doing what we love," says frontman Matt Pike. "Twenty-one years later, we finally got this. Thank you to the Academy." Pike went on to thank producer Kurt Ballou among others. Bassist Jeff Matz sent out a heartfelt shoutout to long-time manager and friend Nick John who passed away last year.
In April, High on Fire released Bat Salad, a vinyl EP exclusive for Record Store Day. The limited-edition release contains three tracks: the new original, "Bat Salad," along with covers of the Celtic Frost classic "Into The Crypts of Rays," and Bad Brains' "Don't Bother Me." Originally released solely on vinyl, 'Bat Salad' will now be made available digitally on Friday, July 26.
High on Fire released Electric Messiah last year via Entertainment One to some serious critical acclaim. The A.V. Club stated that "The bar for metal album of the year has been raised" and they couldn't be more correct. Electric Messiah landed on a myriad of 2018 year-end "Best of" lists including A.V. Club, Revolver, Loudwire and Consequence of Sound who stated that High on Fire "successfully construct Sabbath-ian, earth-moving riffs as their blueprint." Pitchfork said boldly, "When High on Fire rip, it's like they're tearing through the whole universe."

Additionally, High on Fire will be performing at 2019 Psycho Las Vegas taking place August 16-18, 2019 in Las Vegas at Mandalay Bay Resort. Tickets are on sale now, click here for more info.
Electric Messiah reunites the band once again with producer Kurt Ballou (Converge, Torche, Kvelertak) for the third time. "Kurt just has a knack for us, man," Pike says. "We all work really well with him. Even if we have differences about how we want to record something, he works with us and understands what we do. We've been sticking with him because we haven't made a bad record with him yet."
It feels absurd to think that this late into their career High on Fire has hit a new career peak, but that's what happens when you have a trio that works this well together. They simply cannot be denied a permanent spot among American royalty.
Tracklisting:

1. Spewn from the Earth
2. Steps of the Ziggurat/House of Enlil
3. Electric Messiah
4. Sanctioned Annihilation
5. The Pallid Mask
6. God of the Godless
7. Freebooter
8. The Witch and the Christ
9. Drowning Dog
High On Fire is: Matt Pike / Des Kensel / Jeff Matz
About High on Fire:
Universally recognized as one of the most potent acts in music today, High on Fire creates dynamic metal that merges primal fury and aggression, hesher bombast and hall of fame heaviness. Described as "a supersonic exercise in conquest by volume," High on Fire has rewritten the hard rock rule book since its formation in 1998, forging a style and sound that is both critically celebrated and unique. The group features vocalist and cult guitar hero Matt Pike — also a founding member of the famed underground band SLEEP — along with powerhouse drummer Des Kensel and talented bassist Jeff Matz. High on Fire's most recent studio album, 'Electric Messiah,' was released on October 9, 2018, and won a GRAMMY for Best Metal Performance at the 2019 Grammy Awards.