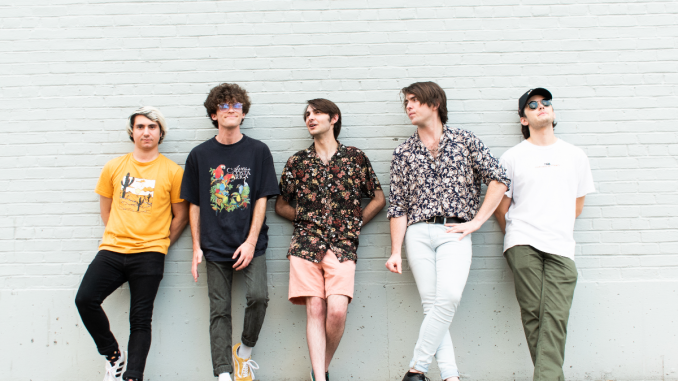 BAND SHARES "FROM ME 2 U" — LISTEN
"The perfect soundtrack to go along with the perfect summer day; Hey Thanks! has you covered" — Scene Daddy
Hey Thanks! formed in 2016 when five friends from outside of New Orleans came together to share their love of music. They wrote songs that drew from their wide range of influences to include emo, punk, electronica, and indie-pop. Their sound captures the essence of indie pop music. They were also named as one of "50 Bands You Need to Hear" by Alternative Press, who declared "their energy is different than anything else, their shows feel more like family gatherings than small concerts, and their bouncy rhythms are reminiscent of early 2000s pop punk, electrifying clubs. It will be fun to watch this band grow."
Over time, Hey Thanks! have played select Warped Tour dates and opened for Metro Station, Issues, Save Face, I Set My Friends on Fire, and We The Kings. They also toured relentlessly, prior to the pandemic and have shared stages with Greet Death, Keep Flying, Dozer Tx, Nominee, Bad Luck, Sundressed, Fernway, and Super American.
Hey Thanks! have spent the better part of two years writing and recording their debut full length Start/Living. Pre-order it here.
The album was engineered and produced by Gary Cioni at Sound Acres Studio (Hot Mulligan, Crime In Stereo, Sorority Noise) and mixed by Brett Romnes (The Movielife, Heart Attack Man, The Front Bottoms, Oso Oso) and mastered by Mike Kalajian (The Devil Wears Prada, New Found Glory, Silverstein).
Start/Living breaks down the boundaries of pop-music and expertly incorporates elements of '90s alternative, electronic rock, and emo. It's 12 infectious songs that captures the complexity of youth, longing, and love.
Today, the band has shared "From Me 2 U." Listen here.
START/LIVING TRACK LISTING:
"Conversations Make a Way"
"From Me 2 U"
"This Small Space"
"The Part I Call Myself"
"On Top of Me"
"I'm Sure It's On the Way"
"Fun Charade"
"How It's Supposed To Be"
"Would You Believe It"
"Promise It'll Be Over"
"If It Takes Me Forever"
"In Seconds I'll Be Gone"
HEY THANKS! ARE:
Travis Opal — Vocals
Alex Rodrigue — Bass, Keys
Jaron Dufrene — Guitar
David Bankston — Guitar
Trevor Lee — Drums