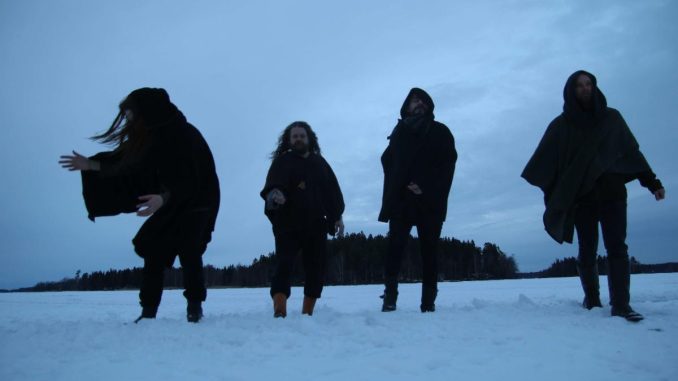 Watch HERE
New Album, 'Polar Veil',
Out September 22nd | Pre-Order HERE
"A Cabin In Montana", the glacial third single from Hexvessel's upcoming new album, 'Polar Veil', is a paean to radical environmental advocacy and unflinching nature worship. Speaking to a "deeper sense of belonging" in the wilderness, "A Cabin In Montana" draws from the eternal well of early nocturnal black metal, combined with hypnotic ritual chants and Hexvessel's timeless themes of nature mysticism.

Main man Kvohst explains, "You should all open this symbolic letter from a cabin in Montana. Step outside and get a deeper sense of meaning. Only then will life begin anew".

Watch the new video, suitably cobbled together from vintage footage taken from Canadian adventurer, Tommy Tompkins' wildlife films of the 1970s HERE
Finland's HEXVESSEL return with their sixth album, 'Polar Veil', a cold, metallic hymn to the Sub Arctic North. Haunted by primal forest spirits, Mat "Kvohst" McNerney summons the ghosts of his past in a jaw-dropping, unheard-of rebirth of style and sound. At once unmistakably HEXVESSEL, 'Polar Veil' is also steeped in the nocturnal atmosphere of McNerney's past, churned in the cauldron of black metal, ritual folk psychedelia and doom rock, and echoing with shivering gothic undertones.

From their inception in 2009, HEXVESSEL, created by Mat McNerney as what he described to Decibel Magazine as "a free spiritual journey and a musical odyssey with no boundaries", have captivated audiences and listeners with their evolution.

Holed up in a home-made studio in his log cabin during the winter of 2022, McNerney drew on all the fundamental elements of his music career as a shamanic shapeshifter, with only the isolation of nature's solitude as inspiration. Painting an aura with 'Polar Veil' which resonates with solitary reflection and themes of personal spiritual transcendence, HEXVESSEL's new album is a bold statement from an artist who continues to reinvent and explore nature mysticism through music.

"Nature represents freedom, darkness and the call of the wild. Black Metal has always been at the borders of my sound and playing, at the heart of everything I do. Tradition, nature, ritual, mythology, mysticism and philosophy, along with clashing and jarring chords have always been synonymous with HEXVESSEL. It was natural with 'Polar Veil', finally now as we reach the zenith of the journey, that these influences surface to the human ear, and with the freezing cold guitar sound that the climate here demands."

A track such as "Crepuscular Creatures", with unhinged, discordant guitar chords, as bassist Ville Hakonen's hand snakes up and down the frets, is at the more avant-garde end of the album. Long term drummer Jukka Rämänen thunders the toms like never before, as McNerney croons Scott Walker-esque lyrics, somewhere between Edith Södergran and Ted Hughes.

Whereas "Listen To The River" with its ominous M.R James/folk horror lyrics of perilous environmental warning, featuring Ben Chisholm as main collaborator and multi-instrumentalist with Chelsea Wolfe on lush, haunting keys and strings, could have appeared on HEXVESSEL's sophomore album 'No Holier Temple', albeit with a sound of that era, progressing out of folk.

'Polar Veil' features Nameless Void from Negative Plane, performing the guitar solo on the song "Ring" and on "Older Than The Gods", Okoi from Bølzer provides guest vocals. At first an unlikely partnership but one that makes total sense as the album deepens, and threads can be drawn that reveal the place 'Polar Veil' is coming from.

On the process of recording 'Polar Veil', McNerney explains:

"I built a studio at home in the log hut on our field, surrounded by large trees, called Pine Hill, to escape from everything and everyone. 'Polar Veil' is what a spiritual home sounds like."

When the components of the medicine are familiar but brewed in a completely novel concoction, the resulting side effects can be deliriously intoxicating.
HEXVESSEL Live Dates:
22.9 YÖ-Talo, Tampere FI
23.9 Amplifest, Portugal
29.9 Suisto, Hämeenlinna FI
30.9 Kuudes Linja, Helsinki FI
6.10 Monari, Kannus FI
7.10 45 Special, Oulu FI
13.10 Dynamo, Turku FI
14.10 Torvi, Lahti FI
11/12/2023 Poznań Klub Pod Minogą PL
12/12/2023 Kraków Zaścianek Club PL
13/12/2023 Warsaw Hydrozagadka Club PL
14/12/2023 Vilnius SODAS2123 LT
15/12/2023 Riga Vagonu Hall LV
16/12/2023 Tallinn Kinomaja EE
Tickets via Hexvessel.com