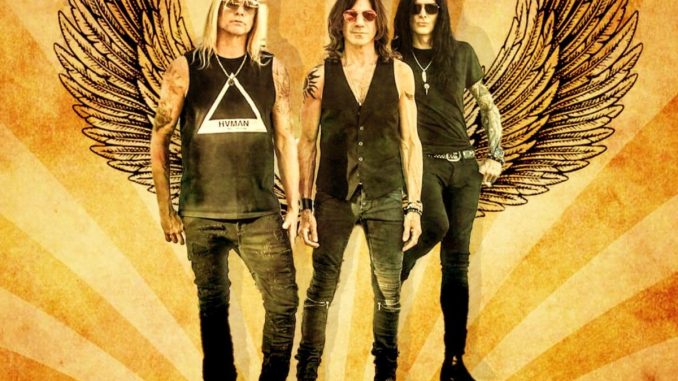 Frontiers Music Srl is pleased to announce the latest music video, "Angels Never Sleep," from U.S. hard rockers HEROES AND MONSTERS.

Formed by three rock n' roll lifers and friends, bassist/vocalist Todd Kerns, guitarist Stef Burns, and drummer Will Hunt, their self-titled debut was released on January 20, 2023.
The players' resumes speak for themselves, but rest assured, if you are looking for hard hitting, hooky, in-your-face rock-n-roll, then HEROES AND MONSTERS will be good for what ails you. The band approaches their style with their influences in tow, but also with an understanding and appreciation of the current rock scene. A best of both worlds scenario, if you will.

Todd Kerns is a multi-instrumentalist, singer, songwriter, and producer. He is most noted for being the bass player and back-up singer in Slash featuring Myles Kennedy and the Conspirators, and for being the frontman of gold-record selling Canadian band The Age Of Electric. In more recent years, he has been making his mark as a singer-songwriter with sold-out solo performances, as well as fronting former KISS guitarist Bruce Kulick's band, and his own Canadian supergroup, Toque.

Guitarist Stef Burns has a fantastic and varied history in rock music. He has spent time playing with pop acts like Sheila E., Berlin, and Huey Lewis & The News, as well as rock acts like Y&T, whom he recorded four albums with, and Alice Cooper, playing on the albums 'Hey Stoopid' and 'The Last Temptation'. Stef currently plays with Italian Rock superstar Vasco Rossi and also has his own band, The Stef Burns League.

Drummer Will Hunt currently resides on the drum throne for Evanescence, whom he first started playing with in 2007. Over the years, the in-demand skinsman has played with Dark New Day, Black Label Society, Staind, Vasco Rossi, Vince Neil, Tommy Lee, Slaughter, and more. He has also appeared on albums by Michael Sweet (Stryper), Crossfade, Dirty Shirley (George Lynch), Device (David Draiman of Disturbed), and more.
'Heroes And Monsters' Track List:
3. Let's Ride It
5. I Knew You Were The Devil
6. Break Me (I'm Yours)
7. Blame
8. Don't Tell Me I'm Wrong
9. Set Me Free
10. And You'll Remain
Check out HEROES AND MONSTERS on their
"Angels Never Sleep" Italian summer tour:
20/7 Pianezza (TO) – Vertigo Rock Festival
21/7 Marina di Ravenna (RA) – Finisterre Beach
22/7 Porto d'Ascoli (AP) – Campo Rugby Nelson Mandela
23/7 Vasto (CH) – Giardini di Palazzo D'Avalos
25/7 Terracina (LT) – (location tbd)
26/7 Frosinone – (location tbd)
27/7 Roma – Killjoy
28/7 Ficulle (TR) – Arena Parco Pubblico
29/7 Martirano Lombardo (CZ) – Piazza Matteotti
30/7 Pontecagnano (SA) – La Tana del Blasco
HEROES AND MONSTERS are:

Todd Kerns – Lead Vocals, Bass

Stef Burns – Guitar

Will Hunt – Drums
FOLLOW HEROES AND MONSTERS: