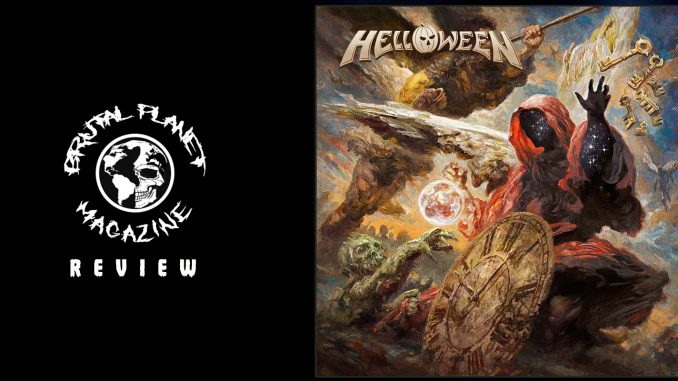 If you were an alien passing by Earth on 2021 things would be dramatically different than if you passed by in the last 20 years. You would see a planet full of people with coverings over their faces. You would see technology that had advanced dramatically, and you would hear the sounds of a power metal band called Helloween that you had not heard for 27 years. Helloween was formed in Hamburg Germany in 1984. The sounds of Helloween were like none heard before and did not receive a proper greeting in the US during their prime, because at that time bands like Poison, LA Guns and Van Halen ruled the airways. Led by Kai Hansen and Michael Kiske, Helloween received some airtime on MTV and The Headbangers Ball but was not embraced by a culture that was drawn to gender bending looks and songs that relished in the excesses of the sunset strip.
The band experienced a few lineup changes, Hansen left the band in 1989 and Kiske in 1993 but through the years they kept pressing on and in 2016 Hansen and Kiske rejoined. This lead to a tour which spawned a live recording and album. In early 2020 the band began working on new material. Due to COVID Helloween put off the release until 2021.
In 2021 the pandemic that crippled the world just one year ago begins to fade, and a glimpse of normalcy gave humanity hope that the world will return to some semblance of what we once knew. On June 18, 2021 we need to look no farther than the long awaited self-titled release from Helloween for that return.
The album starts with "Out For Glory." This is an impeccable song to start the album. It combines the brilliance of Kiske and the fast-paced beat that we have come to love from Helloween. Up next is one of my favorite songs on the album. "Fear of the Fallen" starts with a slow acoustic intro with Hansen on vocals but within 40 seconds the song takes a turn to blazing guitars and Kiske screaming. Lyrically the song is a call to stand tall for what you believe:
"Decide and stand your ground my friend
Refuse and your fall goes hand in hand
Decide"

The song continues to with a catchy chorus and a guitar solo combined with some wicked drumming by Daniel Löble.
Helloween continue with the "Best Time" which transitions into "Mass Pollution." The song opens with distorted and a thumping bassline that continues through the rest of this epic beast. When you want to take your eardrums on race through your mind "Mass Pollution" is the solution.
"Angels" follow and has a symphonic feel to it with some keys and pace changes. The songs speeds up then gracefully slows to let you embrace the magic of Kiske and Hansen singing duet style throughout its lyrics. The album speeds back up to warp speed with "Rise without Chains" and into "Indestructible." "Robot King" kicks things into overdrive with an even faster pace and ear shattering vocals. "Cyanide" continues the warp speed pace, while "Down in the Dumps" tames the tempo back down with an Iron Maiden like beat.
As the album speeds to the finish line the song as "Orbit" begins. This is curious sounding instrumental piece that reminded me of the scene in "Close Encounters of the Third Kind" where the aliens are communicating with the humans through keyboard like sounds. Things then transition into the out of this world masterpiece "Skyfall," a story about an alien spaceship that crashes to earth. The epic song is a 12 minute story and is easily my favorite song on the album.


Helloween has created pure auditory genius with their long-awaited reunion. As amazing as Kiske and Hansen are on this album so too is the rest of Helloween who need to be given proper kudos for their amazing part in this re-launch.
Helloween's self titled album will rocket out of this world on June 18, 2021 via Nuclear Blast Records.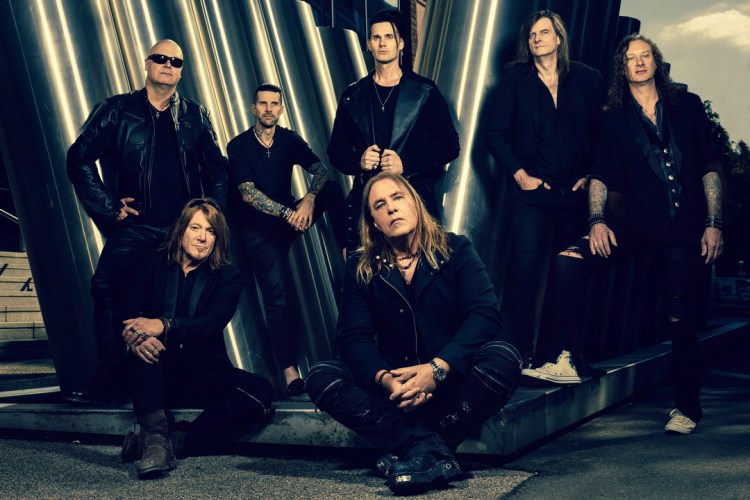 Helloween is:
Kai Hansen – lead vocals, guitars
Michael Kiske – lead vocals
Andi Deris – lead vocals
Michael Weikath – guitars
Sascha Gerstner – guitars
Markus Grosskopf – bass
Daniel Löble – drums