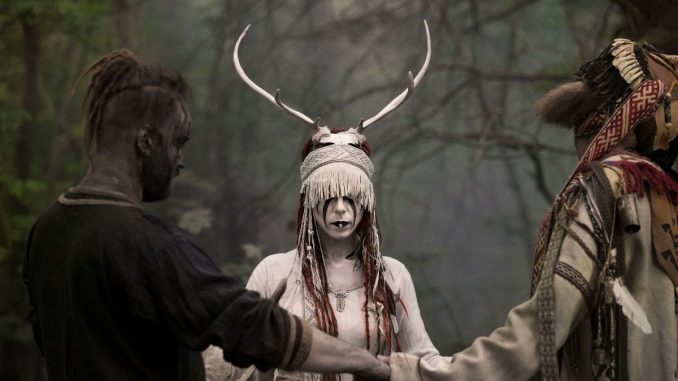 Enigmatic Nordic collective HEILUNG is now proudly announcing their collaboration with MY.GAMES and Booming Tech for the new season of the 'Conquerer's Blade' video game, 'VII: "Wolves of Ragnarok." The newly launched trailer for the game, featuring the track "Galgaldr," can be found HERE.

With lyrics recorded in Old Norse and inspired by Völuspá – a prophecy of Ragnarok from the Poetic Edda – HEILUNG's atmospheric sound will immerse players in a dark new era for 'Conqueror's Blade.' HEILUNG will also see their name being eternalized in one of the new combat map locations, which is now officially called 'Heilung Fjord,' and serves as a place for healing.

More info on the game can be found HERE.
Conqueror's Blade – Season VII Cinematic Trailer Featuring 'Galgaldr' by Heilung
Following an extremely successful first ever tour of North America, in which every venue sold out, HEILUNG are returning to the states for one spectacular evening! The Danish formation will be bringing their mesmerizing ritual to the historic, century-old Red Rocks Amphitheater in Denver, CO on October 5, 2021. Tickets for the 2020 show will be honored at the new date. For every ticket sold, One Tree Planted will plant a tree in Colorado. You can purchase tickets HERE.

Last year, HEILUNG shared their first ever music video for the Independent Music Award-winning song "Norupo," which is taken from 2019's critically-acclaimed release, 'Futha!' The video was shot at the Neolithic standing stones at Les Menhirs de Monteneuf in France. You can watch the stunning video at THIS LOCATION.

"Norupo" is composed around the ancient runic poem with the name "The Norwegian Rune Poem". The poem was preserved in a 17th-century copy of a now lost 13th-century manuscript and gives a complete description of all sixteen runes of the younger Futhark.

HEILUNG will be supporting their 2019 release, 'Futha,' which debuted at #3 on the Billboard Heatseeker charts and #4 on the Billboard World Music Charts, placing on a total of seven Billboard charts within the first week of its release.

During 2020's Game Awards, HEILUNG announced that they will be working with U.K.-based gaming company Ninja Theory on the soundtrack for their upcoming game, 'Senua's Saga: Hellblade II.' The announcement trailer for the new game features HEILUNG's song 'In Maidjan,' which is taken from their debut album, 'Ofnir.' Watch the trailer HERE.

The band's music was featured in a trailer for the final season of HBO's 'Game of Thrones' series. It can be viewed HERE.

This was not the first time HEILUNG's music has been featured in a commercial, as "Krigsgaldr" was featured in a 2018 commercial for the Adidas x Alexander Wang collaboration. Watch the commercial HERE!

'Futha' was released on June 28 and can be streamed HERE and ordered HERE.
HEILUNG live:
10/06/20: Denver, CO (USA) @ Red Rocks Amphitheater [TICKETS]
Speaking about 'Futha,' BILLBOARD wrote, "Tracks like 'Norupo,' which is led by female vocals, is beautiful and melodic, and the choir and tribal percussive background of 'Othan' is trance-like." You can read the full feature, which includes an interview with HEILUNG's Kai Uwe Faust, HERE.

Upon its release, 'Futha' has been met with international critical acclaim. Here is what the press is saying:

"There's an earthy aura surrounding the record, not just from the sounds of nature but the primal energy it evokes, trying to wake something long lost to the ravages of time… the power and conviction of these chanted tales connect on a deeper level than mere riffs. You just have to let it in." – Kerrang

"'Futha' is consequently more a gentle, comforting blessing than it is an album: an escape from contemporary concerns and a reminder that there is still magic in this world." – Pure Grain Audio

"'Futha' leaves no stone unturned in its quest to experiment and bring its own true experience to the table. That said, it is easy to fall into a trance and with eyes closed to be transported to the past world that Heilung brings back to life. That is why Cryptic Rock gives Futha 4 out of 5 stars." – Cryptic Rock

"Indeed, I have no better word for the music than 'spellbinding.' The combination of the hide-drum and electronic rhythms, the contrasting vocals of Faust and Franz, the mystical keyboard layers, and the dark and ethereal melodies is wonderful." – No Clean Singing

"Heilung have just the ticket with their new record, 'Futha' (Season of Mist), which layers ancient Germanic chants six feet deep for total disembodied bliss." – Free Williamsburg

"Hypnotic and evocative, this preview of Heilung's upcoming album 'Futha' hints that another tradition-steeped masterpiece from the fascinating collective is to come." – Revolver Magazine

Line-up
Kai Uwe Faust
Christopher Juul
Maria Franz

For more on HEILUNG, visit their FACEBOOK, INSTAGRAM, and YOUTUBE pages.