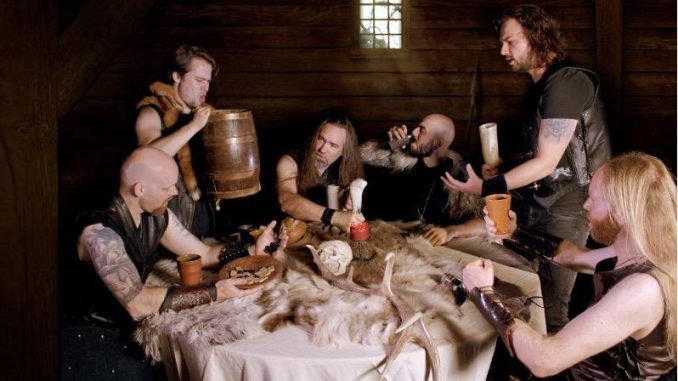 Following the release of their latest, much-acclaimed studio album, 'WEDERKEER' (released in February 2023 via Napalm Records), today, pagan folk metal collective HEIDEVOLK have shared a new music video for the song "Drinking with the Gods (Valhalla)". This English-language version of their Viking anthem, "Drink met de Goden (Walhalla)", was only included on the album's physical editions – unreleased digitally until now!
Says the band: "It has been four months already since we released 'WEDERKEER'. The positive feedback on the album has been overwhelming. Creating an album in the Dutch language that makes these kind of waves internationally still blows our minds and proves that music transcends barriers, even that of language. Today though we present you with a different version of the celebrated track 'Drink met de Goden'. The lyrics of the song have been rewritten in the English language to tell the tale to those who haven't picked up on Dutch yet. With the new artwork by Christan Sloan Hall we intend to give you a peek into Valhalla where we'll be 'Drinking with the Gods'. Enjoy!"
In a world of myths, nature and legends of the Veluwe region of the Netherlands, 'WEDERKEER' – a concept album based on the interpretations of the runes – is a powerful odyssey deeply rooted in metal and folklore. With dual clean vocals, irresistibly catchy songs, traditional instruments and fast metal riffing all fueled by their folkloric fire and pagan pride, HEIDEVOLK has delivered an uncompromising sound and musical adventure, and 'WEDERKEER' (meaning to "return" or "revive") once more proves why the Arnhem-based six-piece is one of the best, unrivaled and most exciting bands of their genre and beyond.

'WEDERKEER' was recorded at Sandlane Recording Facilities, mixed by Joost van den Broek and mastered by Darius van Helfteren. HEIDEVOLK knows how to perfectly release proud hymns and direct, in-your-face metal songs, and the addition of broad choirs and various folk musicians on vocals, violins, cello, bukkehorns and more traditional medieval instruments, make 'WEDERKEER' not only a bombastic folk and pagan metal record, but a glorious album return for HEIDEVOLK!