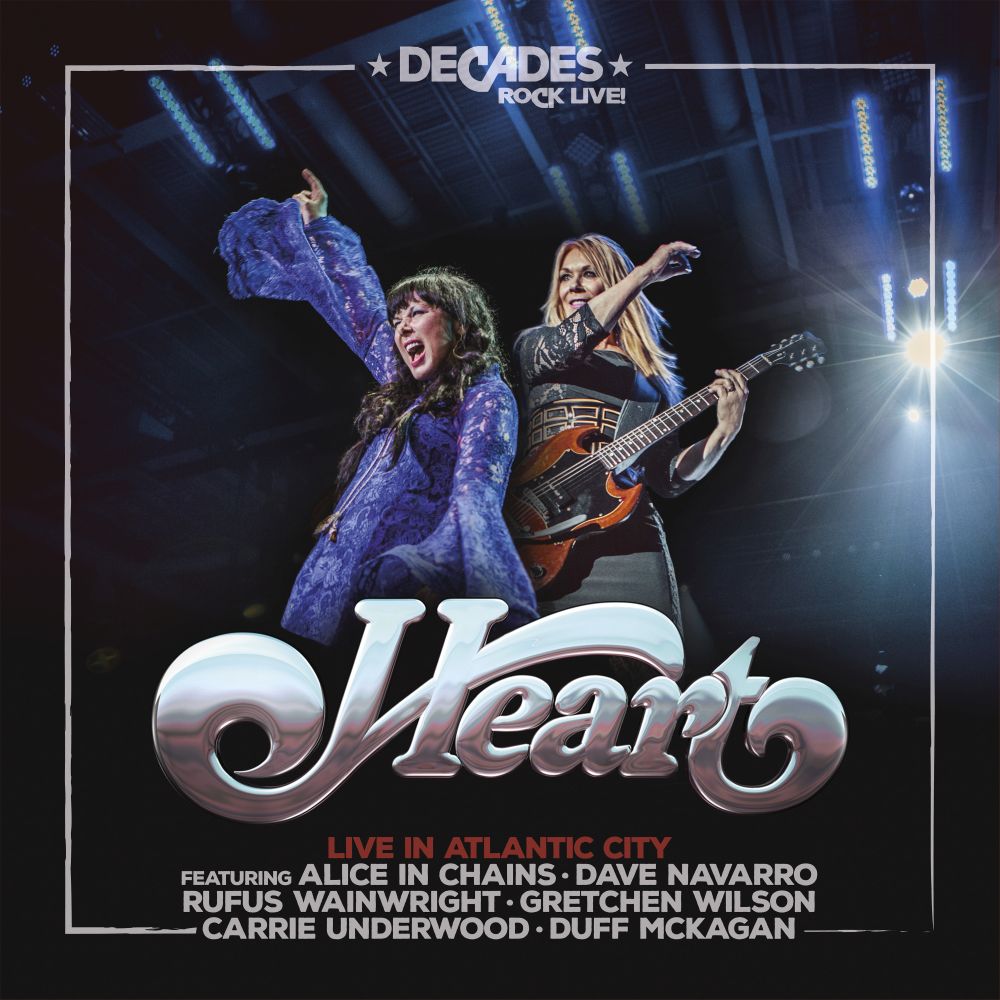 We do not remember days, we remember moments. Cesare Pavese (BrainyQuote)
There was a time before the Internet, YouTube and on-demand TV. A time when music television provided us the opportunity to see the groups we loved. Conceivably a lightning-strike chance to see them to perform live. A moment in time to be long remembered.
Such a moment occurred on March 10, 2006 when Heart aired LIVE IN ATLANTIC CITY on VH1 Decades Rock Live. The tribute to sisters and hard rock pioneers, Ann and Nancy Wilson of Heart, featured live performances of iconic songs like "Magic Man", "Rock 'n' Roll" and "Dog & Butterfly". There were also performances that included guest artists like Carrie Underwood, Dave Navarro, Gretchen Wilson, Rufus Wainwright, Alice In Chains and Duff McKagan.
For fans of the band it was a night to watch and listen to the magic that made Heart and the Wilson sisters household names. For the guest artists it was a night to celebrate the sisters who created and performed an incredible collection of music that had shaped and inspired much of their own work.
Lightning strikes again on January 25, 2019 when earMUSIC releases the newly mixed and remastered LIVE IN ATLANTIC CITY. Available on LP/CD/DVD/BluRay, LIVE IN ATLANTIC CITY takes Heart fans back in time to relive the moment, feel the passion, and remember the magic.
And this time, it's yours to keep.
WATCH the video for "Lost Angel" below
GET your copy of LIVE IN ATLANTIC CITY here.
LIVE IN ATLANTIC CITY TRACK LISTING:
1. "Bébé Le Strange" (with Dave Navarro)
2. "Straight On" (with Dave Navarro)
3. "Crazy On You" (with Dave Navarro)
4. "Lost Angel"
5. "Even It Up" (with Gretchen Wilson)
6. "Rock 'n' Roll" (with Gretchen Wilson)
7. "Dog & Butterfly" (with Rufus Wainwright)
8. "Would?" (with Alice In Chains & Duff McKagan)
9. "Rooster" (with Alice In Chains & Duff McKagan)
10. "Alone" (with Carrie Underwood)
11. "Magic Man"
12. "Misty Mountain Hop" (with Dave Navarro)
13. "Dreamboat Annie"