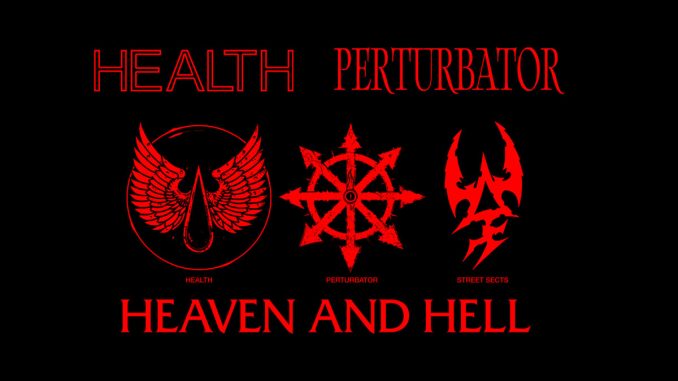 It's taken me almost a week to get this post up but last weekend I caught HEALTH and Perturbator at the Bealsco in L.A. and it was a fantastic show.
HEALTH came up in the Los Angeles scene so this show was sort of a homecoming for them. The "Heaven & Hell Tour" ended in San Francisco on Sept. 18th – but these two bands will be in Europe on the "Excess Tour" starting in France in October. European fans can find a full list of dates here.
Some who read the headline to this post might be asking "HEALTH & Perturbator are metal?" to those people I submit HEALTH's recent collaboration with Lamb of God:
When I walked into the venue Perturbator was already performing. The show was everything Industrial music aspires to be. A blend of dance and heavy metal from the atmosphere to the crowd itself.
Perturbator has a live drummer so the beat felt organic but the synth aspect of what they do also gave the room a dark ambience. The light show also helped to make the room seem like a dance club. The flashing strobes, fog and lazer beams helped to lend a futuristic visual aura to the already futuristic music. During the last song of their set, Jake Duzsik of HEALTH joined the band on stage, waving to the crowd and leaving before the band wrapped it up.
HEALTH took the stage next, their intro had an almost angelic vibe to it. The uplifting chords and bright white beams of light shined from the stage as the band members positioned themselves behind their instruments.
When they broke into their first song the entire crowd erupted into a frenzy of movement. Not moshpits but raw motion. The same dark, eerie vibes that Perturbator had continued during HEALTH's set. They played what is probably my favorite song "STONEFIST" about 3 songs in.
Overall both bands rely on the live drummer with synthesizers model. This provides for a very unique live experience as the drums feel organic and not programmed and contrast with the synthesizers. If you've ever been to a dance club or an electronica show you understand how powerful sound can be. A live atmosphere can almost be bent and shaped to a musician's liking by bending and manipulating sound waves. It creates a vibe that is much different than a typical heavy metal concert which is largely guitar, bass and drums.
A great example of this is the track "FEEL NOTHING" that switches back and forth from a melodic, atmospheric verse to a pounding, heavy metal chorus. Watch:
Overall this was one of the more interesting and unique shows I have covered for Brutal Planet Magazine. Bands like HEALTH and Perturbator are definitely pushing the envelope on what heavy music can sound like and that is something to be respected and enjoyed.
If you're in Europe do not miss the Excess tour. It's a heavy, dark yet fun community dance party. The tour starts in Paris on Oct. 18th. Get the full list of European dates here.