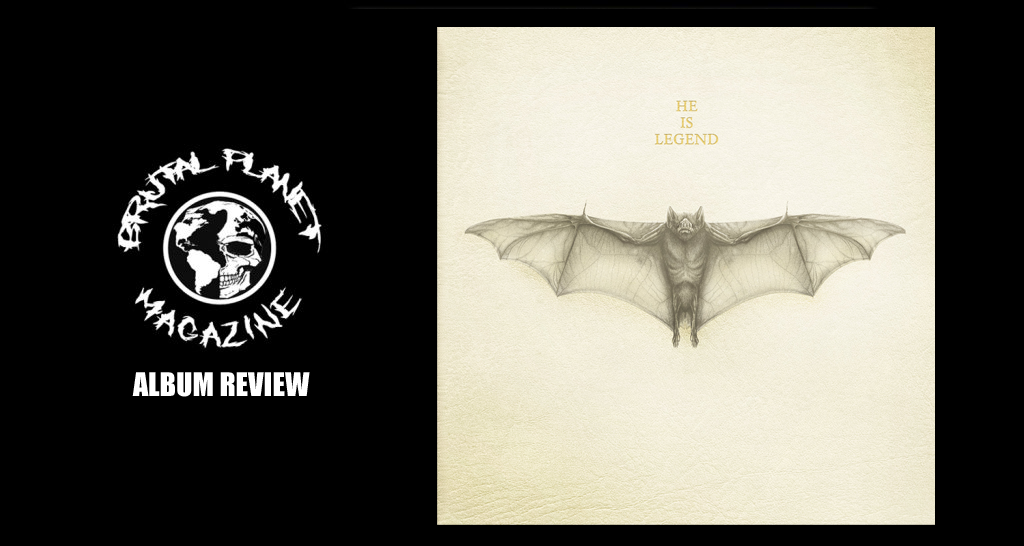 He Is Legend – their name is a vague and comical reference to the 1954 book I am Legend by Richard Matheson. The band has been actively cranking out great, heavy music since their debut "I Am Hollywood" hit the streets back in 2004. Despite this fact they doen't really get the credit or recognition they deserve for being as consistently great as they have been.
The band has been through a lot. Since their debut album they have weathered a few line up changes but the core members including lead vocalist Schuyler Croom have always remained at it's core. Their 2nd album "Suck Out the Poison" saw He Is Legend almost splitting up completely after relocating to California. But this just ended up being proof that they are capable of putting out great music no matter what kind of internal pressure they're facing. To quote the fine folks at Metal Injection: "Let's cut right to the chase: He Is Legend is one of the most underrated and under-appreciated bands in all of metal."
After "Suck Out the Poison" was released the band lost a few members but the core lineup still remained intact. They took Sabbatical and went into the woods to write the songs that eventually became their 3rd record: "It Hates You." This album was more melodic and has quite a few more hooks and memorable songs than some of their previous work. It came out around the time that MySpace was still a thing to give you an idea of how old it is.
After the release and touring behind "It Hates You" the band went on indefinite hiatus for about 3 years. The will to keep creating art is strong though and eventually they went back into the studio in 2011 with their former rhythm guitar player (and former singer of the band Classic Case) Mitch Marlow to record "Heavy Fruit" – which was followed up by a crowdsourced and critically acclaimed album in 2017 called "Few."
Now here we are in 2019 and the band has recorded their 6th full length record. It is perhaps their heaviest offering since "I Am Hollywood" – and it's called "White Bat"
The band released the title track as the lead single on Halloween of 2018 and it's a fantastic way to kick off an album. "White Bat" is the first song on the album and it begins with some very heavy riffing and double bass drum before it swirls into a full blown heavy metal hurricane. Don't take my word for it though, you can listen to the track here:
This time around, the band recorded in different places around the country. Jesse recorded his drum tracks in Atlanta at "Glow in the Dark Studios" with Matt Goldman. Guitars and bass were tracked at Warrior Sound with Al Jacobs, and Schuylar ventured out West to Los Angeles to track vocals with Mitch Marlow (former He Is Legend rhythm guitarist turned producer mentioned earlier).
Inspired by Michelle McNamara's true crime classic I'll Be Gone In The Dark, Schuylar wandered around the most shadowy corners of the city of angels. Getting into a menacing mindset for the concept, he visited the grave of Walt Disney, canvased mausoleums, went to the Museum of Death, and "sat in crazy seedy little bars, wrote, and got into this headspace—like preparing for an acting role."
"White Bat is a moniker for this fictional killer," Schuylar admits. "It's his calling card. The name has a ring of finality to it, which I dug. It came out of nowhere. It sums up this era of He Is Legend, which is in-your-face—dare I say Far Beyond Driven-style—but still rock 'n' roll. The character is battling his own demons and trying to figure out if his life is being led through fantasy, or if he's actually doing these things. On the other side of the coin, a White Bat is a rare breed. That's as much as I'll say about the concept," he cuts himself off as if keeping a secret.
"Burn All Your Rock Records" has a sing along chorus with an almost choir like feel. A group of background singers chant along with Croom "He tried to burn all the rock records!"
"Eye Teeth" is another heavy groove that breaks into a nice melodic chorus and "Talking Stalker" slows things down with a bluesy jam reminiscent of bands like Alice In Chains or fellow North Carolina natives Corrosion of Conformity.
"Bent" is one of my personal favorite songs on the album. The off kilter guitar riff and soaring vocal chorus instantly make it one of the more memorable tracks. "Oh no here we go… we lost him just like that…"
"Resister, Resist Her," "Uncanny Valley," "The Interloper," "Skin So Soft" and the latest single "Boogiewoman" round out what is a fantastic album that warrants repeated listens. This is not surprising for a band like He Is Legend. They have consistently put out quality albums full of great songs.
"This is probably the best depiction of what our music sounds like. We wrote a record for big stages." Finishes Croom – "We found this life and essence like, 'Here we are. This is the band in its purest form.' We're fucking back. We're here. It's time to rock."
WHITE BAT HITS THE STREET ON JUNE 28th 2019 – DON'T SLEEP ON THIS ONE!!!