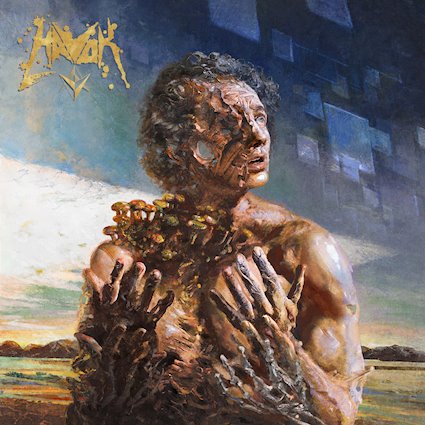 Back in the 1980s, bands like Metallica, Megadeth, and Slayer seemed to dominate the metal scene. Thrash metal defined heavy music until grunge and alternative started gaining popularity a decade later. Now, it's hard to find a solid thrash metal band. Bands nowadays either sound like every other band in the scene or they simply don't want to put in the time to master their instruments. However, there is one band that still stands out as one of the greats- Havok. This Denver-based band will be releasing their fifth album, "V" on May 1, 2020, through Century Media Records.
The opening track, "Post-truth Era" was released as a single March 27 and is introduced with over a minute of guitar riffs and solos by David Sanchez and Reece Scruggs until it bursts with Sanchez's aggressive vocals. Throughout the song, drummer Pete Webber shows off his talent through impressive fills and footwork. "Post-truth Era" is followed by "Fear Campaign," one of my favorite tracks on the record. Musically, it reminds me of the "Kill em All" era-Metallica without sounding like Metallica. It's fast; it's ferocious; and extremely well written. The band took nine months to write and record "V" and it shows. Havok knows how to produce great metal songs.
This album is the first of the band's discography to feature its newest member, bassist Brandon Bruce. In a recent interview, Bruce said, "I am really excited about this record, and to be playing bass with Havok, we really focused on structure and songwriting while maintaining the heavy riffs and brutal music the band is known for. I'm proud of how it turned out and can't wait for everyone to hear it." It's always great when the bassist gets some spotlight on a recording and songs like "Betrayed by Technology" and "Panpsychism" show off the talent of Havok's newest addition.

The first single released off "V" was "Phantom Force." Fans have been able to enjoy this song for a couple of months now. The official music video was posted on YouTube on February 28. This is a great song to introduce to friends who have never heard this Colorado four-piece. "Cosmetic Surgery" and "Merchants of Death" both feature gang vocals, "Ritual Of The Mind" takes the listener for a ride on a galloping riff and a brutal outro and the final track, "Don't Do It" is an eerie, yet diverse song. Coming in at just over eight minutes, this final song features acoustic guitar, multi-tempos, and emotional lyrics.
Havok was supposed to support Hatebreed and After the Burial this spring but the tour was canceled due to COVID-19. At least fans will receive a masterful work of art on May 1. "V" is savage. This taste of thrash is exactly what the metal scene has been hungering for. You need this album.