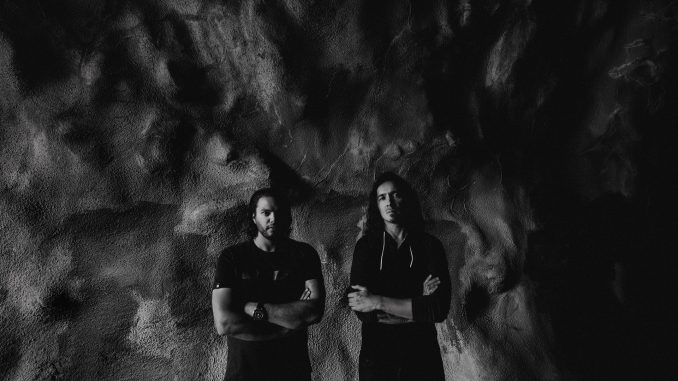 DEBUT FULL-LENGTH ALBUM, VOID, ARRIVES MARCH 11 VIA 3DOT RECORDINGS

WATCH JØRGEN MUNKEBY'S SAX PLAYTHROUGH NOW
Photo credit: Ektarina Gorbacheva
Feb. 3, 2022 – Haunted Shores, the instrumental duo featuring Periphery's Mark Holcomb and Misha Mansoor that Revolver dubbed "straight-up down-tuned devastation," have released "Nocturnal Hours" (https://lnk.to/nocturnalhours), a second preview of the pair's forthcoming album, Void (March 11, 3DOT Recordings).

"'Nocturnal Hours' is a special track," explains Holcomb. "We began writing parts for it years ago, but never fully nailed the arrangement until the writing sessions for Void. It's meant to be a direct not to early 2000s Opeth, namely the Blackwater Park record. Misha and I have worshipped that album for 20 years, and when the song started to take on qualities that vaguely resembled that sound, we said 'fuck it' and ran with it. Once our friend Jørgen Munkeby (Shining) laid down his phenomenal saxophone solo it instantly became an album favorite."

Munkeby takes listeners on a saxophone-driven journey with the arrival of an accompanying playthrough, which can be viewed here: https://youtu.be/0oC19ny5pHs.

The pair offered another preview of the eight-song album with the release of "Hellfire" (https://lnk.to/hellfire), a song Guitar World described as "full of thrash-y frustration and hectic, entangled riffing."

Void pre-orders/pre-saves are available now via the 3DOT webstore. Void was co-produced by Holcomb and Mansoor, with Mansoor also tackling mixing duties. Norwegian jazz-meets-metal musician Jørgen Munkeby (Shining) guests on "Nocturnal Hours." The album cover features a Paoli Girardi painting.