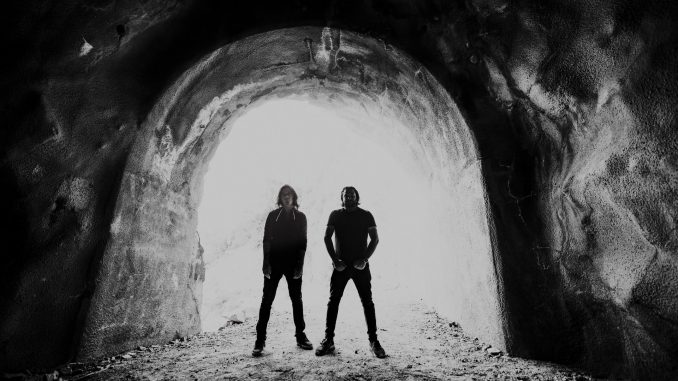 HAUNTED SHORES, INSTRUMENTAL DEATH/BLACK METAL OUTFIT FEATURING PERIPHERY'S MARK HOLCOMB AND MISHA MANSOOR, RELEASE DEBUT FULL-LENGTH ALBUM, VOID, ON MARCH 11 VIA 3DOT RECORDINGS

HEAR "HELLFIRE" NOW AND WATCH MARK HOLCOMB'S

PLAYTHROUGH VIDEO BELOW

"… you're not used to hearing them sound quite like this. And that's what's so much fun about it; it's cool to hear these guys stretching a bit outside of what's expected of them."

– MetalSucks

"Instru-metal of the highest degree!" – Metal Injection
Jan. 12, 2022 – Haunted Shores, the death-metal tinged offering from Periphery's Mark Holcomb and Misha Mansoor, return with the pair's eagerly-awaited, debut full-length, Void (March 11, 3DOT Recordings).

A preview of the eight-song collection, a follow-up to the duo's 2015 Viscera EP, arrives with today's release of "Hellfire" (https://lnk.to/hellfire), a 4:20 minute, rapid fire track that not only further cements the guitar players' prowess but simultaneously showcases the new exploration the combo take under the Haunted Shores banner.

"We're proud to announce the upcoming release of our new record, Void," says Holcomb of the outfit he founded prior to his role in the GRAMMY-nominated Periphery. "Misha and I have wanted to do another Haunted Shores album for quite some time, and we finally made the time necessary to focus on these songs. I have always loved writing Haunted Shores songs, but this one in particular feels special – a little crazier, a little more unhinged, and in my opinion, a step above what we've done in the past. 'Hellfire' was the first song we demo'd for the record, and in many ways it sets the table for the record in its intent and spirit. I can't wait for people to hear the rest of it."

Void pre-orders/pre-saves are available now with the album available on limited-edition black and gold vinyl via the 3DOT webstore. Void was co-produced by Holcomb and Mansoor, with Mansoor also tackling mixing duties. Norwegian jazz-meets-metal musician Jørgen Munkeby (Shining) guests on "Nocturnal Hours." The album cover features a Paoli Girardi painting.
Void album cover featuring artwork from Paolo Girardi
Void tracklist:

OnlyFangs
When in Oslo
Null
Perpetual Windburn
Immaterial
Void
Nocturnal Hours (feat. Jørgen Munkeby)
Photo credit: Ektarina Gorbacheva