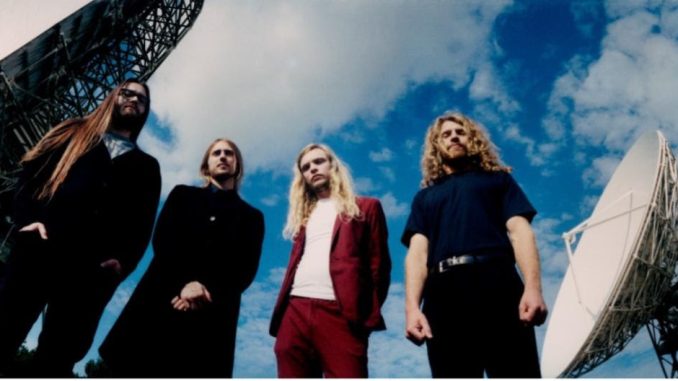 "Fever Dream" + Video | Watch HERE
Recently Signed With Spinefarm!
Confirmed Dates Include The Great Escape & 2000trees
English alternative rock quartet HAUNT THE WOODS have released an acoustic version of their stunningly evocative new single "Fever Dream" (Spinefarm).

Haunt the Woods' Jonathan Stafford (vocals/guitar) comments: "'Fever Dream', arranged as an acoustic track and performed at Middle Farm Studio. Always a special experience recording to tape in the Middle Farm Live Room, something charming about the honesty and flaws of a single unedited take, you can almost hear the floorboards creak."

The new version of the single comes alongside HAUNT THE WOODS' performance at The Great Escape on May 11th. For more info on the festival, visit HERE

Stream "Fever Dream (Acoustic)" HERE

Watch the Video HERE
With elements as disparate as Radiohead, Jeff Buckley, The Mars Volta, Queen and beyond, HAUNT THE WOODS are a curiously unique band.

In the deepest reaches of the English countryside there is a sublime sound emanating from the landscape, and its name is HAUNT THE WOODS. Timely and yet oddly timeless, this surprisingly youthful quartet span musical decades and worlds.

Recently signed with Spinefarm, it won't be long before you hear plenty more from these musical mavericks, and with good reason. Formed in the hinterlands between Plymouth, Devon, and Cornwall, HAUNT THE WOODS deftly interweave alt rock, folk, prog and pop with an epic level of pomp and poetic elegance that suggests a far longer tenure than their young years suggest. There are tips of the hat to Queen and Muse, Jeff Buckley and Radiohead, and a sprinkled-in tinge of Beatles-loving pop sensibility and Manchester Orchestra-esque poignancy: HAUNT THE WOODS have that rare ability to conjure legacy while creating a bold sound that is newly their own.

With two warmly received EPs and a debut album, 'Opaque' (2020) which was released in 2020, the stage has been set for their overdue introduction to the world, which begins with their stunning new single "Fever Dream". Cinematic in scope, operatic in texture – it's a fitting illustration of the band's prowess and talent.
Watch Haunt the Woods live:
May 11: Brighton The Great Escape
Jun 03: Scorrier The Great Estate
Jul 05: Cheltenham 2000trees
Jul 21: Dartmoor Tunes in the Sands
Jul 22: Whiddon Down Chagstock
Jul 23: Bude, Leopollooza