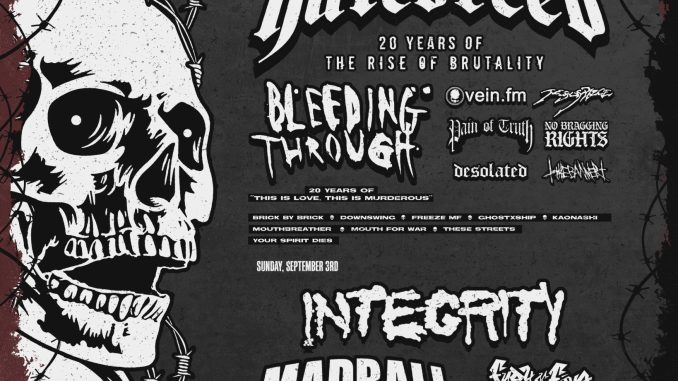 The inaugural BORN DEAD MUSIC FESTIVAL (BORN DEAD FEST) will take place September 2-3, 2023 in Albany, NY across two stages at Empire Live and Empire Underground. Presented by unique tattoo streetwear & alternative streetwear clothing company Born Dead Clothing, BORN DEAD FEST will feature some of the most prolific names in extreme music, with 27+ bands slated to perform including HATEBREED, BLEEDING THROUGH, INTEGRITY and MADBALL.
Headlining Day 1 of BORN DEAD FEST is Heavy metal hardcore kings HATEBREED who will also be celebrating 20 years of "The Rise Of Brutality". Festival goers- get to the stage early for this one, it's going to be a set for the history books! California heavy-hitters BLEEDING THROUGH are also making their anticipated east coast appearance at BORN DEAD FEST and performing "This Is Love, This Is Murderous" to mark 20 years since its release.
Day 2 will feature must-see headlining performances from hardcore legends, INTEGRITY, who have not played Albany in over 25 years as well as New York City hardcore legends, MADBALL. Lineup announced below with even more bands to be revealed!
BORN DEAD FEST Day 1: Saturday September 2nd
Hatebreed
Bleeding Through
Vein.fm
Jesus Piece
Pain Of Truth
No Bragging Rights
Brick By Brick
Desolated
Downswing
Freeze MF
GhostxShip
Kaonashi
Mouthbreather
Mouth For War
The Banner
These Streets
Your Spirit Dies
BORN DEAD FEST Day 2: Sunday September 3rd
Integrity
Madball
Fury Of Five
Soul Blind
Pyrexia
156/Silence
Actor Observer
Concrete Ties
Edict
Wisdom & War
+Plus More TBA
"I'm very proud to finally put together an amazing hardcore festival of my own and I couldn't think of a better place to do it than right here in Albany," says Born Dead Clothing owner Vincent Ferraro. "The alternative music scene is what really got it all started for Born Dead and it deserves a festival worthy of the scene we all know and love."
Tickets for BORN DEAD FEST start Friday June 30, 2023 at 10:00 am EDT. Both single day and two day passes available via Ticketmaster. See ticket option details below.