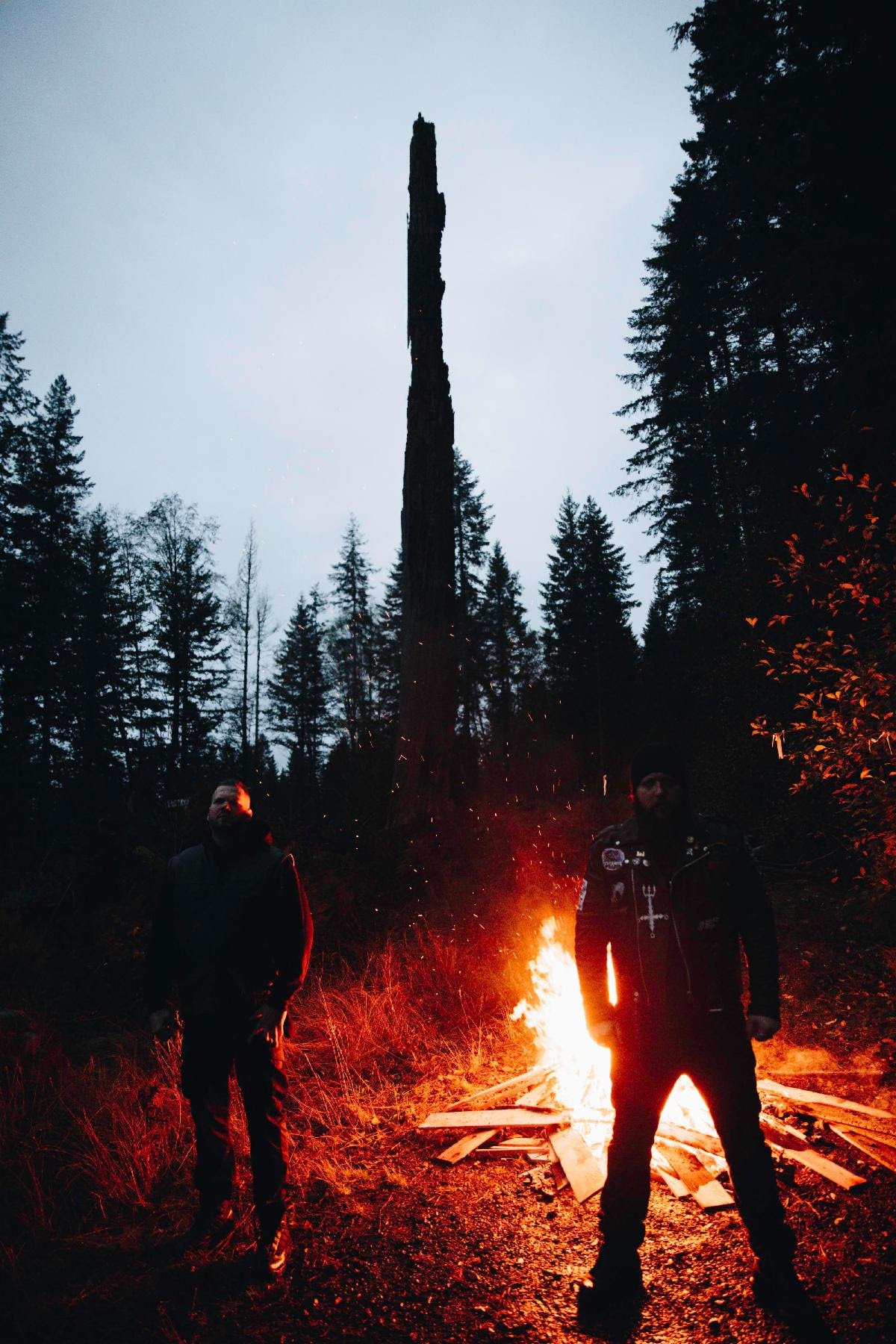 New Studio Record 'Cabaret of Decay' out TOMORROW
San Francisco-based death metal duo HATCHETS FOR HANDS have partnered with REVOLVER Magazine for an exclusive stream of their new studio album 'Cabaret of Decay', which comes out tomorrow (May 8th). The follow up to the band's 2018 debut 'Convulsions of a Dying Empire' and featuring the single "Midnight Wings", Hatchets For Hands' new full-length LP is a tour de force of modern death metal sensibilities that often ring familiar, but never stagnant. Cabaret of Decay is available on multiple purchase and streaming platforms, including Apple Music, which can be found at the link seen
here
.
Stream 'Cabaret of Decay' exclusively via REVOLVER Magazine
right here
.
Speaking about the new release and the creative process behind the record, the band shares, "In writing Cabaret of Decay we realized we shared a very specific vision for the music to somehow capture the essence of a destabilizing world— the breakdown of social order and law, systems dissolving into chaos and a helplessly obsessed humanity dancing amid a burning, crumbling metropolis. You can hear it in the sound of the music and you can see it in Paolo Girardi's oil painting cover art that brought this hellscape to life."
"When creating dark heavy metal, it's all too often that the spirit and subject matter of your work becomes suddenly realized in the world around you. We could have never imaged our vision for this record would become so suddenly and powerfully realized in a deadly global plague—a fallout that's tapped the very core of our creative intent. These are the moments where metal music is at its most potent and relevant. These are the times where life mimics art in the most profound of ways."
'Cabaret of Decay' Tracklisting:
1. Kabaretdörrar
2. Spires of Winter
3. S.T.F.H.
4. The Line
5. Age of Deceit
6. Free To Ride
7. Panaphobic
8. Bad Men
9. Lusibus, Interitus
10. Midnight Wings
About HATCHETS FOR HANDS:
Formed in San Francisco, California in 2009, Hatchets For Hands is the project of musician/producers Brian Parks and Cullen Poythress. Driven by a mutual obsession for authentic musicianship and heavy metal, the band is defined by familiar elements of American thrash, grindcore, and traditional death metal mixed with the soaring leads and darkened melodies associated with Northern Europe's more melodic exports.
HATCHETS FOR HANDS Online: