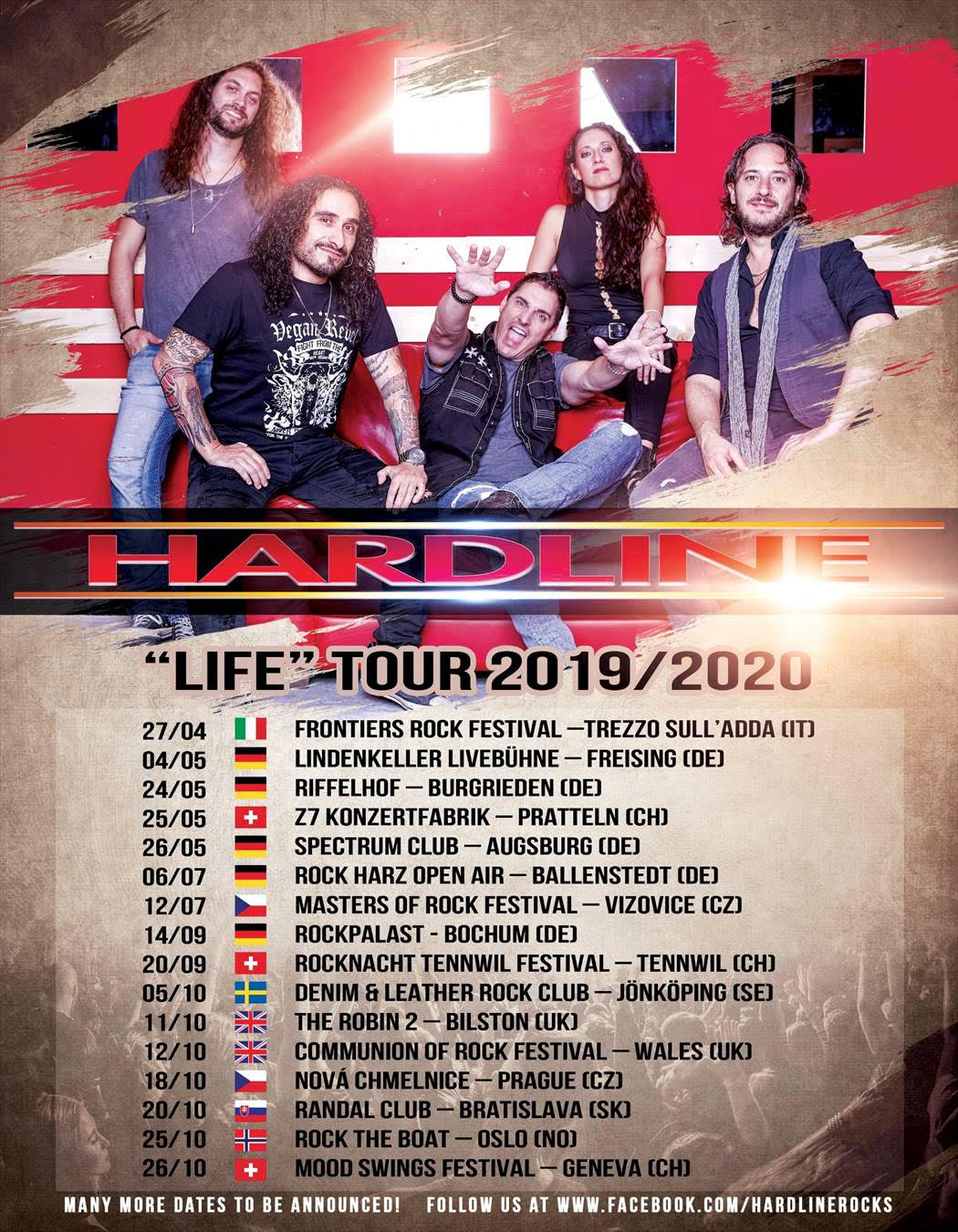 HARDLINE ANNOUNCE FIRST LEG OF 2019 / 2020 "LIFE" TOUR DATES
Hardline has announced the first leg of tour dates on their 2019/2020 "Life" tour. The band's sixth studio album entitled "Life" is set to release April 26, 2019 on Frontiers Music Srl. The album includes twelve tracks, with the final track being a tribute to the late Freddie Mercury of Queen – Who Wants To Live Forever. Says singer Johnny Gioeli, "I would never in a million years presume to fill Freddie's shoes. I love this song so much and want to honor his memory and epic contribution to music".
Hardline photo by Riccardo Bernardi
The songs from "Life" can now be streamed on Apple Music and Spotify, and have been garnering high praise from fans and critics alike. The second single "Page Of Your Life", which Gioeli says is really the song that launched the whole album, has landed itself a sweet spot in Apple Music's "Breaking Hard Rock" playlist.
The band will begin the tour in Italy at the Frontiers Rock Festival, with Johnny performing an acoustic set on the first night with original Hardline band mate Deen Castronovo, and the current lineup performing the following night. The band will be touring throughout Europe and say they are currently working to make some shows happen in the US next year. "We've been touring steadily since 2013, and the promoters are realizing that Hardline really is back. We have an incredible chemistry with the current lineup and won't be slowing down any time soon. It's time to bring it home to the States."
More dates will be announced soon for 2019 as well as a full second leg of the tour in 2020.
Links:
Pre-Order CD / Vinyl: http://radi.al/HardlineLife
Website: www.hardlinerocks.com
Facebook: www.facebook.com/hardlinerocks
www.facebook.com/johnnygioeliofficial
Instagram: www.instagram.com/hardlinerocks
Hardline / Page Of Your Life (audio) – https://www.youtube.com/watch?v=hCBOd8ocAas (music video to be released soon)
Hardline / Take A Chance (music video) – https://www.youtube.com/watch?v=R9cTgCiOne8
Hardline / Who Wants to Live Forever (Queen) – Freddie Mercury Tribute – https://www.youtube.com/watch?v=o8mHvxk0Jf4