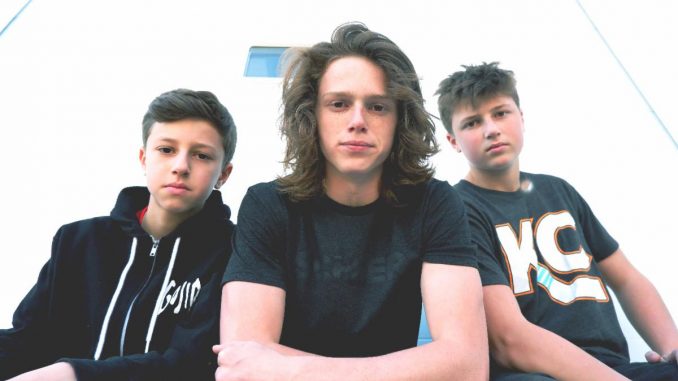 Debut LP 'Grand Currents' OUT NOW
Speaking about their new single, the band states:
"Our new single 'Foundation' is hard-hitting, fast, and jam-packed with riffs. It's the most in-your-face, straightforward, bludgeoning track in our catalog, and the music video portrays that perfectly. The song is a perfect agent for our new album, 'Grand Currents', which is out now and available to pre-order on vinyl! "
"HAMMERHEDD (are) way, way heavier than you. They're like a young version of Gojira and Morbid Angel, and they rule." – Metal Injection
"These kids SLAY … actual, real deal, "holy shit, these guys RIP"-level slaying. … they're tight as f***, they sound great, and most impressively of all, they LOOK like they know what they're doing" – Metal Sucks
"Move over Greta Van Fleet" – Metal Insider
Helmed by brothers Henry (19), Eli (17), and Abe Ismert (14), HAMMERHEDD deliver an almost veteran-like presence that could only be achieved through true workmanship. Fans and newcomers alike will instantly admire their ambitious trappings that honor some of metal's finest vanguards. Critics are quick to note the obvious influence of acts like Gojira, Meshuggah, and Mastodon on their sludge-heavy sound.
HAMMERHEDD Lineup:
Henry Ismert – Guitar, Lead Vocals
Eli Ismert – Drums
Abe Ismert – Bass