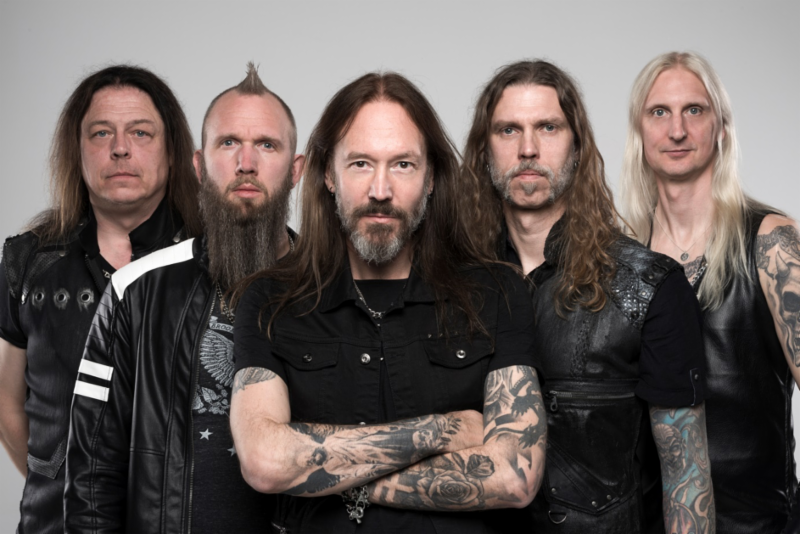 HAMMERFALL return with their new smashing single to continue their dominion of the world. "Welcome to Pandemonium, the Capital of Hell."
HAMMERFALL release their third single and title track "Dominion" off their new album Dominion and accompany that release with a breath-taking new official video, which was officially premiered on legendary Wacken Open Air festival in front of 75 000 screaming heavy metal Templars of Steel! Finding inspiration in the great poem Paradise Lost, "Dominion" is about the archangel Lucifer's fall from the Heavens, down to the pit, and how a warrior shaped demon lord came to conquer them all. Be prepared for heavy riffs and epic vocals.
Singer Joacim Cans on the new video:
"After the great success with the "(We Make) Sweden Rock" video, we needed to take the "Dominion" clip to a whole new level. Since it was impossible to take it higher – we decided to descend to Pandemonium, the Capital of Hell!
With great CGI effects the storyline walks hand in hand with the lyrical theme and never before have we had so much fun recording a video."
Listen to "Dominion" NOW!
Oscar Dronjak on the new single:
"The riff and the most part of the first half of the song was written and conceived on a family vacation in Florida. The rest was completed on tour with HammerFall, which is a first for me as a song writer; I've never written anything at all while on the road before. The massive guitars and the pounding drums gets us started, but it's really in the verses and choruses where the song really comes into bloom. You will not be able to get the chorus out of your head, and in this case it's a good thing"
"DOMINION" is HAMMERFALL's eleventh studio album, and second with Napalm Records. "DOMINION" is available as CD, Vinyl, and a limited edition Deluxe Box Set consisting of a digipack, limited 7" light blue vinyl, limited cassette, cover art print, photo cards, patch and sticker.
For "Dominion," HAMMERFALL re-teamed with James Michael to do vocals at Red Level Three studios, and Fredrik Nordström of Studio Fredman at Castle Black Studios for the instruments on the powerful 12 song collection.
HAMMERFALL on the new album:
"Good is not good enough; it has to be great. This is the mantra we have applied to every aspect of making this album, from the song writing and rehearsals to the production and the performance of each member. The result is "DOMINION," a powerful force of nature that cannot be stopped. Once you hear it, you will understand."
Catch HAMMERFALL on tour in the following cities:
10.08.19 ES – Valencia / Leyendas Del Rock
16.08.19 DE – Dinkelsbühl / Summer Breeze Open Air
17.08.19 AT – Graz / Metal On The Hill
29.08.19 CO – Bogotá / Royal center
31.08.19 CO – Pereira / C.E. Prestige
01.09.19 CO – Cali / Teatro Jorge Isaacs
02.09.19 CO – Pasto / tba
04.09.19 CO – Medellín / Teatro Universidad de Medellín
05.09.19 CO – Bucaramanga / Auditorio Luis A. Calvo
07.09.19 US – West Hollywood, CA / Whisky A Go Go
08.09.19 US – San Diego, CA / Brick By Brick
10.09.19 US – Brooklyn, NY / Brooklyn Bazaar
15.09.19 JP – Tokyo / Zepp DiverCity
HAMMERFALL:
9/7: Los Angeles, CA @ The Whisky
9/8: San Diego, CA @ Brick By Brick
9/10: Brooklyn, NY @ Brooklyn Bazaar
HAMMERFALL W/ Sabaton:
10/4: Ft. Lauderdale, FL @ Revolution
10/5: St. Petersburg, FL @ Jannus Landing
10/6: Atlanta, GA @ Center Stage
10/7: New Orleans, LA @ Southport Hall*
10/8: Dallas, TX @ House of Blues
10/9: Lubbock, TX @ Jake's*
10/10: Phoenix, AZ @ Van Buren
10/11: Los Angeles, CA @ The Wiltern
10/12: San Francisco, CA @ Regency Ballroom
10/13: Reno, NV @ Virginia Street*
10/14: Portland, OR @ Roseland Theater
10/15: Seattle, WA @ Showbox Sodo
10/16: Vancouver, BC @ Vogue Theater
10/18: Edmonton, AB @ Union Hall
10/19: Calgary, AB @ The Palace
10/21: Salt Lake City, UT @ The Complex
10/23: Denver, CO @ Ogden Theater
10/24: Kansas City, MO @ Riot Room*
10/25: Minneapolis, MN @ Skyway Theatre
10/26: Chicago, IL @ Vic Theatre
10/27: Cleveland, OH @ Agora Ballroom
10/29: Toronto, ON @ The Danforth Music Hall
10/30: Montreal, QC @ MTelus
10/31: Ottawa, ON @ Mavericks*
11/1: Worcester, MA @ The Palladium
11/2: New York, NY @ Playstation Theater
11/3: Silver Spring, MD @ The Filmore
11/4: Charlotte, NC @ The Underground*
11/5: Charleston, SC @ Music Farm*
*Hammerfall Headline Show
30.01.19 DE – Bremen / Aladin
31.01.19 DE – Hamburg / Sporthalle
01.02.19 DE – Osnabrück / Hydepark
02.02.19 DE – Oberhausen / Turbinenhalle
03.02.19 NL – Nijmegen / Doornroosje
05.02.19 BE – Antwerpen / TRIX
06.02.19 DE – Saarbrücken / Garage
07.02.19 DE – Munich / Tonhalle
08.02.19 DE – Kaufbeuren / All Kart Halle
09.02.19 IT – Milan / Live Club
11.02.19 DE – Langen / Stadthalle
12.02.19 DE – Leipzig / Werk 2
13.02.19 CZ – Prague / Forum Karlin
14.02.19 DE – Bamberg / Brose Arena
15.02.19 DE – Ludwigsburg / MHP Arena
16.02.19 CH – Pratteln / Z7
18.02.19 PL – Warsaw / Progresja
19.02.19 PL – Krakow / Studio
20.02.19 HU – Budapest / Barba Negra
21.02.19 AT – Graz / Orpheum
22.02.19 AT – Vienna / Gasometer
23.02.19 DE – Berlin / Huxley's Neue Welt
For more information on HAMMERFALL, visit:
About HAMMERFALL:

Among many accolades, Rock Hard touted the 1997 debut, Glory to the Brave, in its book The 500 Greatest Rock & Metal Albums of All Time. 2000's Renegade bowed at #1 in their home country and went gold. In 2002, Crimson Thunder yielded the seminal "Hearts On Fire," and went gold. With 25 million Spotify streams to date, the song notably became a theme for the Swedish Olympic Women's Curling Team, which led to the band performing the opening ceremony at the European Athletics Championships in front of a global audience of 250 million. In addition to playing everywhere from India to Australia, the group has shared the stage with everyone from Iron Maiden and Rammstein to Dio. 2014 saw (r)Evolution bow at #1 on the Billboard Heatseekers chart in addition to topping charts back home.