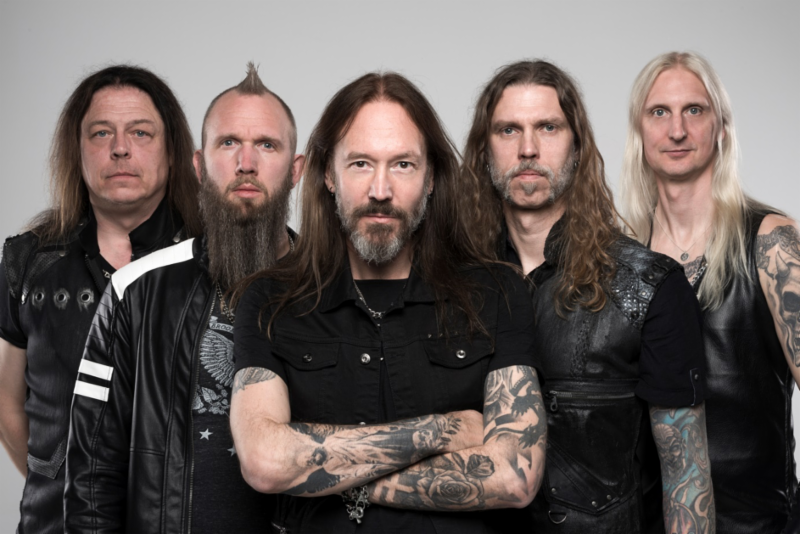 | | |
| --- | --- |
| HAMMERFALL (L-R) PONTUS NORGREN (guitar), DAVID WALLIN (drums), JOACIM CANS (vocals), FREDRIK LARSSON (bass), OSCAR DRONJAK (guitar). | |
HAMMERFALL will release a new album titled "DOMINION" on 16th August 2019 via Napalm Records. The group unleashed "(We Make) Sweden Rock" – the first single off "DOMINION" today. Listen to "(We Make) Sweden Rock"
HERE
and purchase/stream the new song digitally
HERE
.
JOACIM CANS describes the creation of "(We Make) Sweden Rock," "This is a glorious tribute to the Swedish hard rock and metal movement with a lyrical theme using direct references to both other bands and songs. With catchy contagious riffs and enchanting (ear-worm) melodies this song will be an instant classic at future HammerFall shows. Without the Swedish rock and metal scene with bands like Heavy Load, At the Gates and Yngwie Malmsteen the world would be a pretty boring and dull place! This is our noble tribute to all the bands that inspired not only us to play metal, form bands and eventually crusading around the world in the name of Heavy Metal. All hail the sons of the northern light! "
"DOMINION" is HAMMERFALL's eleventh studio album, and second with Napalm Records. Today, Friday May 3rd, Napalm has launched a physical preorder for "DOMINION" including CD, Vinyl, and a limited edition Deluxe Box Set consisting of a digipack, limited 7" light blue vinyl, limited cassette, cover art print, photo cards, patch and sticker. To view a variety of the "DOMINION" merchandise:
http://www.hammerfall.net
The band has also unveiled the album cover art and tracklisting for "DOMINION." The artwork was created by renowned visual artist Samwise Didier. View the cover art and track listing below.
"DOMINION" cover art created by Samwise Didier. Download (
here
)
The following is the track listing for "DOMINION":
1. Never Forgive, Never Forget
2. Dominion
3. Testify
4. One Against the World
5. (We Make) Sweden Rock
6. Second to One
7. Scars of a Generation
8. Dead by Dawn
9. Battleworn
10. Bloodline
11. Chain of Command
12. And Yet I Smile
For "DOMINION," HAMMERFALL re-teamed with James Michael to do vocals at Red Level Three studios, and Fredrik Nordström of Studio Fredman at Castle Black Studios for the instruments on the powerful 12 song collection. OSCAR DRONJAK states:
" 'Good is not good enough; it has to be great.' This is the mantra we have applied to every aspect of making this album, from the song writing and rehearsals to the production and the performance of each member. The result is "DOMINION," a powerful force of nature that cannot be stopped. Once you hear it, you will understand."
The band's summer touring starts with Domination Festival in Mexico City and crosses Europe throughout summer 2019, including stops at the legendary Sweden Rock Festival, Graspop Metal Meeting, and Wacken Open Air. There will be 3 launch party shows in the US, followed by being featured as special guests on Sabaton's autumn US tour. The band are also delighted to announce a 2020 European run (all dates below).
HAMMERFALL live:
03.05.19 MX – Mexico City / Domination Festival
31.05.19 CZ – Pilsen / MetalFest

02.06.19 NL – Nijmegen / Fortarock 2019
08.06.19 SE – Sölvesborg / Sweden Rock Festival
13.06.19 SE – Västervik / Hojrock
22.06.19 BE – Dessel / Festivalpark Stenehei
07.07.19 ES – Barcelona / Rock Fest
20.07.19 SE – Rättvik / Dalhalla

27.07.19 RU – Kemerovo / Heroes of World Rock Festival

01.08. – 03.08.19 DE – Wacken / Wacken Open Air

07.08. – 10.08.19 ES – Valencia / Leyendas Del Rock
14.08. – 17.08.19 DE – Dinkelsbühl / Summer Breeze Open Air
16.08. –17.08.19 AT – Graz / Metal On The Hill

29.08.19 CO – Bogota / Royal Center

30.08.19 CO – Medellin / Teatro Universidad de Medellin

31.08.19 CO – Pereira / Perla del Otún

01.09.19 CO – Cali / Teatro Jorge Isaacs
03.09.19 CO – Pasto / TBA
05.09.19 CO – Bucaramanga / Auditorio Luis A Calvo
HAMMERFALL US Headline Shows:
9/7: Los Angeles, CA @ The Whisky
9/8: San Diego, CA @ Brick By Brick
9/10: Brooklyn, NY @ Brooklyn Bazaar
HAMMERFALL W/ Sabaton:
10/4: Ft. Lauderdale, FL @ Revolution
10/5: St. Petersburg, FL @ Jannus Landing
10/6: Atlanta, GA @ Center Stage
10/7: New Orleans, LA @ Southport Hall*
10/8: Dallas, TX @ House of Blues
10/9: Lubbock, TX @ Jake's*
10/10: Phoenix, AZ @ Van Buren
10/11: Los Angeles, CA @ The Wiltern
10/12: San Francisco, CA @ Regency Ballroom
10/13: Reno, NV @ Virginia Street*
10/14: Portland, OR @ Roseland Theater
10/15: Seattle, WA @ Showbox Sodo
10/16: Vancouver, BC @ Vogue Theater
10/18: Edmonton, AB @ Union Hall
10/19: Calgary, AB @ The Palace
10/21: Salt Lake City, UT @ The Complex
10/23: Denver, CO @ Ogden Theater
10/24: Kansas City, MO @ Riot Room*
10/25: Minneapolis, MN @ Skyway Theatre
10/26: Chicago, IL @ Vic Theatre
10/27: Cleveland, OH @ Agora Ballroom
10/29: Toronto, ON @ The Danforth Music Hall
10/30: Montreal, QC @ MTelus
10/31: Ottawa, ON @ Mavericks*
11/1: Worcester, MA @ The Palladium
11/2: New York, NY @ Playstation Theater
11/3: Silver Spring, MD @ The Filmore
11/4: Charlotte, NC @ The Underground*
11/5: Charleston, SC @ Music Farm*
*Hammerfall Headline Show
30.01.20 DE – Bremen
31.01.20 DE – Hamburg
01.02.20 DE – Oberhausen
07.02.20 DE – Munich

08.02.20 DE – Kaufbeuren
09.02.20 IT – Milan
11.02.20 DE – Langen
12.02.20 DE – Saarbrücken
13.02.20 CZ – Prague
14.02.20 DE – Bamberg

15.02.20 DE – Ludwigsburg
16.02.20 CH – Pratteln
18.02.20 PL – Warsaw
19.02.20 PL – Krakow

20.02.20 HU – Budapest
21.02.20 AT – Graz

22.02.20 AT – Wien

23.02.20 DE – Berlin
With more to be announced!
For more information on HAMMERFALL, visit:
About Hammerfall:
Among many accolades, Rock Hard touted the 1997 debut, Glory to the Brave, in its book The 500 Greatest Rock & Metal Albums of All Time. 2000's Renegade bowed at #1 in their home country and went gold. In 2002, Crimson Thunder yielded the seminal "Hearts On Fire," and went gold. With 25 million Spotify streams to date, the song notably became a theme for the Swedish Olympic Women's Curling Team, which led to the band performing the opening ceremony at the European Athletics Championships in front of a global audience of 250 million. In addition to playing everywhere from India to Australia, the group has shared the stage with everyone from Iron Maiden and Rammstein to Dio. 2014 saw (r)Evolution bow at #1 on the Billboard Heatseekers chart in addition to topping charts back home.