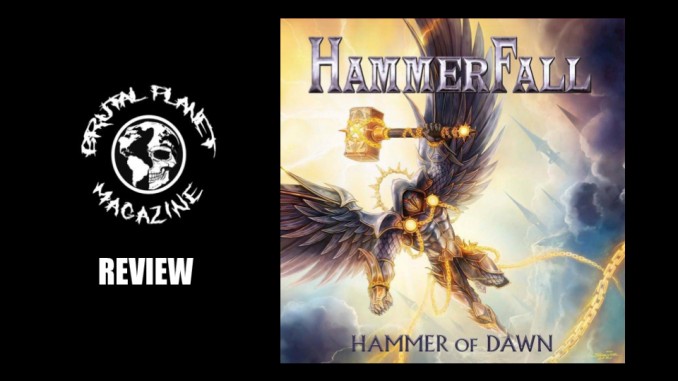 Hammerfall, the legendary band from one of the metal capitals of the world, Gothenburg Sweden, is releasing their twelfth full-length album, "Hammer of Dawn" on February 25th. This is the band's third album to be released through Napalm Records and is a solid effort that is sure to please their fans. The album was mixed and mastered by Fredrick Nordstrom (Arch Enemy, In Flames, Powereolf) and produced by Jacob Hansen (Volbeat).
In addition to frontman Joacim Cans' powerful vocals, Oscar Dronjak (guitar), Pontus Norgren (guitar), Fredrick Larsson (bass), and David Wallen (Drums) show off their musicianship on each of the album's impressive ten songs. The opening track, "Brotherhood," describes the deep relationship between Cans and Dronjak- the only two members to perform on every one of the band's albums. The second song, and title track, "Hammer of Dawn," was released as a single on December 1st of last year and gives the listener a good impression of the quality of metal this album has packed in it. After a short and haunting intro, the listener is hit with a catchy guitar riff and Cans' glorious tenor voice. About two-thirds of the way through the song, there is a phenomenal guitar solo before the band kicks back in with a big finish.
The latest single, "Venerate Me," was released on January 30th and surprised many listeners with guest vocals from King Diamond, of the legendary Danish band, Mercyful Fate. The song starts with a pulsating riff and thundering drums. The lyrics address the thought that people do not die once, but twice- when their heart stops beating, and finally when their name is spoken of for the last time. One of the other highlights of the album is the song, "No Son of Odin." For the most part, this track is fast-paced, but the chorus slows down to give an anthemic feel. No HammerFall song would be complete without a killer solo. Even if you're not of Scandinavian descent, you will appreciate this song of Viking lore.
As is with many album releases, the singles are great, but some of the deep tracks are the ones that show off the incredible talent of the band. "Reveries" carries a bass-driven verse, an earworm of a chorus, and lyrics that speak of dreams and lullabies- it's power metal at its finest. The intro of "Live Free or Die," feels like punches to the face before it knocks you down with its heavy drumming and gang vocals; "State of the W.I.L.D." features acoustic guitars, a barrage of heavy riffs, and an untamable solo, and "Too Old To Die Young" is an uplifting song that is sure to have you singing along before it ends.
Although it is hard to choose, my favorite track on the album is probably the final one, "No Mercy." The guitars are super heavy and are sure to have you headbanging, while Wallen's footwork on the double kick makes it sound like you're on the frontlines of World War II. There are countless power metal bands from Europe, yet HammerFall seems to know how to remain on top. Their incredible talent and intuition for writing great music excel in this album. "Hammer of Dawn" strikes hard as it ushers in a new era of power metal.